•The secret to cool bodies and glazes is a lot of testing.
•The secret to know what to test is material and chemistry knowledge.
•The secret to learning from testing is documentation.
•The place to test, do the chemistry and document is an account at https://insight-live.com
•The place to get the knowledge is https://digitalfire.com
Wet Sieve Residue - WSR
This test procedure was employed in the Foresight Ceramic Database and now is available for those having an account at Insight-Live.com. Accumulating test data using the variables defined in these procedures enables us to create tools that enable you to compare the physical properties of materials and recipes.
Notes
Used for ball clays. Gives indication of the presence of coarse silica or lignite. Visual observation of this residue is more valuable than the printed value. Analyzing this amount relative to carbon content and LOI can be enlightening also.
Variables
VAL - Value (V)
Describe residue
This is what labs use to measure particle size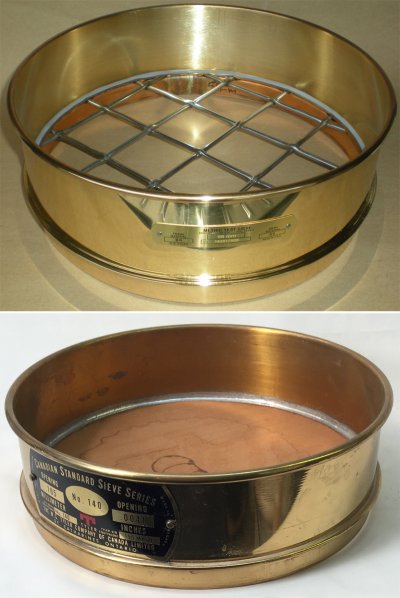 To measure particle size in a slurry or powder you need sieves. This is the most popular type used in labs. They are made from brass by a company named Tyler. The range screen sizes for testing particle size is very wide. The top screen has an opening of 56 mm (that size and smaller pieces can fall through). The bottom sieve has an opening of 0.1 mm, the wires are almost too small to see. Coarser and finer sieves are available. You can buy these on ebay for a lot less than new ones, just search for tyler sieves. Keep in mind that the finer sieves (especially 325) are fragile and easily ripped. We use a series that bottoms out at 200.
Out Bound Links

In Bound Links