Temperature: 1400F
| | |
| --- | --- |
| Description: | Common frits begin melting |
| Type: | Melting Point/Range |
Notes
Common boron frits begin melting before talc, dolomite and calcium carbonate have completed gassing. A glaze containing 20% Ferro Frit 3134, for example, could reach full density (zero porosity) by less than 1800F (typical bisque temperature). Such would acts as a barrier to the escape of gases.
LOI is not important? Think again!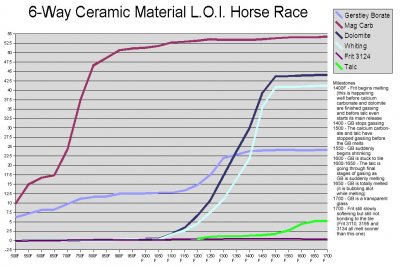 This chart compares the gassing behavior of 6 materials (5 of which are very common in ceramic glazes) as they are fired from 500-1700F. It is a reminder that some late gassers overlap early melters. The LOI (loss on ignition) of these materials can affect your glazes (e.g. bubbles, blisters, pinholes, crawling). Notice that talc is not finished until after 1650F (many glazes have already begin melting by then).
A frit softens over a wide temperature range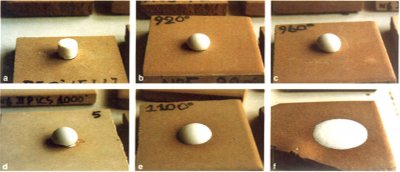 This is unlike some raw materials which melt suddenly.
Do you know the purpose of these common Ferro frits?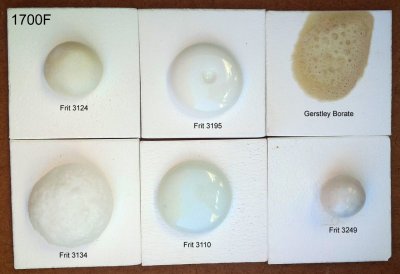 I used a binder to form 10 gram GBMF test balls and fired them at cone 08 (1700F). Frits melt really well, they do not gas and they have chemistries we cannot get from raw materials (similar ones to these are sold by other manufacturers). These contain boron (B2O3), it is magic, a low expansion super-melter. Frit 3124 (glossy) and 3195 (silky matte) are balanced-chemistry bases (just add 10-15% kaolin for a cone 04 glaze, or more silica+kaolin to go higher). Consider Frit 3110 a man-made low-Al2O3 super feldspar. Its high-sodium makes it high thermal expansion. It works in bodies and is great to incorporate into glazes that shiver. The high-MgO Frit 3249 (for the abrasives industry) has a very-low expansion, it is great for fixing crazing glazes. Frit 3134 is similar to 3124 but without Al2O3. Use it where the glaze does not need more Al2O3 (e.g. it already has enough clay). It is no accident that these are used by potters in North America, they complement each other well. The Gerstley Borate is a natural source of boron (with issues frits do not have).
Cone 6 glazes can seal the surface surprisingly early - melt flow balls reveal it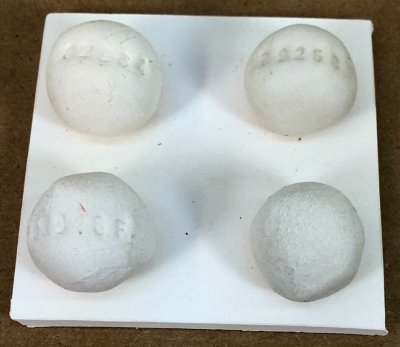 These are 10 gram balls of four different common cone 6 clear glazes fired to 1800F (bisque temperature). How dense are they? I measured the porosity (by weighing, soaking, weighing again): G2934 cone 6 matte - 21%. G2926B cone 6 glossy - 0%. G2916F cone 6 glossy - 8%. G1215U cone 6 low expansion glossy - 2%. The implications: G2926B is already sealing the surface at 1800F. If the gases of decomposing organics in the body have not been fully expelled, how are they going to get through it? Pressure will build and as soon as the glaze is fluid enough, they will enter it en masse. Or, they will concentrate at discontinuities and defects in the surface and create pinholes and blisters. Clearly, ware needs to be bisque fired higher than 1800F.

•The secret to cool bodies and glazes is a lot of testing.
•The secret to know what to test is material and chemistry knowledge.
•The secret to learning from testing is documentation.
•The place to test, do the chemistry and document is an account at https://insight-live.com
•The place to get the knowledge is https://digitalfire.com