---
Oxides | Minerals | Materials | Recipes | Articles | Glossary | Hazards | Videos | Properties | Schedules | Temperatures | Tests | Troubles
---

The secret to cool bodies and glazes is alot of testing. But how will you be able to learn from that testing without a good place to store the recipes? Document the successes and failures? Do it in your account at https://insight-live.com.
Zero3 Ulexite Transparent Glaze
Code: G2931F
Modification Date: 2017-06-08 10:38:17
For use with the Zero3 body and engobe
Material
Amount
EPK
27.0
Silica
7.0
Ulexite
29.0
Ferro Frit 3249
9.0
Wollastonite
9.0
Ferro Frit 3110
19.0
100.00
Notes
This recipe converts the popular Worthington Clear Gerstley-Borate-based recipe into something much easier to use. While Worthington melts to a good clear it has serious gelling problems (characteristic of Gerstley Borate). Normal frits cannot easily source this high level of B2O3 so I have employed Ulexite to augment (a mineral similar to GB yet gels only slightly). Another issue with Worthington is shivering and fracturing of ware when glazed only on the inside (its thermal expansion was too low). This recipe also raises thermal expansion (by adding Na2O), the result is a glaze that fits a much wider range of bodies. Worthington also has clouding issues, this yields a more crystal clear, defect free fired result.

Dipping ware in Zero3 Transparent is just so much easier than trying to paint on than commercial, slow drying clears. It produces a slurry with very nice suspension, drying and application properties. It naturally gels (at around 1.4 SG in our lab). It applies very well in an even layer to low or high porosity bisque (the gel makes it hang on without running or dripping). However the 1.4 specific gravity (which is lower than most stoneware glazes) means that it dries slower if bisque is dense.

As a clear overglaze to finish your decorated ware, this glaze has a number of advantages over commercial clear glazes:
-It is much less expensive so it is practical to have a large pail of it so that pieces can be easily dip-glazed (using dipping tongs).
-It behaves like stoneware glazes, it suspends well and applies in an even layer that can dry to handling stage is seconds.
-It fires to a better crystal clear.
-Since the recipe is known, and contains no toxic materials, you can more confidently assure retailers that it is safe; all underglaze color decoration is isolated from any contact with food or drink by this glaze.
-It is compatible with most underglaze colors (including pinks).

Pay special attention to the soak-soak-slow cool firing schedule for this glaze, especially if your clay body is not fine grained.

Note: Later we did find a way to create the chemistry of this glaze using a combination of frits (look for a link).
This glaze fits this clay better at cone 03 than it does at 04 or 02

This is a talc body (Plainsman L213, about 50:50 talc:ball clay). They are fired to cone 04 (left), 03 (center) and 02. The glaze is G2931F, it fires crystal clear. Each of these cups has been subjected to "boiling water to ice water to boiling water" immersions. The cone 04 one crazed. The cone 02 cup cracked (the denser matrix could not withstand the shock) but did not craze (although it showed a hint of shivering). The center cup, fired at cone 03, is perfect.
Underglazes, engobe, a good transparent glaze and cone 03. Life is good!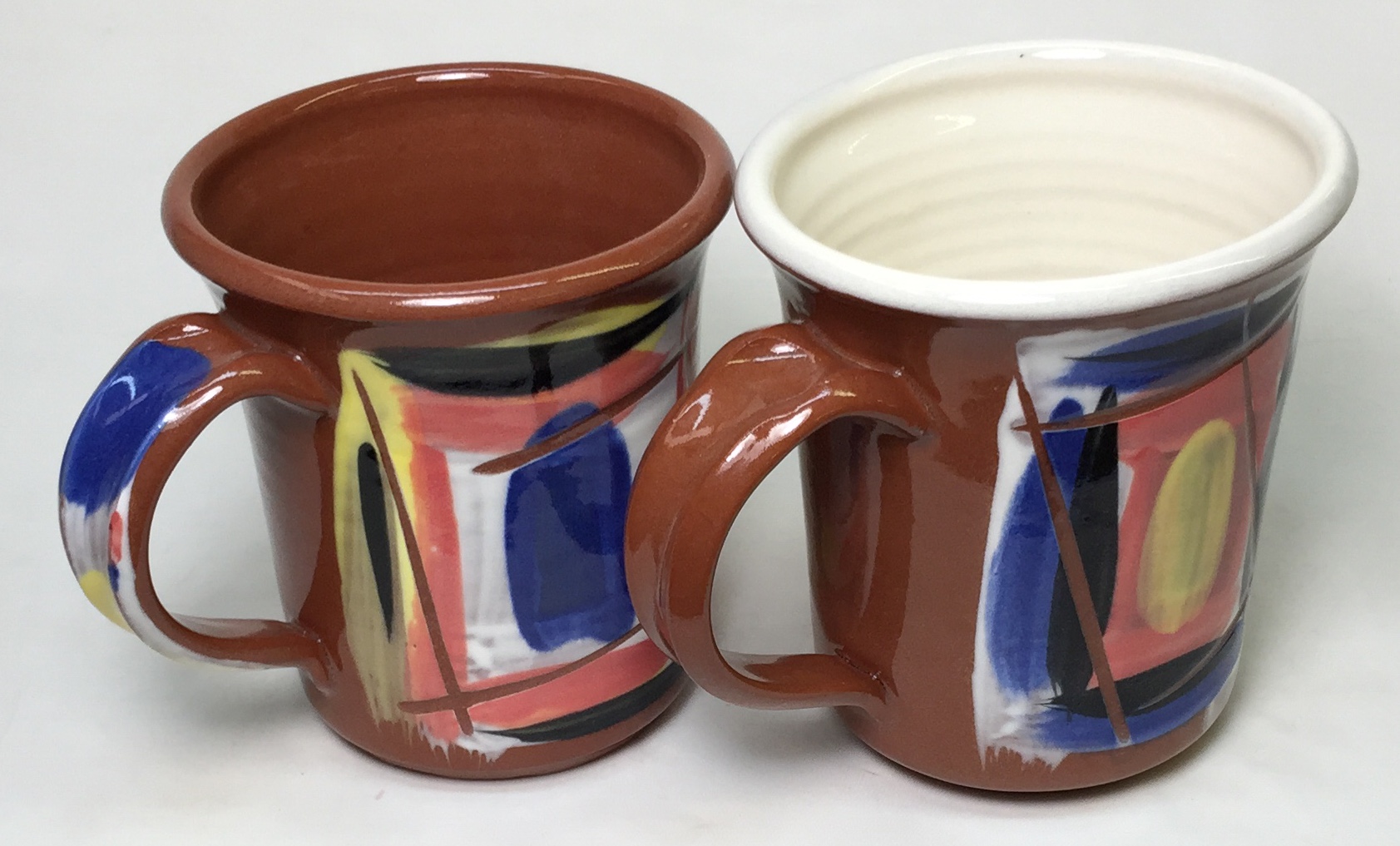 The white engobe was applied by pouring at leather hard stage. The underglazes were also painted on at leather hard. The mugs were then dried, cleaned, bisque fired, dipping in clear glaze and final fired to cone 03. The clay and engobe have frit additions to make them vitrify at low temperatures.
Underglaze decoration at low, medium and high temperature reduction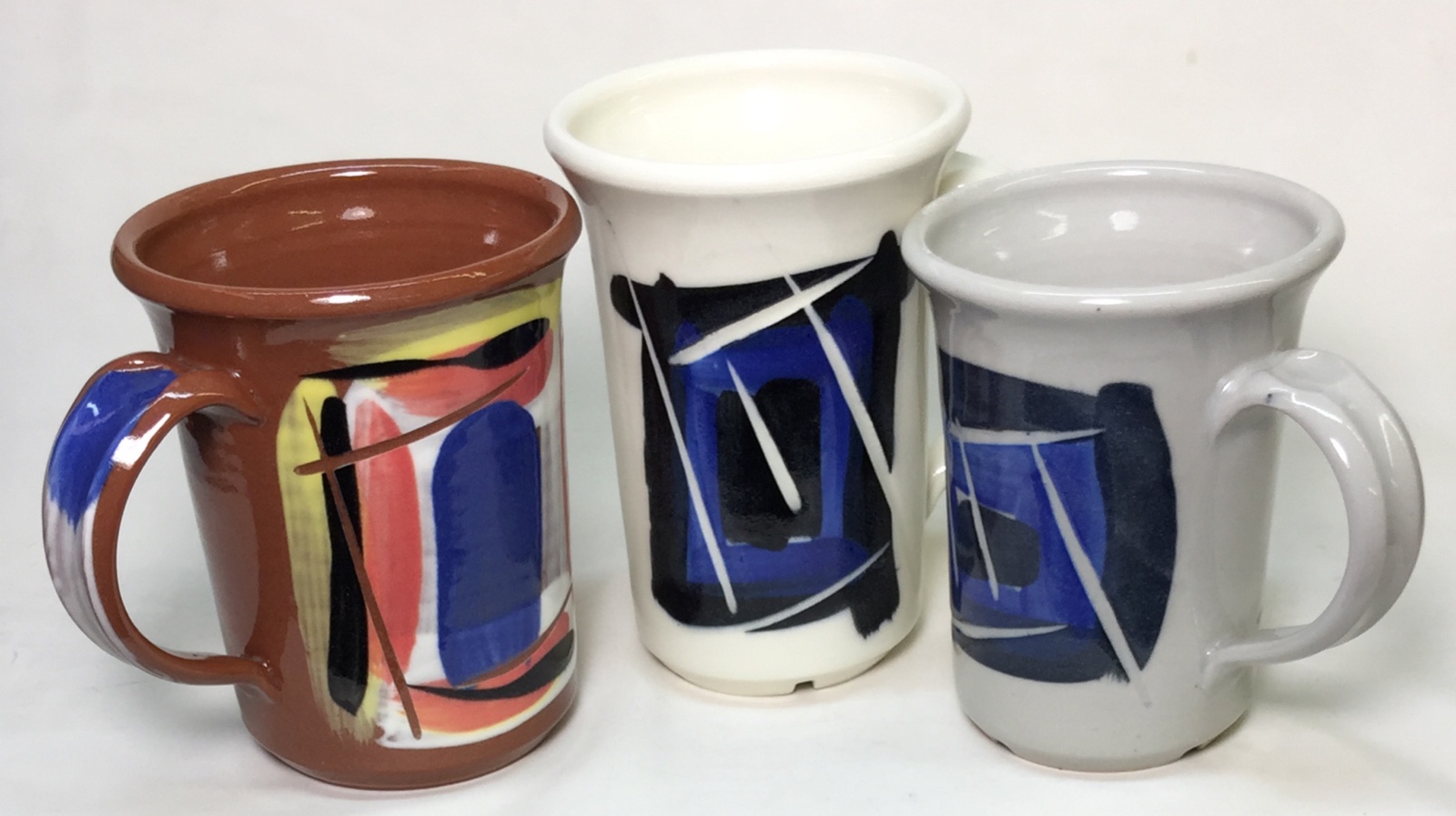 Left is Plainsman Zero3 stoneware fired at cone 03. Middle is Polar Ice fired at cone 6d. Right is Plainsman P600 fired at cone 10R. The same black and blue underglazes are used on all three, but each has its own transparent glaze (left G2931F, middle G3806C, right G1947U).
Low fire nirvana: Use commercial underglazes but make your own clear over glaze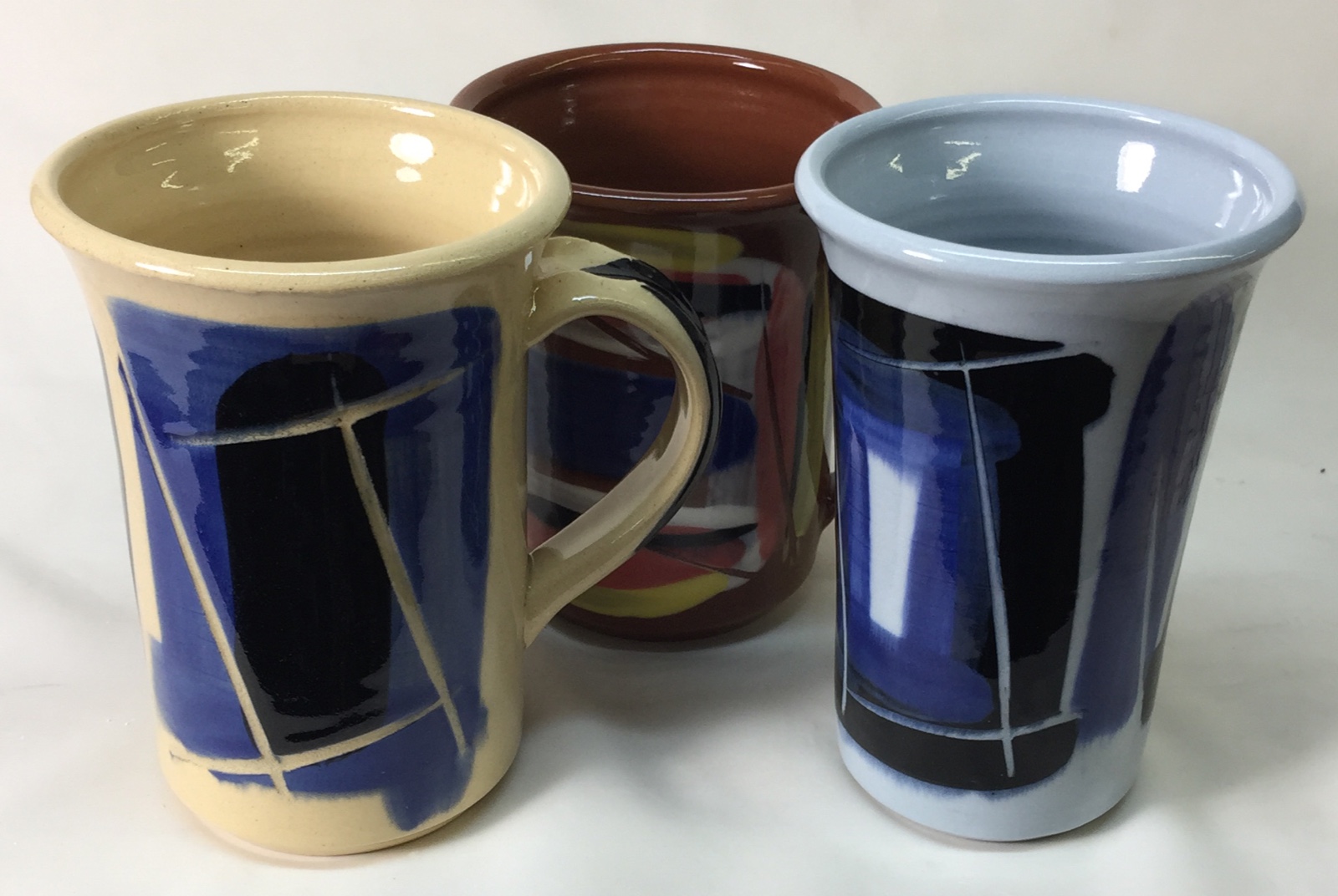 Decorate ware with the underglazes at the leather hard stage, dry and bisque fire it and then dip-glaze in a transparent that you make yourself (and thus control). These mugs are fired at cone 03. All have the same transparent glaze (G2931F), all were decorated with the same underglazes. Notice how bright the colors are compared to middle or high temperature. On the left is a porous talc/stoneware blend (Plainsman L212), rear is a fritted terra cotta (Plainsman Zero3 experimental) and right is a fritted porcelain. When mixed properly you can dip ware in this glaze and it covers evenly, does not drip and dries enough to handle in seconds! Follow the Zero3 firing schedule and you will have ware of amazing quality.
Can you cone-03-clear-glaze a cone 10R bisque-fired stoneware mug? Yes.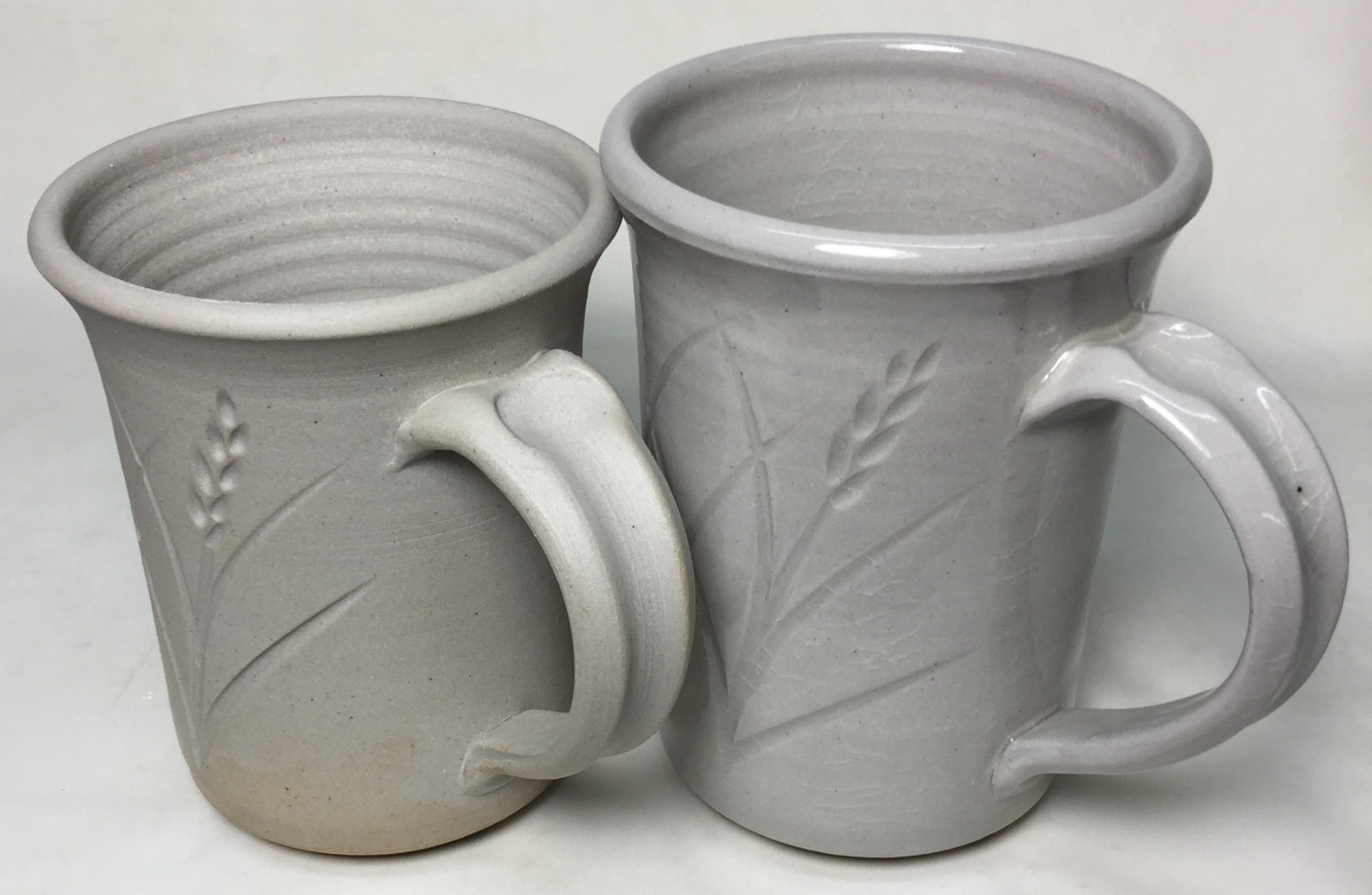 But it is better not to. Left is an unglazed (but bisque fired) mug. Right is the same thing with with G2931F clear glaze fired on at cone 03 (G2931G would fit without crazing). Since the clay is not porous the glaze must be gelled to hang on and the ware needs to be heated before dipping (or it takes too long to dry). It also needs to be applied thicker. It is very difficult. It is better to use a fritted low fire porcelain and put the G2931F glaze on it.
G2931F Ulexite-based transparent bubbles, G2931K frit-based version does not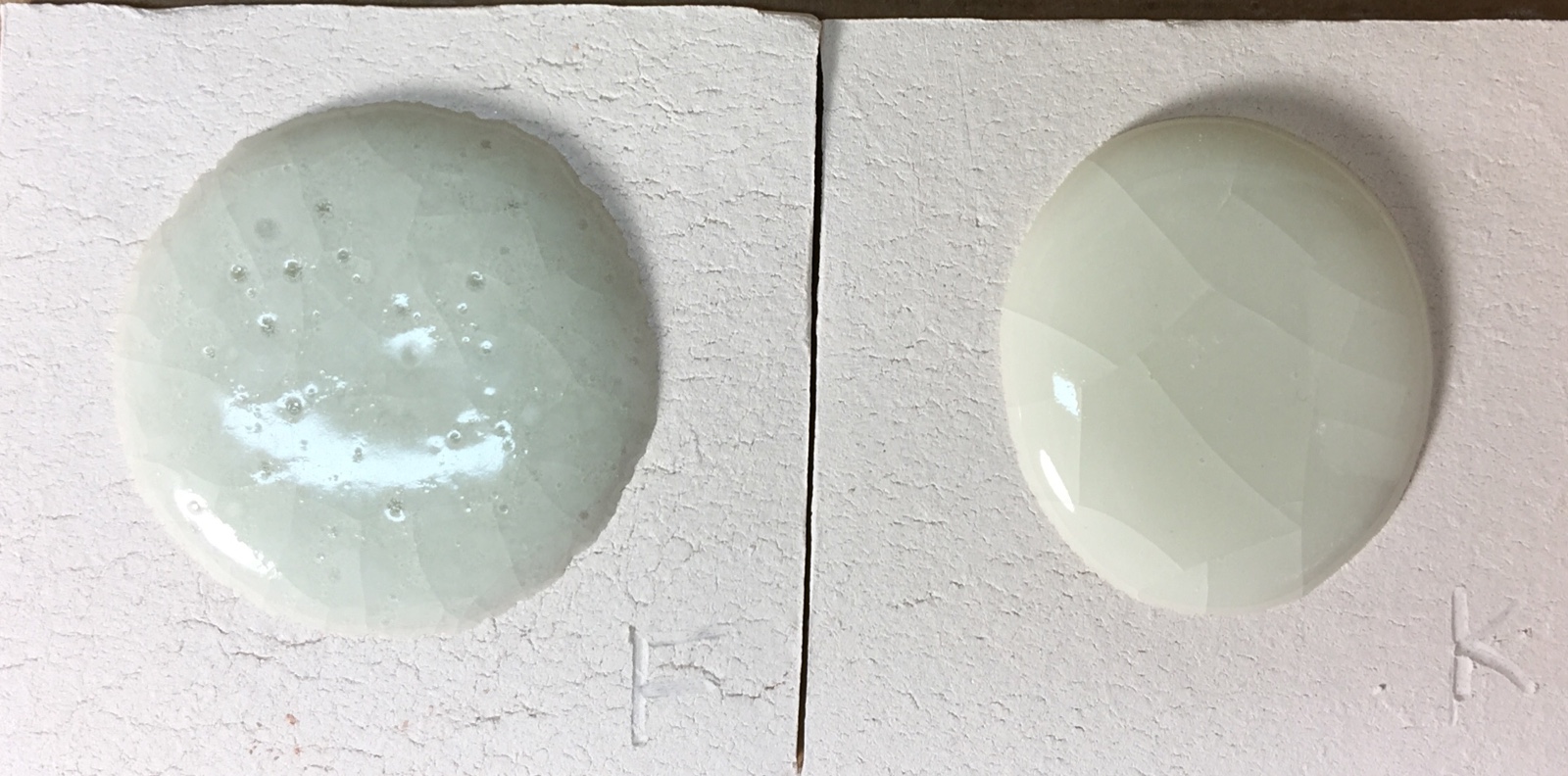 I melted these two 9 gram balls on tiles to compare their melting (the chemistry of these is identical, the recipes are different). The Ulexite in the G2931F (left) drives the LOI to more than 14%. That means the while the ulexite is decomposing during melting it is creating gases that are creating bubbles in the glass. Notice the size of the F is greater (because it is full of bubbles). While this seems like a serious problem, in practice the F fires crystal-clear on most ware.
G2931F transparent glaze on a fritted porcelain fired at cone 03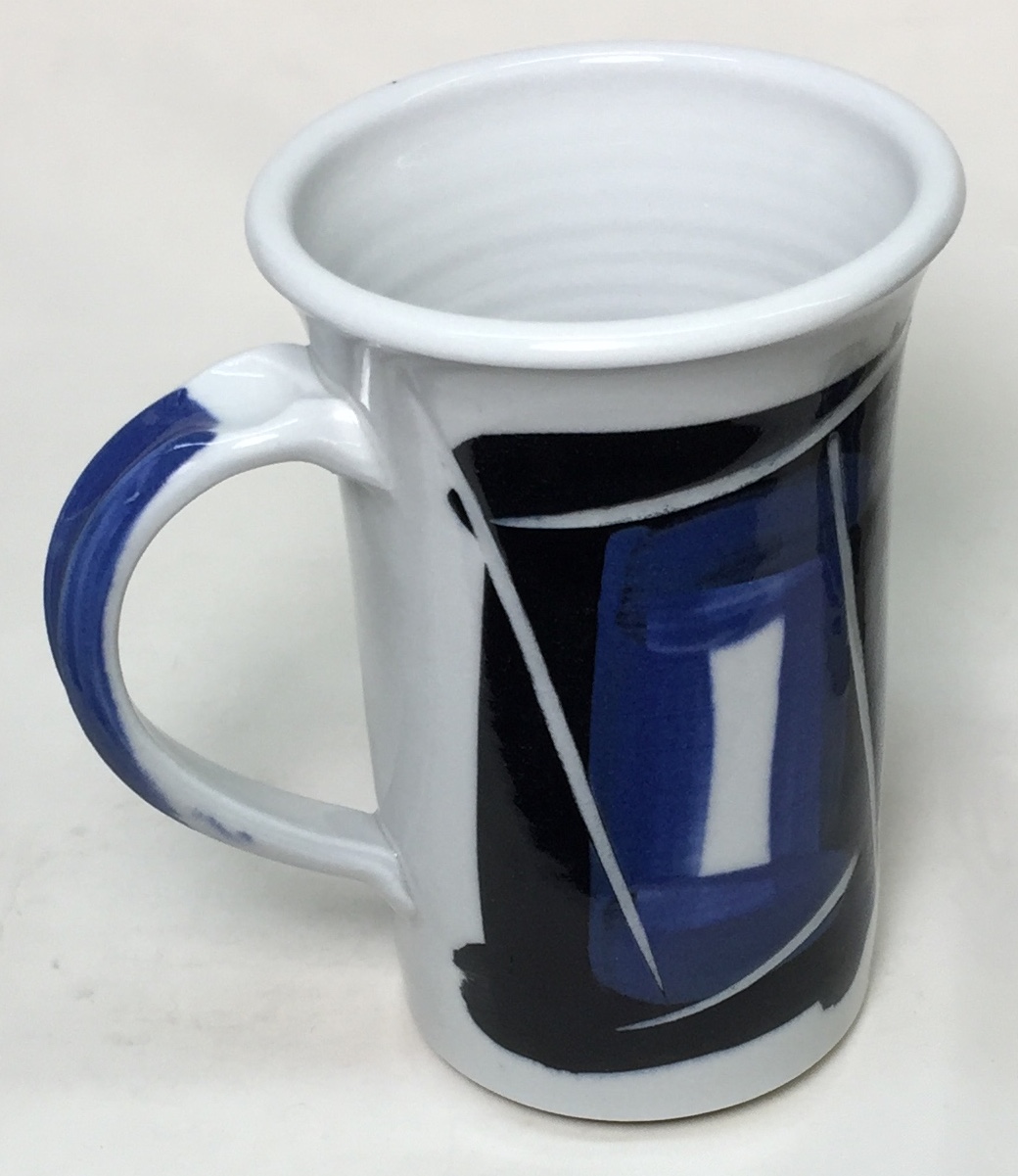 The mug was decorated with underglazes at the leather hard stage, then bisque fired to 1650F, then dip-glazed and fired using a cone 03 drop-and-hold firing schedule. This glaze is exceptionally brilliant and clear, it transmits the color of the underglazes better than any other glaze at any other temperature I have seen. This glaze was later upgraded to one having the same chemistry but a higher frit content and firing even better, G2931K.
Glaze melt fluidity comparison between G2931F and fritted G2931K show the effect of LOI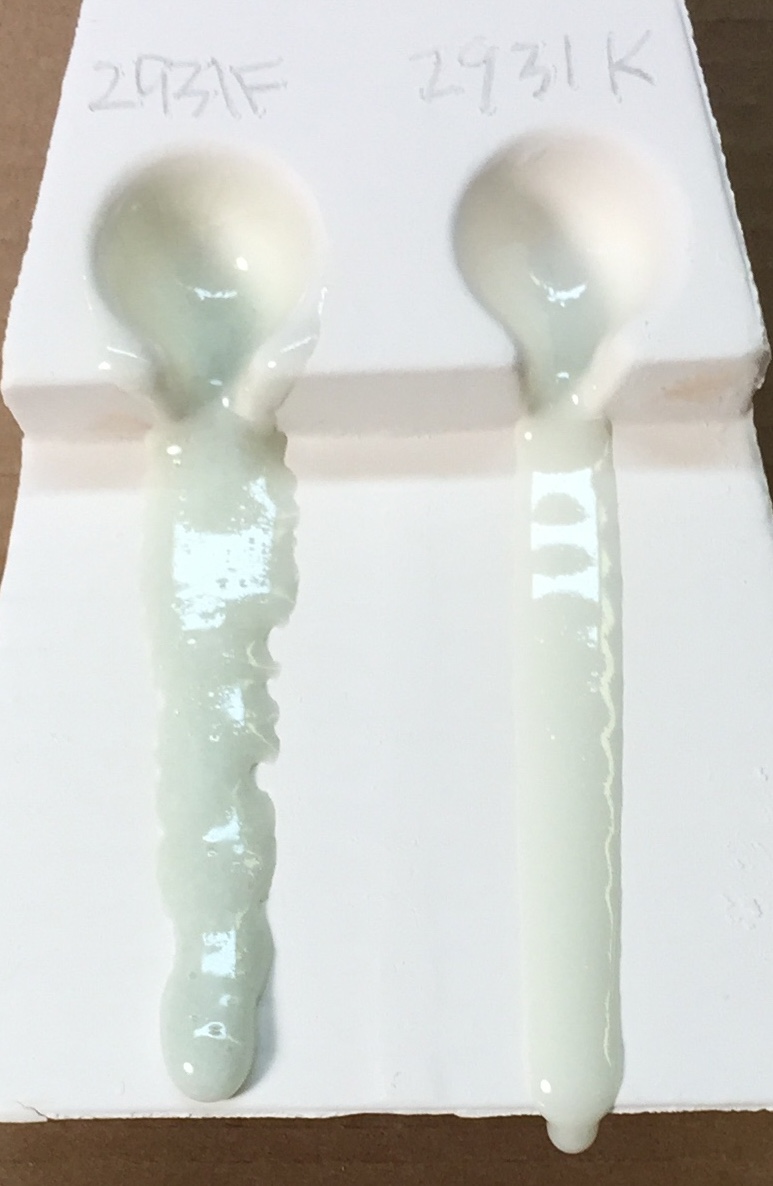 These two glazes have the same chemistry but different recipes. The F gets its boron from Ulexite, and Ulexite has a high LOI (it generates gases during firing, notice that these gases have affected the downward flow during melting). The frit-based version on the right flows cleanly and contains almost no bubbles. At high and medium temperatures potters seldom have bubble issues with glazes. This is not because they do not occur, it is because the appearance of typical glaze types are not affected by bubbles (and infact are often enhanced by them). But at low temperatures potters usually want to achieve good clarity in transparents and brilliance in a colors, so they find themselves in the same territory as the ceramic industry. An important way to do this is by using more frits (and the right firing schedules).
Out Bound Links

In Bound Links

(Recipes - Related) L3924C - Zero3 Porcelain Experimental - 2016-10-27
---
---
Copyright 2003, 2008, 2015 https://digitalfire.com, All Rights Reserved