---
Oxides | Minerals | Materials | Recipes | Articles | Glossary | Hazards | Videos | Properties | Schedules | Temperatures | Tests | Troubles
---

The secret to cool bodies and glazes is alot of testing. But how will you be able to learn from that testing without a good place to store the recipes? Document the successes and failures? Do it in your account at https://insight-live.com.
Ravenscrag Cone 6 White Glossy
Code: GR6-C
Modification Date: 2016-09-30 22:42:30
Member of Group: RV6
Plainsman Cone 6 Ravenscrag Slip based glaze. It can be found among others at http://ravenscrag.com.
Material
Amount
Percent
Ravenscrag Slip
80.0

72.7%

Ferro Frit 3134
20.0

18.2%

Additions
Zircopax
10.0

9.1%

110.00
Firing Schedule
| | | | |
| --- | --- | --- | --- |
| Rate (F) | Temp (F) | Hold (Min) | Step |
| 100 | 220 | 60 | 1 |
| 300 | 1733 | 0 | 2 |
| 108 | 2175 | 15 | 3 |
| 150 | 2075 | 30 | 4 |
Notes
A white base glaze with all the advantages of Ravenscrag Slip based glazes (good working and application properties). It is not drab-looking like a porcelain toilet, but is vibrant and interesting on stoneware bodies (a fritted glaze like G1215U is better on porcelains). It breaks to clear on the edges of contours and has variegation. It works well with added stains, the variegation of this base makes the color much more interesting.

Adjust the amount of zircopax as needed to adjust the degree of whiteness, variegation and intensity of added colors.

Because it contains an opacifier, this can be a base for the addition of colorants to produce pastel colors (adding them to the transparent base will produce deep brilliant colors).
Ravenscrag white on Plainsman M340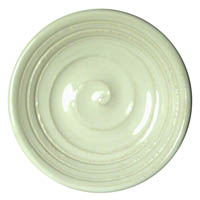 How do you turn a transparent glaze into a white?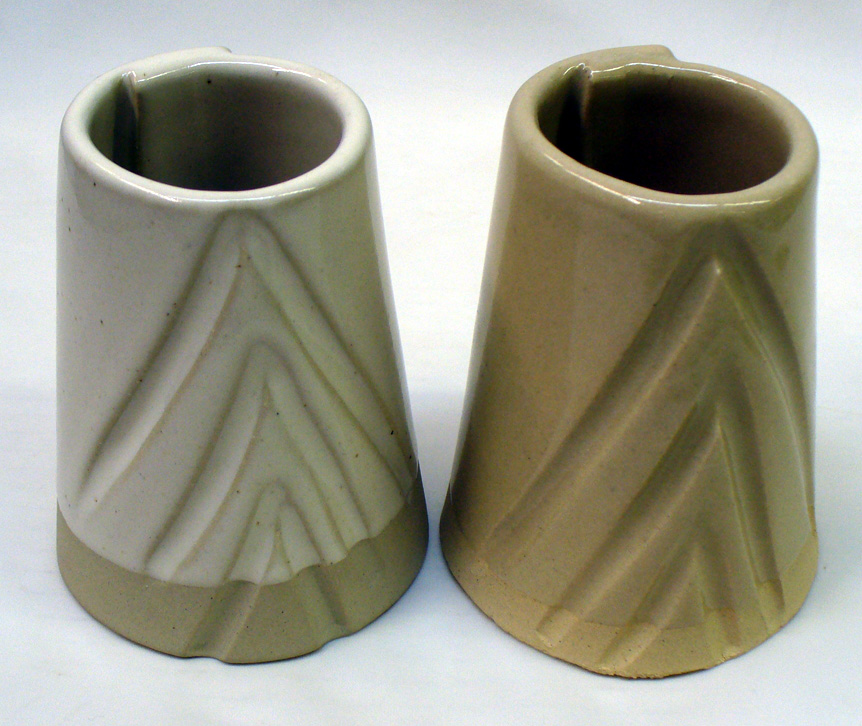 Right: Ravenscrag GR6-A transparent base glaze. Left: It has been opacified (turned opaque) by adding 10% Zircopax. This opacification mechanism can be transplanted into almost any transparent glaze. It can also be employed in colored transparents, it will convert their coloration to a pastel shade, lightening it. Zircon works well in oxidation and reduction. Tin oxide is another opacifier, it is much more expensive and only works in oxidation firing.
Ravenscrag Cone 6 GR6-C white and with 10% Mason 6006 stain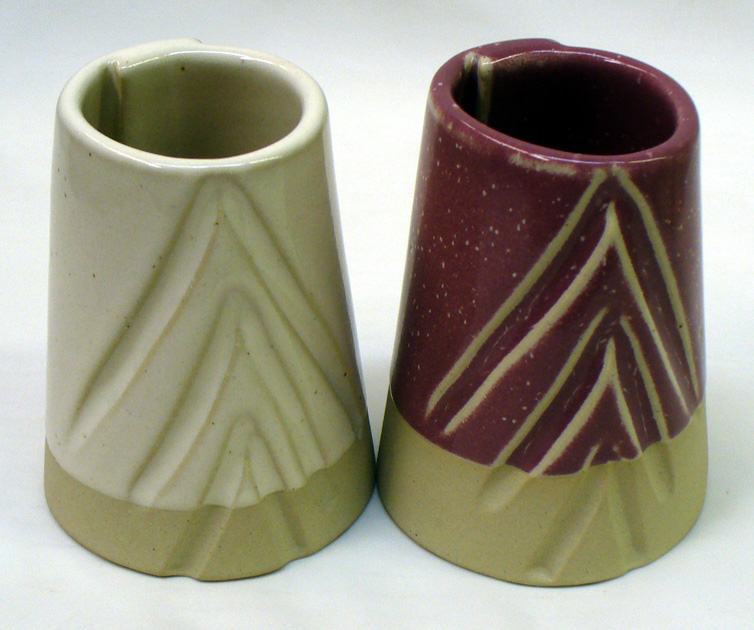 The body is Plainsman M340. This is a good alternative to trying to get a chrome-tin pink or maroon working.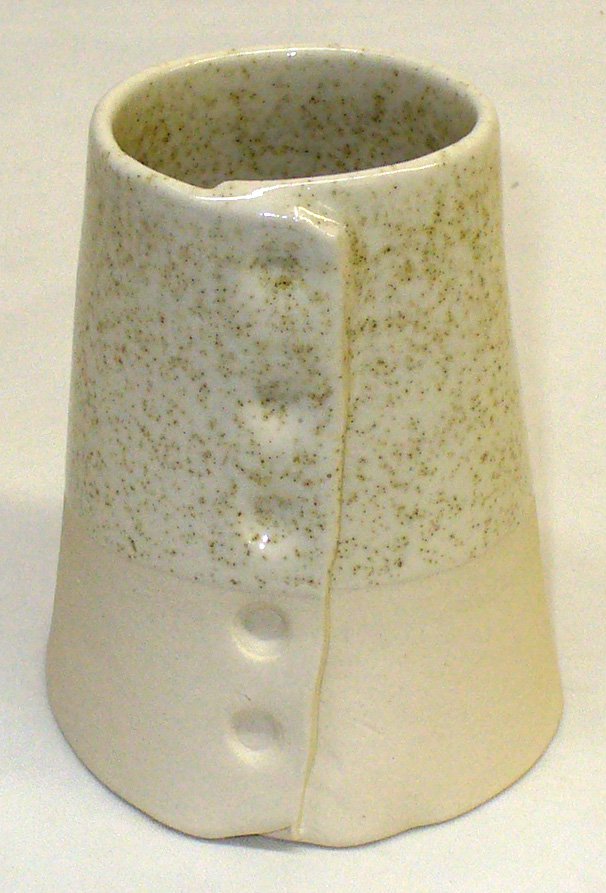 0.5% fine granular illmenite added to Ravenscrag cone 6 clear glossy white base glaze.
Out Bound Links

In Bound Links

(Recipes - Related) GR6-E - Ravenscrag Cone 6 Raspberry Glossy

A chrome-tin burgundy glaze using the Ravenscrag cone 6 base recipe.

2005-02-21 - Chrome-tin (either from the raw materials or a stain) pink and red glazes can be difficult to achieve and keep consistent at cone 6. In ceramics, red ...
XML to Paste Into Insight
<?xml version="1.0"?>
<recipes version="1.0" encoding="UTF-8">
<recipe name="Ravenscrag Cone 6 White Glossy" keywords="Plainsman Cone 6 Ravenscrag Slip based glaze. It can be found among others at http://ravenscrag.com." id="76" date="2016-09-30" codenum="GR6-C" altcodenum="G2850A">
<recipelines>
<recipeline material="Ravenscrag Slip" amount="80.000" unitabbr="kg" conversion="1.0000" added="0"/>
<recipeline material="Ferro Frit 3134" amount="20.000" unitabbr="kg" conversion="1.0000" added="0"/>
<recipeline material="Zircopax" amount="10.000" unitabbr="kg" conversion="1.0000" added="1"/>
<url url="https://digitalfire.com/4sight/recipes/ravenscrag_cone_6_white_glossy_76.html" descrip="Recipe page at digitalfire.com"/>
</recipelines>
<urls/>
</recipe>
</recipes>

---
---
Copyright 2003, 2008, 2015 https://digitalfire.com, All Rights Reserved