---
Oxides | Minerals | Materials | Recipes | Articles | Glossary | Hazards | Videos | Properties | Schedules | Temperatures | Tests | Troubles
---

The secret to cool bodies and glazes is alot of testing. But how will you be able to learn from that testing without a good place to store the recipes? Document the successes and failures? Do it in your account at https://insight-live.com.
Ravenscrag Cone 10R Silky Talc Matte
Code: GR10-C
Modification Date: 2016-10-17 17:22:02
Member of Group: RV10
Plainsman Cone 10R RavenTalc matte glaze. It can be found among others at http://ravenscrag.com.
Material
Amount
Ravenscrag Slip
90.0
Talc
10.0
100.00
Notes
This glaze is more silky (less matte) than the GR10-J glaze, it is much more beautiful visually and to the touch than a photo can convey. It works well all all clays, but especially buff and dark stonewares.
GR10-C Ravenscrag glaze on iron stoneware
GR10-C Ravenscrag glaze on grey stoneware.
RavenTalc silky matte for cone 10 reduction
GR10-C Ravenscrag cone 10R silky matte glaze (90% Ravenscrag Slip, 10% talc) produces stunning surfaces and has excellent slurry and application properties.
Difference between oxidation and reduction! GR10-C matte on Plainsman H443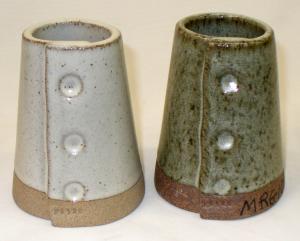 Same body, same glaze. Left is cone 10 oxidation, right is cone 10 reduction. What a difference! This is a Ravenscrag Slip based glaze on a high-fire iron stoneware. In reduction, the iron oxide in the body and glaze darkens (especially the body) and melts much more. The behavior of the tin oxide opacifier is also much different (having very little opacifying effect in reduction).
Ravenscrag based silky MgO matte at cone 6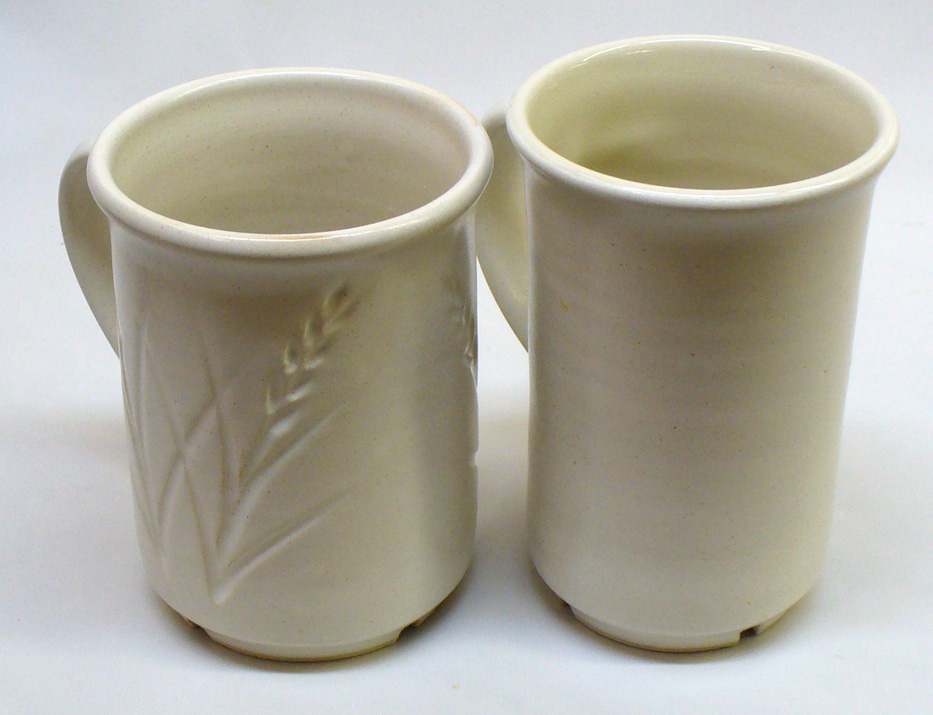 Cone 6 Ravenscrag Silky Matte on Plainsman M340 (left) and M370 (right). The inside of the M370 mug is a transparent glossy. This recipe produces a silky ivory-coloured surface of very good quality. Go to Ravenscrag.com for more info.
H435 with Ravenscrag 10% talc inside and Ravenscrag Silky Matte outside.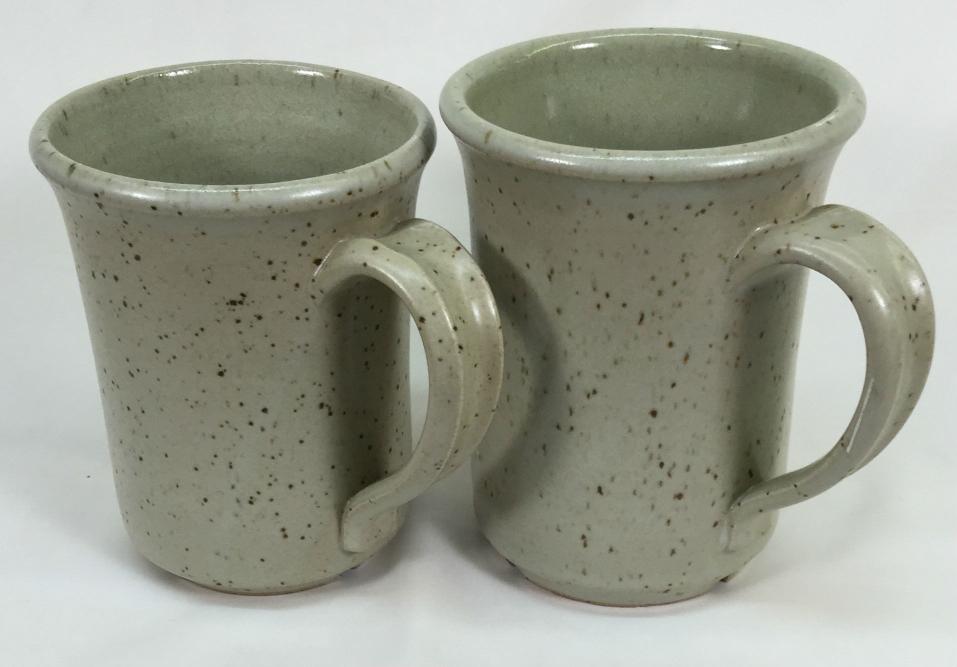 Fired at cone 10R
Laguna B-Mix Cone 10R mugs with Alberta and Ravenscrag glazes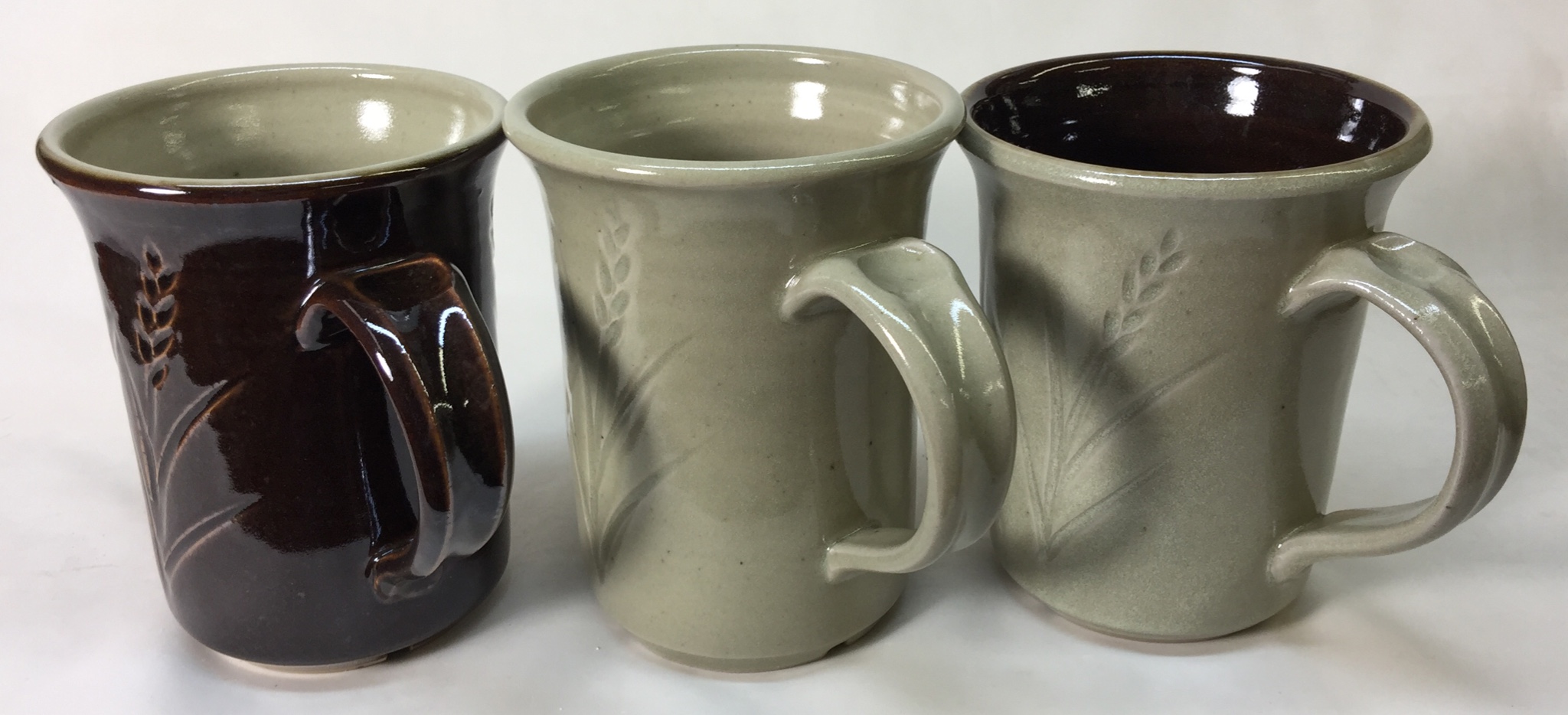 B-Mix is a popular high-ball clay very plastic grey cone 10R stoneware in North America. The two mugs on the left have pure Ravenscrag Slip on the inside (the middle on the outside also), it fires almost transparent with a slightly silky surface. Pure Alberta Slip is employed on the outside of the left one and the inside of the right one. The outside of the right one is RavenTalc silky matte. In all cases the Ravenscrag and Alberta Slip are mixed half-and-half calcined and raw. B-Mix fires dark enough and with enough specks that a normal transparent glaze is not very interesting. But these Ravenscrag ones look much better (for liner glazes).
Laguna B-Mix with Ravenscrag GR10-A, GR10-C glazes and 10% add FireRed clay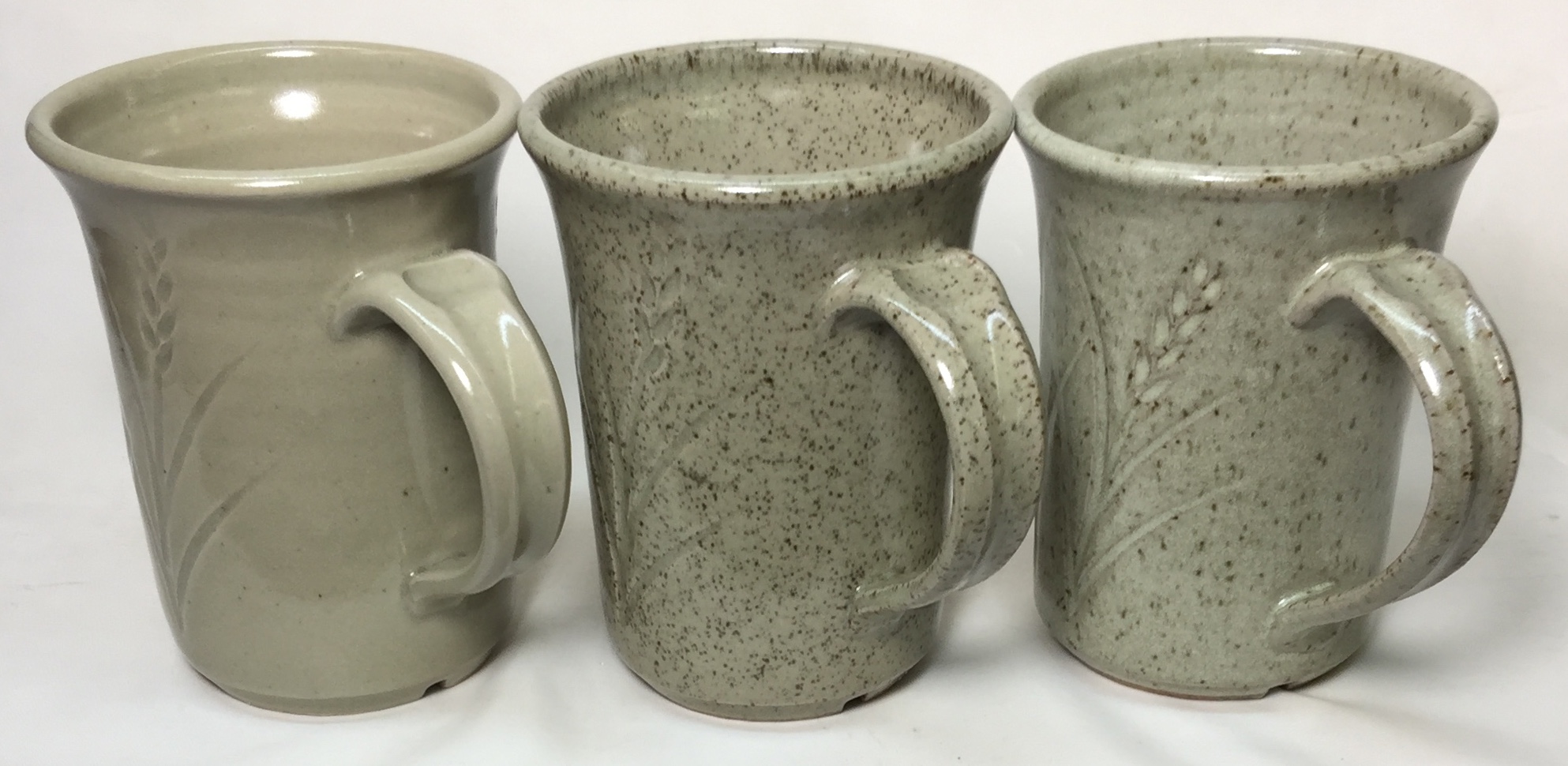 Left two mugs are pure Ravenscrag Slip, right is RavenTalc silky matte. The speckled mugs have 10% of Plainsman FiredRed (a concretion-containing red fireclay).
G1947U vs. Ravenscrag Silky Matte on L3954J black engobe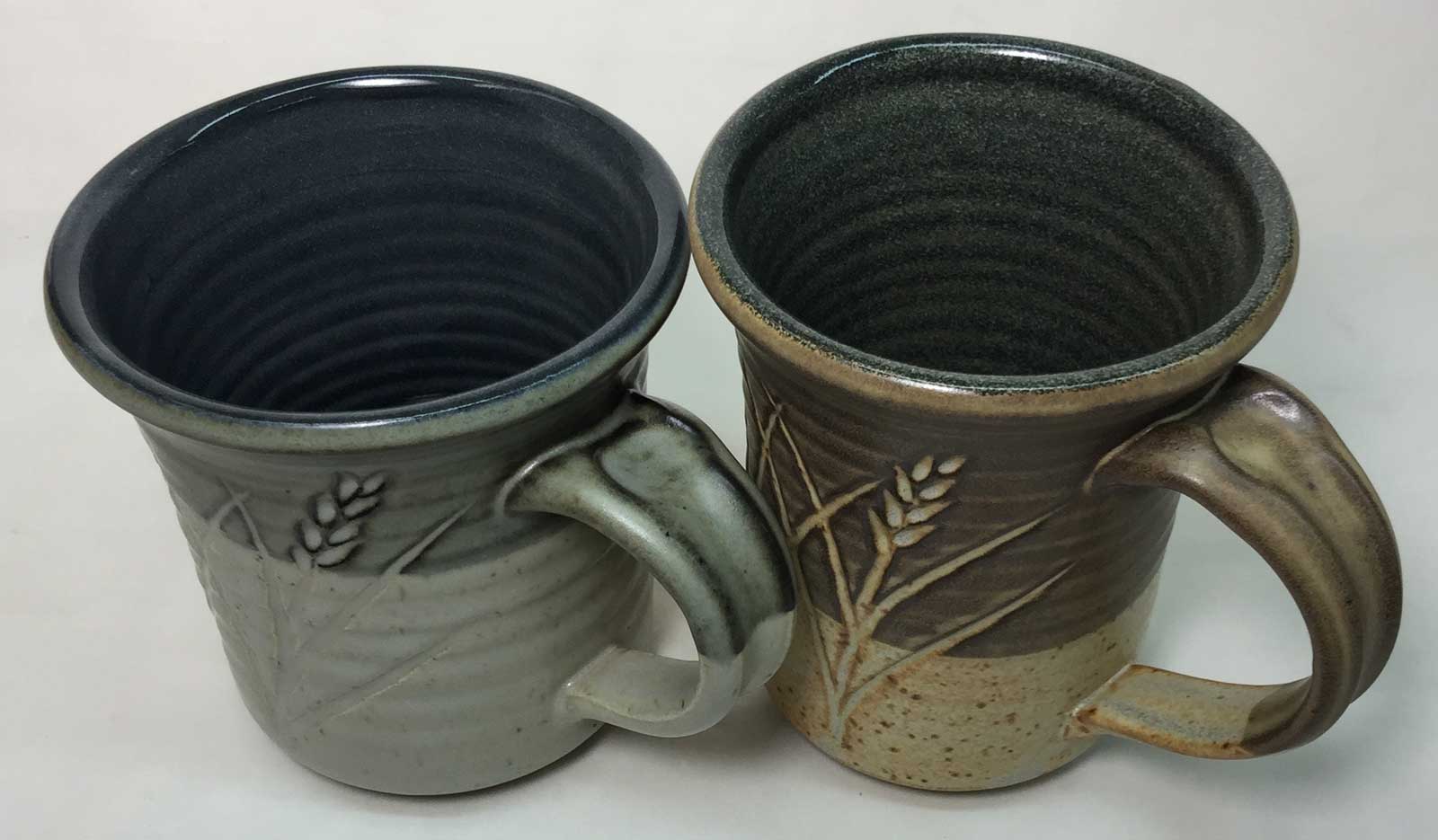 Fired at cone 10R. Clay is Plainsman H450.
Out Bound Links

(Recipes) G2928C - Ravenscrag Silky Matte for Cone 6

Plainsman Cone 6 Ravenscrag Slip based glaze. It can be found among others at http://ravenscrag.com.

2014-02-20 - This works well on Plainsman M340, but especially on a whiteware like M370. Produces an ivory white with some fleck. The surface is very silky, remini...
In Bound Links

(Recipes - Related) GR10-J - Ravenscrag Cone 10R Dolomite Matte

Plainsman Cone 10R Ravenscrag Slip based glaze. It can be found among others at http://ravenscrag.com.

2011-08-02 - This is the classic cone 10 reduction silky white matte, its feel, beauty and utility are very difficult to match in any other system. Unlike many fel...

(Glossary) Matte Glaze

A glaze that is not glossy. Of course, unmelted glazes will not be glossy, but to be a true matte a glaze must be melted and still not glossy. To be a functional matte it must also resist cultery marking, clean well and not leach into food and drink. Thus it is not easy to make a good matte glaze. I...
XML to Paste Into Insight
<?xml version="1.0"?>
<recipes version="1.0" encoding="UTF-8">
<recipe name="Ravenscrag Cone 10R Silky Talc Matte" keywords="Plainsman Cone 10R RavenTalc matte glaze. It can be found among others at http://ravenscrag.com." id="95" date="2016-10-17" codenum="GR10-C" altcodenum="G2852B">
<recipelines>
<recipeline material="Ravenscrag Slip" amount="90.000" unitabbr="kg" conversion="1.0000" added="0"/>
<recipeline material="Talc" amount="10.000" unitabbr="kg" conversion="1.0000" added="0"/>
<url url="https://digitalfire.com/4sight/recipes/ravenscrag_cone_10r_silky_talc_matte_95.html" descrip="Recipe page at digitalfire.com"/>
</recipelines>
<urls/>
</recipe>
</recipes>

---
---
Copyright 2003, 2008, 2015 https://digitalfire.com, All Rights Reserved