---
Oxides | Minerals | Materials | Recipes | Articles | Glossary | Hazards | Videos | Properties | Schedules | Temperatures | Tests | Troubles
---

The secret to cool bodies and glazes is alot of testing. But how will you be able to learn from that testing without a good place to store the recipes? Document the successes and failures? Do it in your account at https://insight-live.com.
G2934 Cone 6 Matte Low LOI Version
Code: G2934Y
Modification Date: 2017-09-14 18:38:30
Material
Amount
Ferro Frit 3249
10.0
Nepheline Syenite
10.5
Wollastonite
21.5
Talc
14.0
EPK
20.5
Silica
13.0
Calcined Kaolin
10.5
100.00
Notes
This is an MgO matte. High MgO content is a common matting mechanism at cone 10 but also works at cone 6. This recipe has the same chemistry as the widely used G2934, however this one sources much of the MgO from a frit and talc rather than from dolomite. The benefits are a much lower LOI (3.8 vs. 13.6), a smoother fired surface and better melt fluidity (while still very matte).

This glaze has a very low thermal expansion and will not craze an any common clay body. It accepts stains exceptionally well.

This recipe employs a mix of calcined and raw kaolin to keep the drying shrinkage down (to avoid cracking on drying).

We recommend doing cutlery marking test on your ware. If they mark, blend in a little transparent glossy glaze (like G2926B). This will compromise a little of the matteness but will reduce the marking.

1100 water, 1000 powder to get creamy mix.
Regular 2934 (with dolomite) took more water, about 1300. Nicer surface than G2934, same matteness, better fluidity.


The incredible silky matte surface and color possible at cone 6 oxidation
This is the G2934Y matte base recipe with only 8% Cerdec Orange encapsulated stain. G2934Y employs a frit-source for the MgO (as opposed to G2934 which sources the MgO from dolomite). The orange color is brighter on the mug on the left because the porcelain is whiter, Plainsman Polar Ice (the other one is #6 Tile Kaolin based, P300). If this was a glossy glaze the required percentage of stain would be higher.
G2934 cone 6 matte vs G2934Y with yellow stain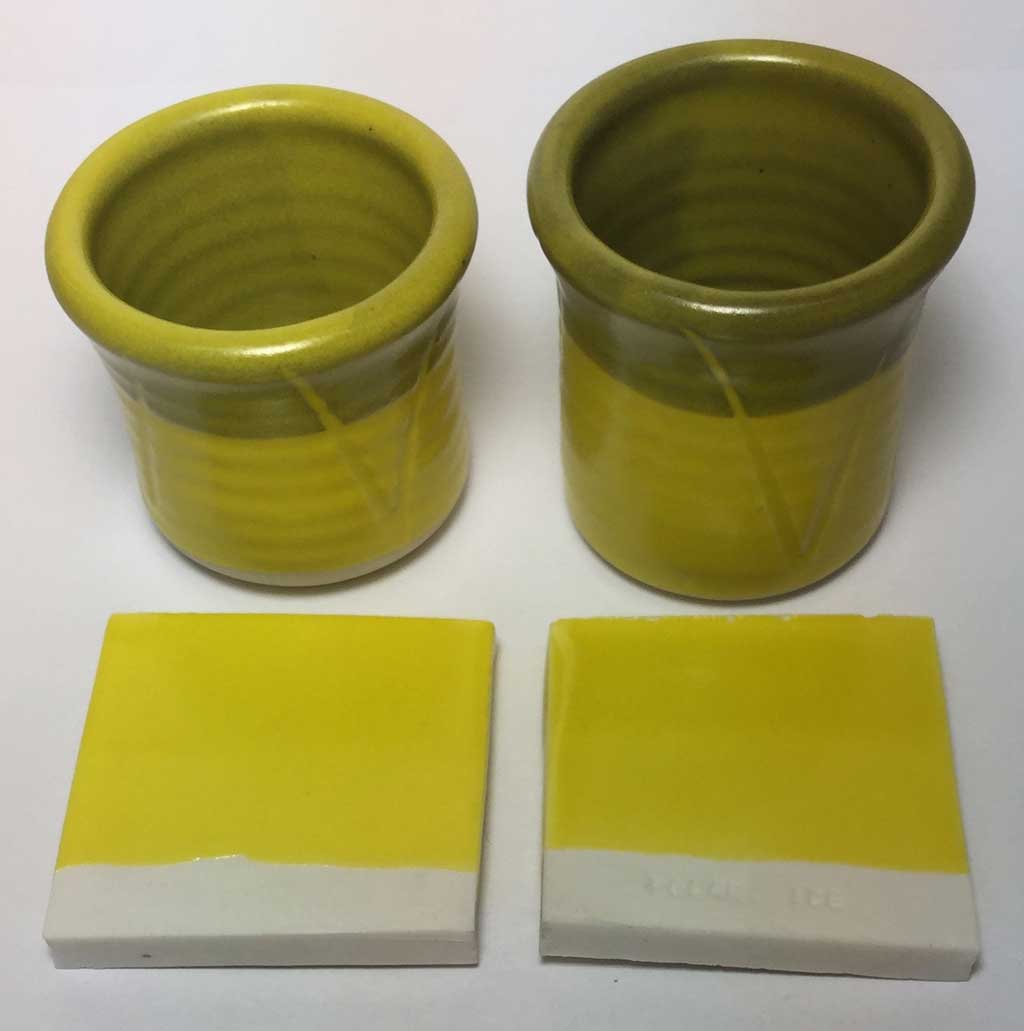 Y is has a more fluid melt so it is not as opaque against the black slip underneath (thus it looks better on translucent porcelains). However its surface is just slightly finer. The Y one appears darker on the porcelain tile but it is actually brighter. The Y version is more likely to fire to a functional matte in your circumstances because it employs a frit to source the MgO (instead of dolomite which is variable from region to region).
Out Bound Links

(Recipes - Related) G2934 - Matte Glaze Base for Cone 6

A base MgO matte glaze recipe fires to a hard utilitarian surface and has very good working properties. Blend in the glossy if it is too matte.

2014-03-26 - This glaze is a cone 6 dolomite matte. It is the p...
---
---
Copyright 2003, 2008, 2015 https://digitalfire.com, All Rights Reserved