•The secret to cool bodies and glazes is a lot of testing.
•The secret to know what to test is material and chemistry knowledge.
•The secret to learning from testing is documentation.
•The place to test, do the chemistry and document is an account at https://insight-live.com
•The place to get the knowledge is https://digitalfire.com

In contrast to the typical homogeneous surfaces of sanitaryware and most table ware, reactive glazes exhibit discontinuities in texture, matteness, reflectivity, color, etc that are called variegation. These variations are normally caused by crystallization, speckling and rivulets and opacity variations associated with phase separation. By understanding these mechanisms it is possible to produce glazes of more interesting appearance.
Variegation and phase separation with about 5% rutile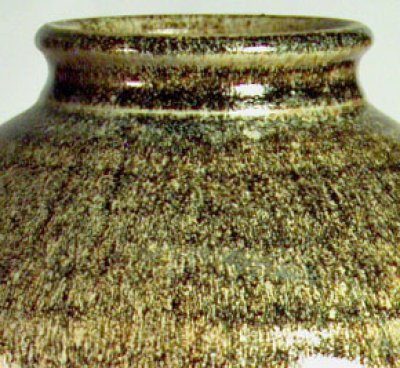 The glaze is a dolomite matte fired to cone 10R. High fire reduction is among the best processes to exploit the variegating magic of rutile.
Out Bound Links

In Bound Links