A 3-minute Mug with Plainsman Polar Ice
Tony Hansen takes you through the steps from opening the box and wedging the clay to taking the fired mug from the kiln.
F. Miscellaneous
Click here
to watch this at youtube.com or
click here
to go to our Youtube channel
This is an incredible cone 6 translucent porcelain made by Plainsman Clays.
Notice the first thing I do is scan the QR Code on the box to check the data sheet. This is important because this material is so much different to work with than other bodies. Of course you can just visit Plainsmanclays.com and find the Polar Ice page there also.
You will also notice that I have lots of difficulty softening up the rock-hard slug, that is how it comes. But it does soften right up, in fact it was too soft for me so I put it on my plaster bat for a while to stiffen it a little (with a body like this do not use it unless it is just the right stiffness for you, I do not like really soft clay).
It is incredibly sticky, sticky to wedge, sticky to move on the wheelhead if you need to get it on center, it water-sticks to the wheelhead so much you have to cut it off, it is very sticky to trim and it balls up under your fingers if you try to round edges after trimming (using your finger). But the throwing is fantastic, nothing else is like it. Its leather hard and dry strength are also really good and it dries very well. After that, firing and glazing is like any other porcelain. Of course, since it is so vitreous you do have to pay attention to the cross sectional strength of your ware so it does not warp in the kiln.
Links
URLs
http://www.plainsmanclays.com
Plainsman Clays
Glossary
Porcelain
Standard porcelains used by potters and for the production of sanitary and table ware have surprisingly similar recipes. But their plasticities vary widely.
Now that is a translucent porcelain!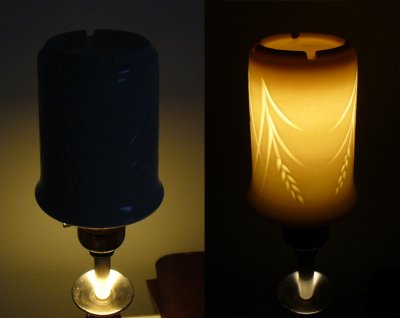 These are two cone 6 transparent glazed porcelain mugs with a light bulb inside. On the left is the porcelainous Plainsman M370 (Laguna B-Mix 6 would have similar opacity). Right is a zero-porosity New Zealand kaolin based porcelain called Polar Ice (from Plainsmanclays.com also)! The secret to making a plastic porcelain this white and translucent is not just the NZ kaolin, but the use of a very expensive plasticizer, VeeGum T, to enable maximizing the feldspar to get the fired maturity.
The fantastic throwing of Plainsman Polar Ice
This vase is 14 1/2 inches tall after drying yet was made from only about 5 1/2 lbs of clay. This is really plastic! The walls are only 3/16 thick on average (I did a little trimming on the bottom 3-4 inches). It wants to be thin and tall. It is easy to get it too thin at the bottom and too thick at the top!
Do not overfire translucent porcelain like Polar Ice
Overfired Polar Ice porcelain. This bowl fired with an oval-shaped rim and was sticking to the shelf.
Polar Ice makes great eyeballs
These are made by Leslie Hirsch
Made from Polar Ice by KyoungHwa Oh from Korea
Polar Ice at cone 6. Glaze is Plainsman M340 transparent with green stain added. These pieces were done by the visiting artist at the Medalta Artists in Residence program in 2014.
A good base glaze, a vitreous clay and a good fit. How good that is!
Left: Cone 10R buff stoneware with a silky transparent Ravenscrag glaze. Right: Cone 6 Polar Ice translucent porcelain with G2916F transparent glaze. What do these two have in common? Much effort was put into building these two base glazes (to which colors, variegators, opacifiers can be added) so that they fire to a durable, non-marking surface and have good working properties during production. They also fit, each of these mugs survives a boil:ice water thermal shock without crazing (BWIW test). And the clays? These are vitreous and strong. So these pieces will survive many years of use.
Is the clay too stiff to use? Maybe not.
Clays of very high plasticity often stiffen during storage in the bag. This is Plainsman Polar Ice, it contains 4% VeeGum. This slug is like a brick, yet it will loosen up completely. But it is far too stiff to attempt wedging. However simply throwing it on the floor a few times (turning it each time) will pre-soften it enough to be able to wedge. Then, before you know it, it is too soft and needs to be put on a plaster table to stiffen it before throwing.
By Tony Hansen



Copyright 2008, 2015, 2017 https://digitalfire.com, All Rights Reserved