•The secret to cool bodies and glazes is a lot of testing.
•The secret to know what to test is material and chemistry knowledge.
•The secret to learning from testing is documentation.
•The place to test, do the chemistry and document is an account at https://insight-live.com
•The place to get the knowledge is https://digitalfire.com
Salt, soda firing
---
Salt firing is a process where unglazed ware is fired to high temperatures and salt fumes are introduced into the kiln chamber (normally by a spray in the burner ports). The sodium in the salt forms a vapour cloud in the kiln. That sodium, along with the silica and alumina in the clay, combine to form a glass to glaze the ware. Bodies that contain high silica thus form the best interface with the glaze.

The salt glazing process has many historical roots. Salt glazed ware typically has distinctive marbled and variegated surface effects. Many books show case these. An increasing number of web pages extol the process and potters pay considerable amounts to attend workshops to learn about it. There is, however, a bias toward describing the process in the language of art rather than science. And the historic and cultural biases, rather than logic, tend to push the methods and processes used.

Salt glazed ware can be suitable for functional use, but there are caveats. Sodium has the highest thermal example of all common oxides so glazes are almost certain to craze. This will greatly impact ware strength and functionality. Not surprisingly, the oxide formulas of salt glazes fall well outside of normal glaze chemistry profiles. That means there is a danger of surface leaching, resulting in a loss of gloss or change in appearance. It is thus desirable to use a fitted liner glaze on functional pieces. Sodium is a very active flux and the salt-glazing process is theoretically feasible at lower temperatures than are commonly done. Whatever the range used, the body should be vitreous to produce strong ware.

Sodium vapor glazing using compounds other than sodium chloride (table salt) is practiced by many people.

There has been quite a bit of discussion about the safety and environmental concerns of salt vs. soda firing. It does not appear to be a foregone conclusion that soda is better than salt or even that chlorine is released in salt firings (rather than HCL vapor). Some reports on the Internet claim that measurements done on kilns have demonstrated that salt firing is as clean or cleaner than fuel reduction firing.
Small cone 10R salt glazed test piece
Plainsman P580, P600, H570 soda fired samples
These fire ivory to bone with in reduction.
Salt glaze beehive kiln beside the Plainsman Clays plant
This was built just after the turn of the 20th century and was one of about 25 at the Alberta Clay Products company. A ceramic industry quickly grew in the city when it was discovered that it had the magic ingredients: Good clay, natural gas, plenty of water, a dry climate and industrious people.
Salt glazed sewer pipe and fittings
Made in southern Alberta around 1960. They were extruded and then hand assembled.
Soda and salt kilns at the Medalta International Artists in Residence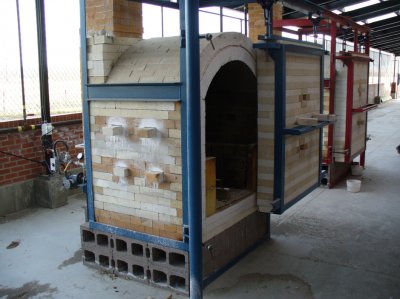 In Medicine Hat, Alberta, Canada. Designed by Aaron Nelson.
Rear of soda and salt kilns at the Medalta International Artists in Residence
In Medicine Hat, Alberta, Canada. Designed by Aaron Nelson.
A salt glazed mug fired at cone 10 in the kiln at the Medalta artist in residence program
Crazing in glazes is common in this type of ware but since the body is fired well into vitrification this is not considered an problem (the unique aesthetics of this type of ware trump such issues). Salt glazes, by their very nature, are high in sodium. And it has a high thermal expansion.
Salt glaze pipe fittings
Made in southern Alberta around 1960. These are massive. They were hand constructed.
A salt kiln being unloaded
Notice how ware is set on pads of clay to enable the salt vapours to access the underside. Salt and soda kilns degrade over time as the sodium eats away at the interior bricks. Shelves must be covered in kiln wash to preserve them.
Out Bound Links

(Glossary) Crazing

Crazing refers to small hairline cracks in glazed surfaces that usually appear after firing but can appear years later. It is caused by a mismatch in the thermal expansions of glaze and body. Most ceramics expand slightly on heating and contract on cooling. Even though the amount of change is very s...
In Bound Links

(Glossary) Firing

At it most basic level, firing is process of heating a clay (or recipe of clays and minerals) to a temperature sufficient to fuse the particles together. However today, each type of ceramic has its not only its own firing temperature, but also schedule (control of the rate of rise and fall of the ki...

(Glossary) Flashing

A fired visual effect on bare clay surfaces in fuel burning kilns (especially wood). Clay surfaces that have been flashed have been subjected to a thermal history of variations in flame, ash, kiln atmosphere and even imposed vapors (like salt and soda). Historical ceramics often had flashing simply ...