Laminations
Laminations in pugged the pugged clay body matrix or in a formed piece can cause separations during drying and firing or produce a fired matrix prone to cracking and failure under stress.
Details
Laminations are planes of weakly connected material in the plastic matrix of a clay body. Pugging and mixing of clay bodies can introduce laminations. For example, clays are cut and layered thousands of times during the mixing and extrusion processes, however pressures within the machine knits the layers back together. However, a number of factors can impede the knitting process. Pugmills can introduce laminations when the extrusion head does not compress the clay enough, when the blades in the mixing chamber are not properly set or are excessively worn, when the machine is run beyond its capacity and when the vacuum chamber has inadequate vaccum. Another factor is body formulation, if a mix contains too much sand or silt laminations may result. Laminations can be seen in a pugged slug by cutting a slice laterally and bending it. Laminations can also be caused by improper forming and working methods.The most obvious is when water or powder is trapped between the layers during wedging or kneading. Likewise, any form of throwing that uses layering between which water can be trapped can produce a lamination.

Laminations may not reveal themselves until firing. They can produce a phenomenon similar to bloating, but occurs in a body that is not over fired. If the surface of the clay is sealed by a melting glaze, this can disrupt the escape of gases of decomposition at the sites where they are generated. The result can be a buildup of pressure inside that exploits the weakness of a lamination. This matter will be complicated by the presence of larger particles in the matrix that must decompose and produce gases during firing, they produce larger volumes of gases at fewer sites.
Laminations in a jiggered bowl
These are not cracks. They do not go through to the inside. During forming the clay was folded over itself rather than compressed against the mold.
Example of a lamination that has occurred in a fired stoneware body at cone 10 oxidation.
What happens when you dry and bisque a piece made of pure kaolin?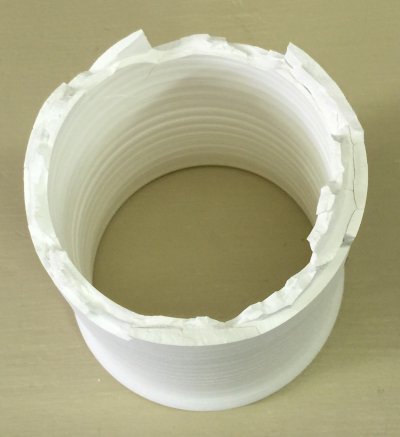 The way in which the walls of this bisque fired kaolin cup laminate reflect the plately and uniform nature of the kaolin particles. Because they are lining up during the wedging and throwing process, the strength to resist cracks is better along the circumference than perpendicular to it. The bonds are weak enough that it is very easy to break it apart by hand (even though it is bisque fired). The worst laminations were at the bottom where wall thickness was the most variable and therefore the most drying stresses occurred. However, if this kaolin were blended with feldspar and silica, this lamination tendency would completely disappear.
Links
Glossary
Bloating
When clay materials and bodies bubble as they melt or over fire. This normally happens in raw materials that contain particulates that produce gases during firing.
Glossary
Particle orientation
Ceramic clays have a flat particle shape. Various factors determine the extent to which they can bind face-to-face in pugged clay in the presence of particles of other materials.
By Tony Hansen

---


Copyright 2008, 2015, 2017 https://digitalfire.com, All Rights Reserved