•The secret to cool bodies and glazes is a lot of testing.
•The secret to know what to test is material and chemistry knowledge.
•The secret to learning from testing is documentation.
•The place to test, do the chemistry and document is an account at https://insight-live.com
•The place to get the knowledge is https://digitalfire.com
Gunmetal glaze
---
Refers to a black matte glaze that resembles the surface of iron. These are most easily made at cone 10 reduction.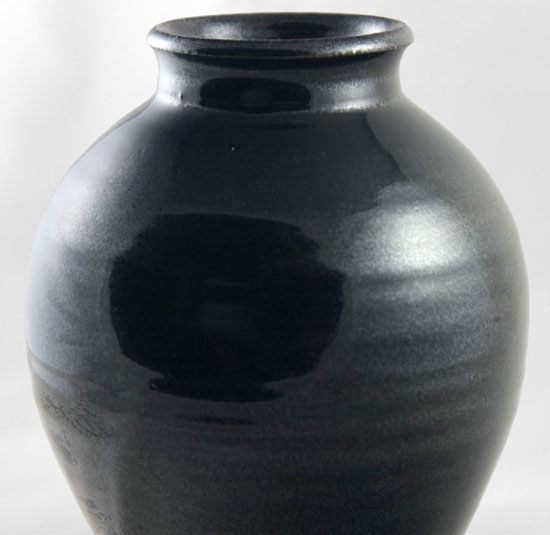 Cone 10 gunmetal black alberta slip glaze with 5% Mason 666 stain
Alberta and Ravenscrag Slip pure at cone 5 reduction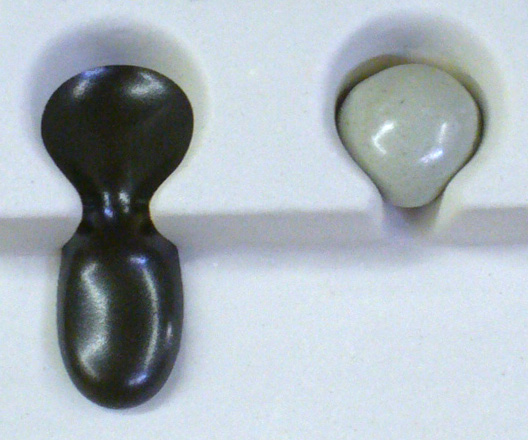 At cone 5R pure Alberta Slip (left) is beginning to melt and flow down the runway of this tester. It is producing a matte gunmetal surface. Pure Ravenscrag Slip (right) is just starting (it needs frit to develop melt fluidity at this temperature). The iron in the Alberta Slip is melting it because of the reduction atmosphere in the kiln (it does not move like this in oxidation).
Alberta Slip with 1-5% add Mason 6600 black stain fired at cone 10R. Compared with 6666, these are more matte in higher percentages of stain. Notice that increased stain percentages do not darken the color appreciably.