•The secret to cool bodies and glazes is a lot of testing.
•The secret to know what to test is material and chemistry knowledge.
•The secret to learning from testing is documentation.
•The place to test, do the chemistry and document is an account at https://insight-live.com
•The place to get the knowledge is https://digitalfire.com
Dimpling, Orange Peel
---
A glaze defect where the glaze surface has not flattened properly. Other than the obvious cause of under firing, the problem can also occur when bubbles entrained in an overly thick glaze matrix push the surface up at each bubble site.
The magic of zircon in de-bubbling a glaze with stain addition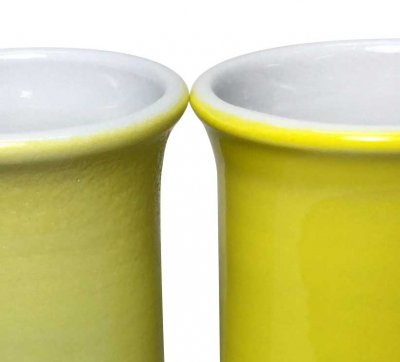 The cone 03 porcelain cup on the left has 10% Cerdec encapsulated stain 239416 in the G2931K clear base. The surface is orange-peeled because the glass is full of micro-bubbles that developed during the firing. Notice that the insides of the cups are crystal-clear, no bubbles. So here they are a direct product of the presence of the stain. The glaze on the right has even more stain, 15%. But it also has a 3% addition of zircon. Suppliers of encapsulated stains recommend a zircon addition, but are often unclear about why. Here is the reason, it is a "fining agent".