•The secret to cool bodies and glazes is a lot of testing.
•The secret to know what to test is material and chemistry knowledge.
•The secret to learning from testing is documentation.
•The place to test, do the chemistry and document is an account at https://insight-live.com
•The place to get the knowledge is https://digitalfire.com
Code Numbering
---
When many body, glaze, engobe, slip and body development, adjustment, trouble shooting and testing projects are on-the-go at any one time (and they should be in any ceramic lab or classroom) record keeping is essential in organizing things. Potters also want to be testing and developing new methods and materials, trying new glazes, adjusting and fixing others. Even hobby potters who use bottled commercial glazes find themselves testing dozens, or even hundreds of body/glaze or glaze/glaze combinations looking for aesthetics or doing color matching. For all of these people code numbers become the link between written records and pictures and corresponding fired samples. Even if you choose to discard fired samples after taking pictures, the code number still a unique identifier that you can use to label buckets, bags, boxes, reference samples, etc.

Insight-live recommends a code number of format X1234, where "X" is a type of test (e.g. lab test, production mix, glaze, body engobe) and '1234' is a sequential number that increments for each new record you add to the system.
Every studio, lab, classroom needs a good label printer
This is an Epson LP-600. It generates durable water-proof labels that are perfect for identifying buckets and jars of materials and glazes. Apps are available for iOS, Android, Windows and Mac. You can insert a QRCode (perfect for taking someone to an SDS or information page). Insight-live emphasizes assigning unique code numbers to all recipes you create and maintain, this is the perfect way to prominently display it. Label containers like this and there will never be confusion about what things are.
This is a key to organizing your studio, lab or teaching facility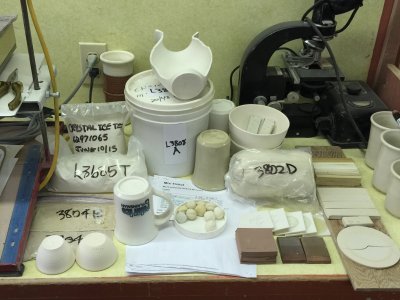 The new ceramics is about data! Everything here has a code number (in the form x1234) that members of our team can search in our group account at insight-live.com. We write the numbers on the bottoms of pots, plastic bags of powders/liquids/pugged, buckets, glaze balls, mix tickets, test bars, tiles, glaze samples, drying tests, flow tests, sieve analyses, LOI/water content tests, etc. Many pots have two numbers, the body and the glaze. If something is lacking a number it goes in the garbage because it teaches nothing and is therefore taking up pointless space.
Never do body or glaze testing without code numbers
That is how you know what it is. The recipe. The firing schedule. The notes. The project it was in, information about what came before it and what developed from it. These mugs and that test bar are the same clay, I am doing a preliminary test on a new material from our quarry, it is called "Battle Clay".
Identifying throwing tests of clay bodies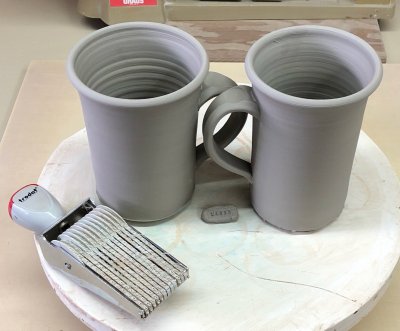 If you are doing testing, and everyone should be testing body and glaze variations, then your ware needs to be identified. Do that with a code number that cross references into your documentation in your account at Insight-live.com.
Here's how we used to record test results before we got insight-live.com
A potter is testing glazes on a new clay body. But this generates a lot of data, how is a person to keep track of it all? This is how we used to do it. An account at Insight-live.com is the new place to organize this. There is room for thousands, even millions of recipes, pictures, notes, firing schedules, etc. You can link them and search them in so many different ways. Testing commercial bottled glazes and glaze combination on your bodies requires good record keeping also. Pottery has always been about the data, we just let that information die before. Now we can learn so much more from it. Photo courtesy of Brielle Rovito, Burlington, Vermont, USA.
Out Bound Links

(Glossary) Digitalfire Insight-Live

Insight-Live is an OnLine ceramic recipe, material and test results management system used by potters and ceramic engineers and technicians. It is a product of Digitalfire Corporation and has been in operation since 2012. The site builds on the traditional desktop Insight (for Windows, Linux, Macint...