Celadon Glaze
A type of stoneware glaze normally fired in a high temperature reduction atmosphere kiln. It is transparent and stained green or blue by the presence of iron oxide.
Details
A green or blue-green reduction fired glaze that has been stained using iron oxide. Celadons were first developed by the ancient Chinese. The celadons that potters are accustomed to firing today are glossy transparent whereas the ancient versions were more waxy and opaque. Thus there is dispute among practitioners and purists about what exactly a celadon really should be or what glaze can truly be labelled 'Celadons'. There are many books and webpages on the subject.

Typically celadon glazes are employed on porcelain but can also be used effectively on stonewares. Modern Celadons usually possess their high gloss because of high amounts of sodium and potassium, these oxides also cause the crazing often seen. However this problem can be solved by substituting some of the Na2O with lower expansion MgO or CaO and increasing the SiO2 (using glaze chemistry of course). Celadons have traditionally been fired at cone 10 but lower temperatures are possible with the addition of more flux (e.g. Gerstley Borate).

Blue celadons typically have high sodium/potassium, high silica, not too much iron, and low titanium (Grolleg kaolin is a good option to minimize the TiO2). Some claim that a little tin oxide and/or barium carbonate will help with the blue color. Some people are investigating creating celadons for cone 6 oxidation using stains to impart the color.
Example of a logo done using a polymer plate
Polymer plates are used in letter press and can still be purchased online (e.g. boxcarpress.com). Just create the artwork in a vector graphic drawing program and upload it to their website. Press it into a thin slab (using some sort of oil as a parting agent) and then attach that using slip to the item. After the piece is bisque fired apply the color and wipe it away from the high spots using a sponge. This is a celadon cone 10R glaze (about 3.5% iron oxide) on a buff firing reduction stoneware with G1947U transparent liner glaze. The brown in the logo is a tenmoku.
Alberta Ravenscrag Cone 6 Brilliant Celadon
The magic of this recipe is the 5% extra frit, that makes the melt more fluid and brilliant and gives the glaze more transparency where it is thinner on edges and contours. The extra iron in the Plainsman P380 (right) intensifies the green glaze color (vs. Polar Ice on the left). The specks are cobalt oxide agglomerates that were made by slurrying cobalt oxide and bentonite, then crushing it to sizes large enough to make the specks.
Ravenscrag Celadon and silky matte glazed mug by Tony Hansen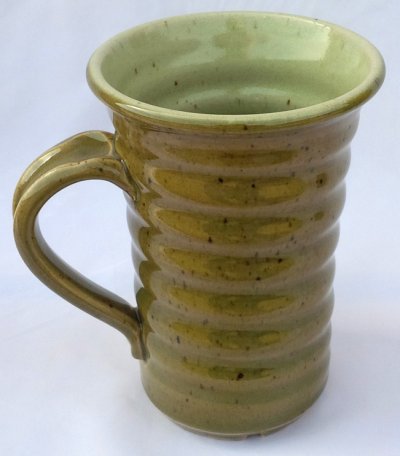 The outside glaze on this cone 10R mug (made of Plainsman H550) is simply an Alberta Slip:Ravenscrag Slip 50:50 mix with 5% added Ferro Frit 3134 (the Alberta Slip is calcined). This produces a stunning celadon with great working and application properties. Inside glaze: Ravenscrag Slip 90%, talc 10% (a matte having an extra ordinary silky texture). Learn more at ravenscrag.com.
The multitude of things iron oxide can do in reduction
Iron oxide is an amazing glaze addition in reduction. It produces celadons at low percentages, then progresses to a clear amber glass by 5%, then to an opaque brown at 7%, a tenmoku by 9% and finally metallic crystalline with increasingly large crystals past 13%. These samples were cooled naturally in a large reduction kiln, the crystallization mechanism would be much heavier if it were cooled more slowly.
50:50 Alberta Slip:Ravenscrag Slip cone 10R celadon on iron stoneware, buff stone and porcelain.
GR10-E 50:50 Alberta Slip:Ravenscrag Slip celadon at cone 10R
On a white stoneware and a porcelain. The glaze is transparent, it has depth and varies in shade according to thickness, breaking to a much lighter shade on the edges of contours.
Ravenscrag GR10-E celadon glaze
(50:50 Ravenscrag Slip:Alberta Slip) at cone 10R on porcelain (right) and stoneware (left).
GR10-E Ravenscrag:Alberta Slip with 10% calcium carbonate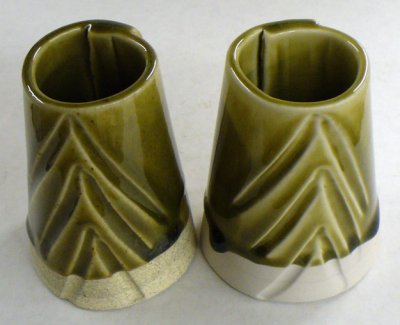 At cone 10R this produces an overly melted glaze. It also crazes.
Close-up of cone 10R celadon bubbles suspended in the glass
This is happening because this glaze lacks flux and is not fluid enough to enable their migration. In the upper half they are more evident (double thickness).
A down side of high feldspar glazes: Crazing!
This reduction celadon is crazing. Why? High feldspar. Feldspar supplies the oxides K2O and Na2O, they contribute to brilliant gloss and great color (at all temperatures) but the price is very high thermal expansion. Any glaze having 40% or more feldspar should turn on a red light! Thousands of recipes being traded online are high-feldspar, some more than 50%! There are ways to tolerate the high expansion of KNaO, but the vast majority are crazing on all but high quartz bodies. Crazing is a plague for potters. Ware strength suffers dramatically, pieces leak, the glaze harbours bacteria, crazing invites customers to return pieces. The fix: A transparent base that fits your ware. Add colorants and opacifiers to that. Another fix: substitute some of the KNaO for a lower expansion flux (like MgO, SrO, CaO, Li2O) and add as much SiO2 and Al2O3 as the glaze will take (using glaze chemistry software).
Just enough iron in this celadon to highlight the design
There is only 0.35% iron oxide in this recipe, as much as ten time less than normal. But this is just enough to provide a darker shadow (where the glaze is thicker) at the edges of the design. This is porcelain fired at cone 10 reduction by Janel Jacobson.
Links
Glossary
Crazing
Crazed ceramic glazes have a network of cracks. Understanding the causes is the most practical way to solve it. 95% of the time the solution is to adjust the thermal expansion of the glaze.
URLs
http://en.wikipedia.org/wiki/Celadon
Celadon on Wikipedia
By Tony Hansen

---


Copyright 2008, 2015, 2017 https://digitalfire.com, All Rights Reserved