•The secret to cool bodies and glazes is a lot of testing.
•The secret to know what to test is material and chemistry knowledge.
•The secret to learning from testing is documentation.
•The place to test, do the chemistry and document is an account at https://insight-live.com
•The place to get the knowledge is https://digitalfire.com
Bone China
---
True bone china is a special type of translucent porcelain. Instead of feldspar, bone ash is used as the flux. The process requires more careful attention than normal porcelain. The vitrification range is narrow, kilns need to be fired carefully. Ware often warps so badly that it must be fired without glaze and supported in setters during the firing (it is then glazed and fired again at a low temperature). Forming methods have to be adapted to the very low plasticity of the bodies. Glazes have to be adapted because the ware has zero porosity. The whole process is quite foreign to what workers in an average pottery would be accustomed to.
Now that is a translucent porcelain!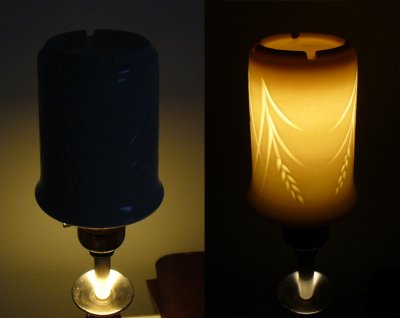 These are two cone 6 transparent glazed porcelain mugs with a light bulb inside. On the left is the porcelainous Plainsman M370 (Laguna B-Mix 6 would have similar opacity). Right is a zero-porosity New Zealand kaolin based porcelain called Polar Ice (from Plainsmanclays.com also)! The secret to making a plastic porcelain this white and translucent is not just the NZ kaolin, but the use of a very expensive plasticizer, VeeGum T, to enable maximizing the feldspar to get the fired maturity.
Out Bound Links

In Bound Links

(Materials) Bone Ash

- Ca5(OH)(PO4)3

Calcium Phosphate

(Glossary) Vitrification

Vitrification is the solidification of a melt into a glass rather than a crystalline structure (crystallization). Glass, clay bodies and glazes vitrify, but in ceramics use of the term focuses most on clay bodies. Vitrification is a process. Bodies do not have specific vitrification points. As cl...

(Glossary) Tranlucency

Translucent glazes are neither opaque or transparent. A good example is a matte glaze that contains no opacifier. Glazes that are opacified will of course have varying degrees of translucency according to the amount of opacifier present. A colored glaze can be transparent, translucent or opaque and ...