•The secret to cool bodies and glazes is a lot of testing.
•The secret to know what to test is material and chemistry knowledge.
•The secret to learning from testing is documentation.
•The place to test, do the chemistry and document is an account at https://insight-live.com
•The place to get the knowledge is https://digitalfire.com
3D Printing
---
It is becoming more practical for potters and ceramic artists or entrepreneurs to take on projects never before possible because of the increasing accessibility of 3D printing. Ordinary consumer printers are useful for making mock-ups, master and block molds, forms, templates, mold pour-spouts, supports, holders, cutters, tools, stamps, embossers, rollers and more. All of these things can make it not only easier, but also possible, to use forming techniques you would not otherwise use (e.g. jiggering, casting, pressing, extruding, stamping).

Many technologies must be understood and exploited to make practical use of 3D printing in ceramic production (although you can reduce the number needed by hiring a consultant at Upwork.com). One of the most difficult obstacles is learning 3D design software and conversion tools. Further complicating this is the hundreds of products available. The existence of standards is a big help. Another major enabler has been a policy change by AutoDesk, the maker of industry-standard AutoCAD for many years. They are building their future of mechanical design around Fusion 360 and, as of 2015, it is free for use by education and businesses earning less than 100,000 per year. It has exceptional online resources and training, this development could be the most important single factor that puts 3D into prime-time ceramic production.

Online service providers offer a wide range of printing technologies, so you can email 3D files to them. An exciting technology is laser fusing of powder, even metal powder (in this way metals and ceramic can be precisely printed). That being said, it is still best to have your own printer. This is because the process of learning and perfectly designs involves cycles of tweaking designs and reprinting them. The freedom to do this is a big part of the utility of 3D printing. Once you have a proven design, then consider sending it away for printing in higher quality.

Owning your own printer is largely possible because of the RepRap international movement to develop open source hardware and software platforms for 3D printing. Reprap printers use standard buy-at-a-hardware-store parts or ones that the printer itself can make. This means that anyone can buy and assemble an inexpensive printer to learn many details of their mechanics and operation.

Making practical use of the technologies and not getting caught up in the hype of things can be challenging. One way to do this is gradual learning and application of the technology.
Fusion 360, my choice for 3D modelling
Intimidation by the complexity of this type of software is the biggest obstacle you will face to learning 3D printing. That being said, the mission AutoDesk is to make it easy! I tried others. This is a standard for which it is easy to find consultants. Supported by the industry leader. Learning curve via Tinkercad. Free from a company that realizes how universal acceptance will foster it's use. Videos on youtube. This enables interactive creation of 3D geometry. Software like this cannot however run a 3D printer. The industry has partitioned to deal with the complexity of 3D printing. AutoDesk focusses on creation of the 3D whereas slicer programs handle converting that 3D to slices and running the printer to lay them down.
Hand-tooled jigger model vs. 3D-printed and cast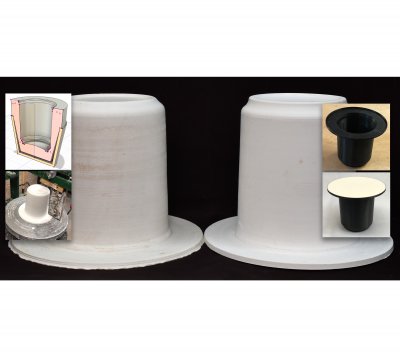 I am creating molds for a casting jiggering process to make mugs. I have a profile drawing I want to match (upper left). The solid model on the left is my first attempt at manual tooling. The metal template was time-consuming to make by hand, it worked poorly (the surface is rough). And the contour matches the drawing poorly. I lost the enthusiasm to even get it smooth. For the one on the right I 3D-printed a shell, poured the plaster in and then smoothed it off a bit on the wheel after the set. It matches the template and it is perfectly round (because I have a good 3D printer, a Prusa MK3S). This is revolutionary! That drawing: I hired someone on Upwork.com to draw it for me using Fusion 360. He draws things in such a way that I can fine-tune them. Then I print them using my own 3D slicer.
3D Printed mug prototype
Although made on an inexpensive Reprap printer it is fine for visualizing the size and shape. An important first step in designing a mug for production to a commercial client.
Large cookie-cutter 3D-printed in four pieces
These four sections were glued together to make a larger one. Now it is possible to quickly precision-cut the shape for making my pie-crust mugs. Later I re-printed these templates on a better 3D printer so the inner vertex holes cut out much better.
A 3D-printed spout greatly increases the utility of this casting mold
It was glued down using the casting slip itself (it stuck in seconds). About ten minutes after draining a fettling knife was run around the inside, then it detached easily. The overhung lip produced imparts structural strength, for drying and firing, to the thin walled piece. This spout has advantages over the traditional "spare" built in to the upper part of a mold. It enables a one-piece mold. The lip can be more overhung. Draining is cleaner and easier. Molds are lighter. Extraction can be done sooner and it is easier. The spout does not absorb so there is less scrap. The degree of overhang is adjustable by simply printing new spouts.
Printing a prototype propeller for my Lightnin lab mixer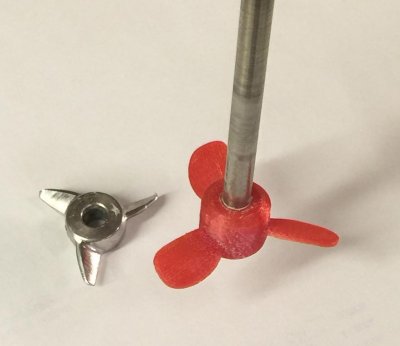 An example of how handy the ability to print in 3D can be. The worn-out stainless propeller costs $300 to replace. But the size and pitch of the blades is not right anyway. So I draw them using Fusion 360 and print them in PLA plastic, enabling experimenting with different sizes and pitches. While I could have one printed in stainless at shapeways.com I do not need to because these plastic ones are surprisingly durable. How about getting a tight fit on the shaft? No problem. I measured this shaft with a callipers and printed that size. It was a little tight so I printed slightly larger and it fits very tightly. One issue: If you mix slurries with hot water, it will travel up the shaft and the blades will bend.
3D Printing the Medalta 66 prototype mug
Show on Post Page
This took 12 hours! Notice the supports it prints for the handle. These break away after it is done. Of course the surface is not smooth enough to use as a model, but the purpose was to hold it to judge size, wall thickness, handle feel and shape. I will make the molds and jigger templates using the printer also.
Making ceramic tile shapes by 3D printing your own cookie cutters
This was done on an affordable RepRap printer. The red plastic templates were drawn in Illustrator, extruded in Fusion 360 and sliced and printed using Simplify3D (which took about 30 minutes each). The round wooden block was used to press these cookie-cutters into the clay. The plastic wrap made sticking a non issue (and rounds the corners nicely). The clay is a low fire, buff burning talc body (Plainsman L212). Commercial bottled glazes were applied by brushing (in three coats) after bisque. The tiles were fired at cone 03. This is an old classic design that I discovered when researching Damascus tile. The toughest obstacle was learning how to use Fusion 360. It turns out that cookie cutters are a starter project for many 3D software packages, there are lots of videos on making them.
The incredible utility of 3D printing master handle molds
These molds are 3D-printed from PLA, the most common type of filament used in 3D printers. The sidewalls have a draft about about 5 degrees. A quick soaping, 164 grams of water and 236 grams of plaster and in fifteen minutes you have a mold (if the plaster is poured after turning creamy). It takes time to learn how to soak them properly to get optimum quality, but these molds seem to work well regardless. The two halves mate with a tiny amount of play, but it is easy to line them up perfectly before putting on the rubber band. The play enables lateral movement that aids in releasing the handle. It is actually easier to cast handles solid rather than pour the slip out, they can be ready to apply in an hour after pouring in the slip. The ease of making these mold puts slip casting within much easier reach for potters and small companies.
G-Code 3D Printer instructions
Simplify3D knows how to convert the 3D geometry generated by Fusion 360 into GCode (shown in the black text window lower right). I have just told Fusion 360 to print this and it automatically launched this and passed the 3D geometry to it. Simplify3D is a "slicer" because it knows how to convert a 3D object into slices that a 3D printer can lay down (one on top of the other). Simplify3D is fairly expensive and competes with a number of free products (like Slic3r, Cura). It gives me a 3D view of the object and enables positioning and rotating it on the bed and configuring dozens of parameters. It is about to deliver the GCode (via a USB connection) to my RepRap 3D printer (although it is often preferable to use the "Save Toothpaths to Disk" button to generate GCode and write it to an SDCard which the printer can accept). The black text-edit window shows what the G-Code looks like. It is just text. With hundreds of thousands of commands that mostly move the head to successive X-Y positions and a defined filament feed-rate.
Fusion 360 on YouTube
Popular gurus get millions of views on their videos. Lars Christensen and Tyler Beck are popular contributors. Each of them has plenty of videos to teach you everything you need to know to get started designing for your ceramic production. If you get stuck, there are hundreds of places on line to go to find help. It is helpful if you know how to do a screen recording (e.g. using Screencast-o-Matic) to be able to demonstrate the problem you are having. Getting specific answers to specific problems is a surefire way to progress in your knowledge.
Out Bound Links