C6DHSC Firing Schedule
Plainsman Cone 6 Slow Cool (Reactive glazes)
Start temperature assumed: 75°F
Step
Rate to Temp °C
Rate
°F/hr
To °F
Hold
Accum
Time
1
60°C/hr to 104
108
220
60min
2:20
Longer soak if ware is heavy or thick
2
194°C/hr to 1146
350
2095
15min
7:56
Climb faster is ware is thin
3
60°C/hr to 1201
108
2195
15min
9:07
Slower climb if ware is thick, keep soak here short if possible
4
277°C/hr to 1043
500
1910
30min
10:11
Drop quickly to 1910F
5
83°C/hr to 760
150
1400
13:35
Slow cool to 1400F
*Rates are expressed as "Celcius/Fahrenheit degrees", temperatures as "Degrees celcius/fahrenheit"
---
This is for a typical studio electric 18" or greater studio kiln with an exhaust fan on at start of firing to remove water during initial water smoking period. These kilns are often densely packed and cool fairly slowly anyway (but not likely as slowly as this to 1400F).

Use for defect-free rutile glazes that need to develop the rutile blue coloration during cooling.

Include self-supporting cones 5, 6 and 7 frequently in firings to monitor the accuracy of your controller. Adjust the temperature of step 3 for each kiln you have.
Alberta Slip GA6-A cone 6 base glaze slow cooled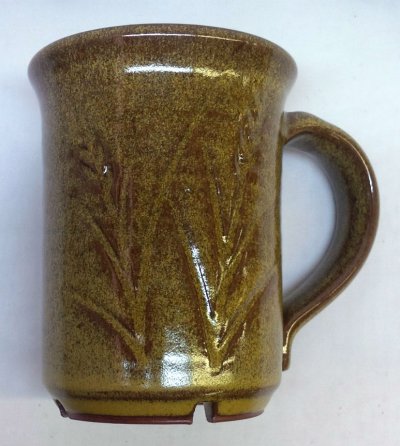 GA6-A Alberta Slip base glaze (80 Alberta Slip:20 Frit 3134) fired with Plainsman slow cool cone 6 firing schedule on Plainsman M390 iron red clay. If this is cooled at normal speed, it fires to a glossy clear amber glass with no crystals.
GA6A Alberta Slip base using Frit 3124, 3249 and 3195 on dark body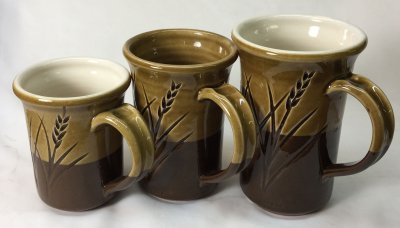 The body is dark brown burning Plainsman M390 (cone 6). The amber colored glaze is 80% Alberta Slip (raw:calcine mix) with 20% of each frit. The white engobe on the inside of two of the mugs is L3954A (those mugs are glazed inside using transparent G2926B). The Alberta Slip amber gloss glaze produces an ultra-gloss surface of high quality on mugs 2 and 3 (Frit 3249 and 3195). On the outside we see it this glaze on the white slip until midway down, then on the bare red clay. The amber glaze on the first mug (with Frit 3124) has a pebbly surface that is not working nearly as well. These mugs are fired using a drop-and-soak firing schedule. Some caution is required with the 3249 version, it has low thermal expansion (that is good on bodies that normally craze glazes, but risks shivering on ones that do not).
Cone 6 rutile floating blue effect lost. Then regained.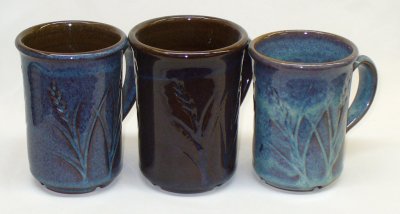 Left: What GA6-C Alberta Slip rutile blue used to look like. Middle: When it started firing wrong, the color was almost completely lost. Right: The rutile effect is back with a vengeance! What was the problem? We were adjusting firing schedules over time to find ways to reduce pinholing in other glazes and bodies. Our focus was slowing the final stages of firing and soaking there. In those efforts the key firing phase that creates the effect was lost: it happens on the way down from cone 6. This glaze needs a drop-and-soak firing (e.g. cooling 270F from cone 6, soaking, then 150F/hr drop to 1400F).
Plainsman iron red clays with rutile blue Alberta Slip glaze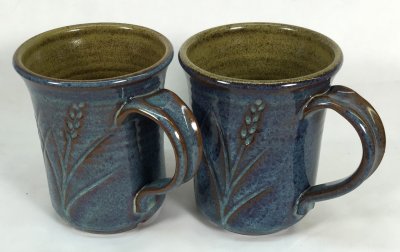 Cone 6 mugs made from Plainsman M350 (left) and M390 dark burning cone 6 bodies. The outside glaze is Alberta-Slip-based GA6-C rutile blue and the inside is GA6-A base (20% frit 3134 and 80% Alberta Slip). That inside glaze is normally glossy, but crystallizes to a stunning silky matte when fired using the schedule needed for the rutile blue (cool 100F and soak, slow cool to 1400F).
Rutile blue glaze effect completely lost! A temporary solution.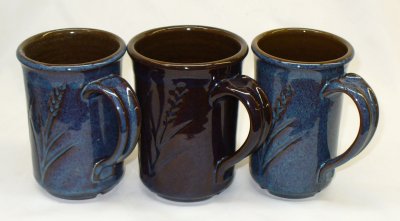 Left: 4% rutile in the Alberta Slip:frit 80:20 base. This glaze has been reliable for years. But suddenly it began firing like the center mug! Three 5 gallon buckets of glaze (of differing ages) all changed at once. We tried every combination of thickness, firing schedule, clay body, ventilation, glazing method on dozens of separate pieces with no success to get the blue back. Even mixed a new batch, still no color. Finally the 'crow bar' method worked, 0.25% added cobalt oxide (right mug). It is identical ... amazing. It is not the same mechanism to get the color and it is not exactly the same, but worked while we figured out the real issue: the firing schedule (the secret turned out to be cooling, soaking, then slow cooling to 1400F).
A cone 6 clear glaze plus iron vs. Alberta Slip amber base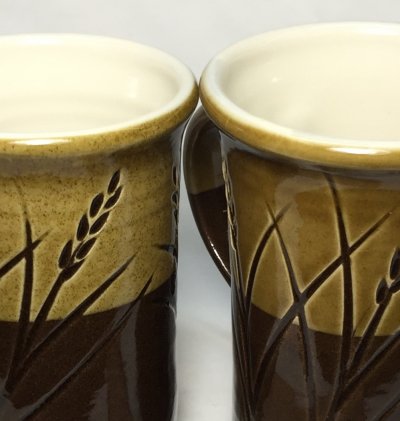 These two mugs are made from a dark red burning stoneware and fired in a cool-and-soak firing schedule. A white engobe (L3954A) has been applied on the inside and half way down the outside. Both are glazed inside with G2926B whiteware transparent glaze. The outside glaze on the left is the same transparent with 4% added iron oxide. It has been sieved to 80 mesh. Notice the iron agglomerates and still produces specking (an effect that may be desired, but difficult to keep consistent). Interestingly, that iron is producing a clear amber-colored glass about equal in color to the Alberta Slip GA6A base glaze (80% Alberta Slip, 20% Frit 3195) on the mug on the right.
P300 and M370 mugs with GA6A Alberta Slip (using Frit 3249)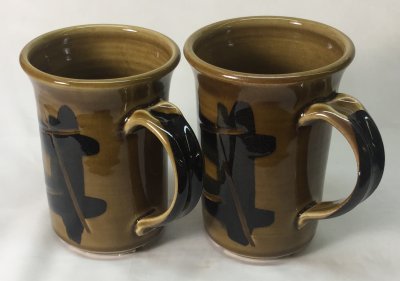 Rather than the normal 80:20 AlbertaSlip:Frit3134 recipe, this one substitutes Frit 3249 (super low expansion). The glaze is less runny and even glossier on these Plainsman porcelains. They are fired at cone 6 in a cool-and-soak firing. They survived an BWIW test (boiling water:ice water) without crazing (likely because of the low expansion of frit 3249). The finish is dazzling, a brilliant amber glass with no defects and perfectly even coverage. Of course, the iron in the glass prevents the colors of the blue underglaze from showing through. But the black is great.
Alberta Slip Rutile-blue needs Frit 3134, it does not work with others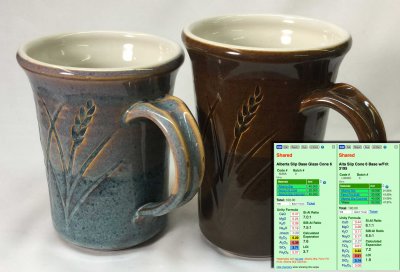 These two cone 6 mugs have the same glaze recipe: GA6A Alberta Slip base. 4% rutile has been added to each. They were fired in the same kiln using a slow cool schedule. The recipes and chemistry are shown below (the latter gives a clue as to why there is no blue on the right). The mug on the left is the traditional recipe, 80:20 Alberta Slip:Ferro Frit 3134. Frit 3134 melts at a very low temperature and a key reason for that is its near-zero Al2O3 content. Al2O3 in glazes stiffens the melt and imparts durability to the fired glass (normally we want adequate levels in functional glazes). When Al2O3 levels are low and cooling is slower molecules in the stiffening glass have much more freedom to move and orient themselves in the preferred way: crystalline (fast cooling produces a glass). Thus the rutile in the glaze on the left has had its way, dancing as the kiln cooled, producing all sorts of interesting variegated visual effects. The glaze on the right employs Ferro Frit 3195. It has lots of Al2O3 and has contributed enough to stop the rutile dead.
Ravencrag rutile blue vs. Alberta Slip floating blue at cone 6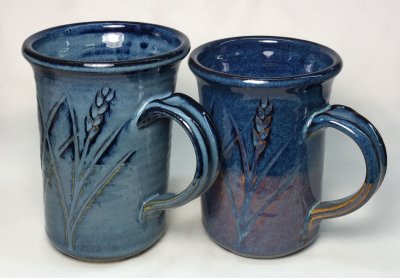 Both have been applied at moderate thickness on Plainsman M325 (using a slurry of about 1.43-1.45 specific gravity, higher values end up getting them on too thick). The Ravenscrag version highlights contours better (the edges are black because of the black engobe underneath). It also produces the blue color whether or not the kiln is slow cooled to 1400F (although a faster cool is less blue). But the Alberta Slip version has zero cobalt so is less expensive to make. It produces a deeper color over the black engobe underneath the upper section of the pieces. Both of these produce a wide range of effects with different thickness, bodies and firing schedules.
In Bound Links

(Schedules - Related) Plainsman Cone 6 Electric Standard

- UnDescribed

(Recipes) GA6-C - Alberta Slip Rutile Blue Cone 6

Plainsman Cone 6 Alberta Slip based glaze the fires bright blue but with zero cobalt.

2003-12-12 - This glaze creates a bright blue yet contains none of the world's most expensive common ceramic material, cobalt oxide. It has a great glossy surface ...