Maintain your recipes, materials, firing schedules and test data (and more) on-line
Login to a private account or work with others in a group account (e.g. university).
Nothing to install (access it using your web browser). It is always the latest version.
Import existing material, recipe data.
As many side-by-side recipes and/or materials as you want (chemistry is shown for all).
Many ways to search and classify glaze and body recipes.
Glaze and body recipes are robust, with units-of-measure, pictures with individual titles and descriptions, material links.
Add variations to a recipe; each with its own pictures, descriptions and name/code-number extensions.
Recipes can link to materials, typecodes, projects, firing schedules and physical test result data (all managed in their own areas).
Standard reports and mix ticket reports with last-minute-totalling; variations report as if they are a complete recipe.
Video tutorials, help system, contact form on every page, dedicated messaging and support ticket systems.
It is an industrial-strength database system (unlimited capacity, fast, reliable, scalable).
Insight-live site is designed to run on any web browser on any device. Data is columnized so it is zoomable on small screens.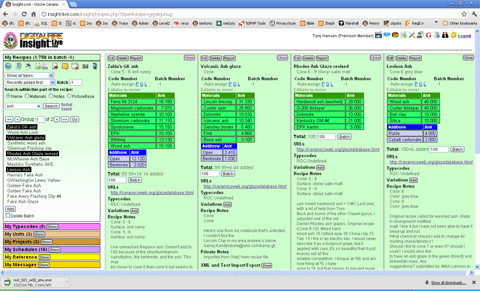 Insight-Live showing recipes side-by-side
Imports many file formats
Glaze recipe formats supported: HyperGlaze, GlazeGhem, GlazeMaster, Matrix, INSIGHT XML recipes (single and multiple), INSIGHT SQLite DB files.
Assign a batch number to recipe imports (later search by batch).
Assign multiple typecodes to imported glaze and body batches (to classify) (search on these later).
Prepend character sequences to glaze recipe names during import.
Import the pictures and pair them to their corresponding recipe records automatically.
One click to automatically export the database to an SQLite DB database file and download it (for use with desktop INSIGHT or just as a backup).
Export and import individual glaze recipes as text or XML.
Import materials data in various formats or just use the thousands of built-in reference materials.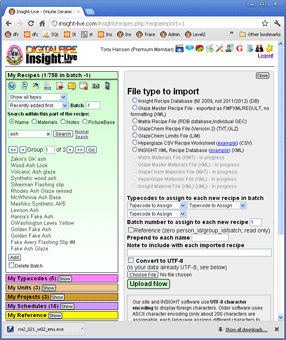 Insight-Live showing the recipe import dialog
Secure, Reliable, Compatible
Security is a very complex issue, since we create and control every line of program code we can develop practices that minimize risk.
Simplicity is paramount, fancy features will never compromise the need for control.
No Ajax, no Flash, only session cookies (by default), no CMS or any third party server code or client javascript libraries are employed (avoiding their compatibility and security issues and interactions).
You have easy access to us, so risks and problems can be fixed quickly.
You can backup you data to your computer, the site backs itself up to http://insight-live-backup.com.
More specific security information is available in the help system at Insight-live.
Perfect for Education
Video tutorials on how to use Insight-Live will play on any device.
Ceramic study programs can now accumulate material, recipe and testing data year-after-year, students can login and together build a valuable ceramic glaze and body knowledge resource.
Students already have internet connected devices, computers are not even needed in the class.
The Reference Manager gives you quick access to the Digitalfire Ceramic Reference Database.