Learn glaze
chemistry &
INSIGHT


Brochure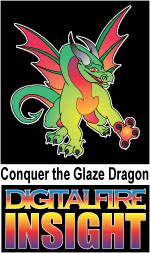 There is a direct relationship between the way ceramic glazes fire and their chemistry. Insight is a calculation tool anyone can use to learn and harness the power of ceramic chemistry.
Fix problems like crazing, blistering, pinholing, settling, gelling, clouding, leaching, crawling, marking, scratching, powdering.
Substitute frits or incorporate better, cheaper materials, replace no-longer-available ones (all while maintaining the same chemistry).
Adjust melting temperature, gloss, surface character, color.
Identify weaknesses in glazes to avoid problems.
Create and optimize base glazes to work with difficult colors or stains and for special effects dependent on opacification, crystallization or variegation.
Create glazes from scratch and use your own native materials in the highest possible percentage.
Without ceramic chemistry you'll never really have control and you could be a slave to your suppliers or the trafficing in recipes that never work.
A desktop application for Windows, Linux, Macintosh that you download and install.
Insight is a classic glaze chemistry calculator
It interactively converts recipes to formulas and back. The main Insight window shows side-by-side recipes and their formulas, you can make chemistry changes to one while comparing it with the other.
Insight is also a library and a teacher
It puts at your fingertips a huge amount of information to help you learn the principles of ceramic chemistry and it teaches you how to adjust, fix and formulate glazes.
It is a database
You can store all your recipes, picture, material information where you can easily find it.
It is a problem solver
Using our videos, instructional and reference materials and our personal help you can solve problems like crazing, leaching, crawling, pinholing, blistering, etc.
Insight was first released in 1979 and has been used world wide since. It is an excellent teaching tool for demonstrating the principles of formula/analysis/unity, limit formulas, LOI, and material-oxide relationships.