I am the creator of Digitalfire Insight, the Digitalfire Reference Database and Insight-live.com. ... moreMy posts are like no others, they help you understand your glazes and clay bodies, take control. A master timeline can be seen at Digitalfire.com or visit and like my pages to get a notification each time I post.
The incredible plasticity of bentonite. And a lesson it teaches.
The 20cm vase on the left is thrown from what I thought was a very plastic body, I achieved close to the same thickness top-to-bottom (5mm). The one on the right was the same original height, 20cm. But it has dried down to only 18cm high, it shrinks 14% (vs. 6% for the other). The thinnest part of ... more
Context: Bentonite, The Black Art of Drying Ceramics Without Cracks, Plasticity
Monday 17th June 2019
3D Printing the Medalta 66 prototype mug
This took 12 hours! Notice the supports it prints for the handle. These break away after it is done. Of course the surface is not smooth enough to use as a model, but the purpose was to hold it to judge size, wall thickness, handle feel and shape. I will make the molds and jigger templates using the printer also.
Context: 3D Printing Ceramics
Friday 14th June 2019
G3806C with lower thermal expansion
G3806C has been our recommended base recipe for reactive glazes (by the addition of colorants and opacifiers). It excels for copper blues, for example. But its thermal expansion is high enough that it crazes on some bodies (e.g. Plainsman P300). To adjust it (via glaze chemistry) I introduced some ... more
Context: G3806C - Cone 6 Clear Fluid-Melt Clear Base Glaze
Monday 10th June 2019
Almost final recipe for cone 6 copper blue - G2806B
This is the winner of a five-way cone 6 copper blue glaze comparison that started with my dissatisfaction with Panama blue. When I compared these glazes I did not just eyeball them on a tile. I compared the melt flow, thermal expansion and slurry performance of the bases (without the copper and ... more
Context: Copper Carbonate, G3806C - Cone 6 Clear Fluid-Melt Clear Base Glaze
Tuesday 4th June 2019
Cone 6 copper glaze works because of the fluid-melting base recipe
This is not just a typical transparent cone 6 glaze with 2% copper carbonate added (and 2.5% tin oxide). Knowing what is different about this clear base, its trade-offs and how it was developed are important. The porcelains are Plainsman P300 and M370. The liner glossy glaze is G2926B, it has a much ... more
Context: G3806C - Cone 6 Clear Fluid-Melt Clear Base Glaze
Tuesday 4th June 2019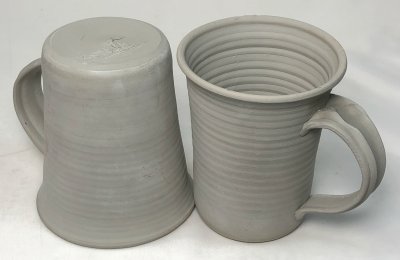 It is impossible to dry this clay. Yet I did it. How?
These are made from a 50:50 mix of bentonite and ball clay! The drying shrinkage is 14%, more than double that of normal pottery clay. It should be impossible to dry them, the most bentonite bodies can normally tolerate is 5%. Yet notice that the handle joins with the walls are flawless, not even a ... more
Context: Bentonite, The Black Art of Drying Ceramics Without Cracks, Drying Performance, Drying Shrinkage, Clay Cracking During Drying
Tuesday 28th May 2019
Brushing glazes can go on unevenly for more than one reason
Both of these were glazed by brushing. The inside transparent and white glazes are fairly easy to apply evenly but the bright color on the outside left one certainly is not. The problem is a combination of things. It is difficult to apply it evenly with a brush. It is difficult to get it on thick ... more
Context: Brushing Glazes
Tuesday 28th May 2019
Partially and fully opacified cone 6 G1214Z matte glaze
This is a calcium matte base (as opposed to the magnesia matte
G2934
). The clay is Plainsman
M390
. 5% Zircopax was added on the left (normally 10% or more is needed to get full opacity, the partially opaque effect highlight contours well). 5% tin oxide was added to the one on the right (tin is a more effective, albeit expensive
opacifier
in oxidation). The
PLC6DS
firing schedule was used.
Context: Zircopax, Tin Oxide, G1214Z - Cone 6 Silky Matte, Plainsman M390, Matte Glaze
Tuesday 28th May 2019
4% iron oxide in a clear glaze. Unscreened. The result: Fired specks.
Iron oxide is a very fine powder. Unfortunately it can agglomerate badly and no amount of wet mixing seems to break down the lumps. However putting the glaze through a screen, in this case, 80 mesh, does reduce them in size. Ball milling would remove them completely. Other oxide colorants have this same issue (e.g. cobalt oxide). Stains disperse much better in slurries.
Context: Iron Oxide Red, Agglomeration
Sunday 26th May 2019
Screened to 80 mesh and feels absolutely smooth, but still speckles in reduction
The reduction was fairly heavy and this piece went to cone 11. The tiny iron stone concretion particles melted vigorously and flowed. This is why clean firing results requires 200 mesh materials!
Context: Particle Size Distribution, Specking
Wednesday 15th May 2019
Contact Us:
Use the contact pages within or outside your account at Insight-Live.com
---
Login to your online account
Chemistry plus physics. The on-line successor to desktop Insight. Get an account for as little as $15. It does so much more.
Still available for Mac, PC, Linux
Interactive glaze chemistry calculations (legacy, no longer supported)
---
What people have said about digitalfire
• When I first opened the program I thought I would never know how to use it and did not open it again until last week. I have been watching some of the tutorials and those made it very easy to understand and work with Insight. Also your website has been very helpful for a project I am currently working on (and in general the understanding of glazes). So thank you for all the information you have collected and made available.
• I have been a ceramic consultant for many years and working in many parts of the world and must say that you are doing a very nice job with your website and software.
• This site is very informative. If the average layperson were to read this site, they would be blown away, and in my case, inspired to learn more. I like to give credit where credit is due, and this site rocks.
• What I am looking is the operation of roller kiln and what changes body undergo at what temp & why in kiln. Also general defects in vitrified body after kiln & likely reason for that. I am learning a lot about clay body formation from your site. It's really a gift for a people like me.
• I always visit this site, found very helpful to make my own ceramic composition and now I need your software to use for advanced ceramic.
• Your attention to the people has been allways great, as its your software, thanks for the support.
• I have used this site on numerous occasions for glaze information and always get a personalized answer, quickly, and plenty of help. They go above and beyond the call of duty!! They are a excellent website for potters!!
Click here
to see all 191
What people have said about Insight-Live
• Many, many thanks for DigitalFire! It is a wonderful collection of information and experience.
• Your site, I think, is the best source of information on ceramics that I have found. I have always wanted to know how things work rather than just doing it because someone said so. Your site gives reasons why and how to apply what you have learned, and I have learned a lot from you and want to thank you! I love the Digitalfire site. Thanks so much for sharing your knowledge.
• Hello, I'm a 16 year old ceramic artist in North Carolina. I absolutely love digital fire and use it almost daily. One thing I adore about your mugs is your handles. I've tried to make them similar but can't come anywhere near the perfection of yours. Can you help me?
• Love Insight-live. Have been using it a few months and now that I know my way around a bit, I have come to rely on it. Love having a web based program, since I bounce between Windows on several machines and also a Chromebook.
• Extremely useful resource Digital Fire. By the way your writing style is truly unique and is easily understandable even though of technical nature.
• Thanks Tony for your excellent stuff. I am learning a lot. Its of complete knowledge at ease. God bless you !!!
• You are a real gem, your work really help me a lot.
Click here
to see all 118