I am the creator of Digitalfire Insight, the Digitalfire Reference Database and Insight-live.com. ... moreMy posts are like no others, they help you understand your glazes and clay bodies, take control. A master timeline can be seen at Digitalfire.com or visit and like my pages to get a notification each time I post.
Pour Glazing a Large Terra Cotta Vase
Much better than trying to paint to glaze on from little jars!
Context: Pour Glazing
Monday 27th August 2018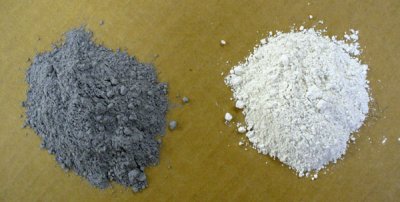 Texas talc (left) and Montana talc (right)
Texas talc contains some amorphous carbon. The carbon is not stand-alone, but as CO2 in the dolomitic part of the ore. It produces 7%
LOI
between 750-850C.
Context: Amtalc-C98, Pioneer 2661 Talc, Silverline 303 Talc, Talc
Tuesday 14th August 2018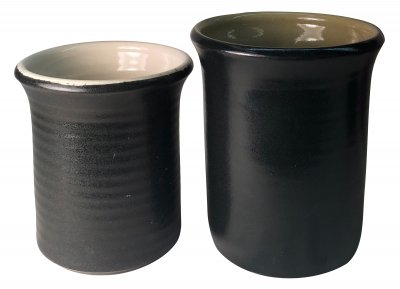 Stunning black silky matte glaze at cone 6
This contains 6% Mason 6666 gunmetal black stain. The base recipe, G2934, is an excellent balanced-chemistry host for a wide range of stains to produce equally stunning reds, yellows, oranges, etc. The fritted version of the recipe, G2934Y, provides an even better host. This glaze is affected by the ... more
Context: G2934Y - Cone 6 Magnesia Matte Low LOI Version, G2934 - Matte Glaze Base for Cone 6
Monday 13th August 2018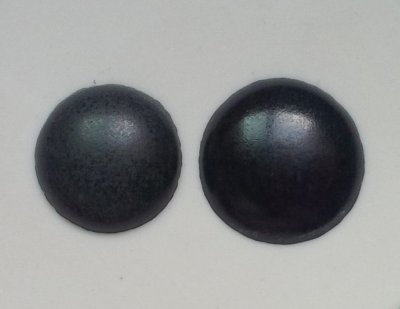 Tuning the degree of gloss on a matte black glaze
These 10 gram balls were fired and melted down onto a tile. The one the left is the original G2934 Plainsman Cone 6 MgO matte with 6% Mason 6666 black stain. On the right the adjustment has a 20% glossy glaze addition to make it a little less matte. Notice the increased flow (the ball has flattened ... more
Context: Matte Glaze, Cutlery Marking, Triaxial Glaze Blending
Sunday 12th August 2018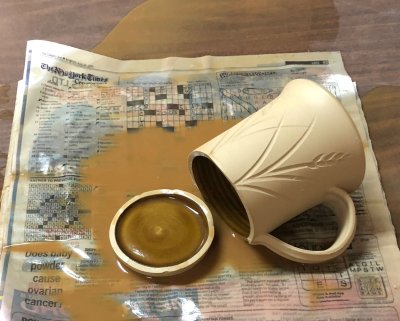 DO NOT leave outsides of functional ware unglazed
This mug is made from the strongest porcelain I have, it is so vitreous that the bare fired surface does not even coffee-stain. So I glazed it only on the inside. That created a time-bomb waiting for hot coffee! Three others did exactly the same. Four other mugs glazed on the outside were fine. Why? ... more
Context: Glaze Compression
Monday 6th August 2018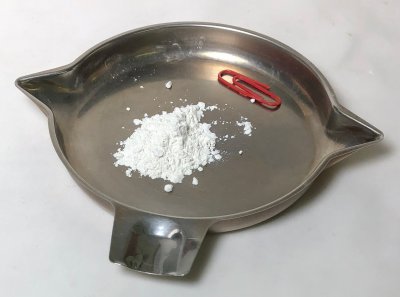 One gram of processed hectorite has a surface area of 750 square meters!
A combination of surface area, surface topography, surface
chemistry
and surface electrolytics determines how plastic a clay is. This material is super plastic.
Context: Surface Area
Monday 6th August 2018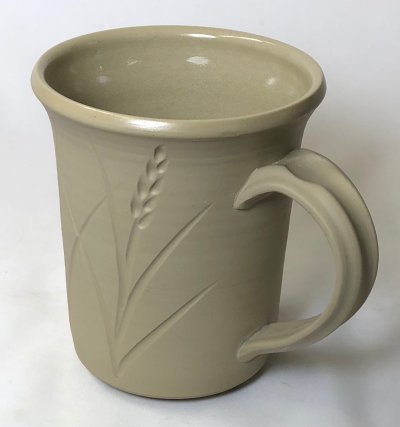 Mother Nature's Porcelain - From a Cretaceous Dust Storm!
Plainsman Clays did 6 weeks of mining in June-July 2018 in Ravenscrag, Saskatchewan. We extracted marine sediment layers of the late Cretaceous period. The center portion of the B layer is so fine that it must have wind-transported (impossibly smooth, like a body that is pure terrasig)! The feldspar ... more
Context: B Clay, Clay and dinosaur country in southern Saskatchewan, Vitrification
Monday 6th August 2018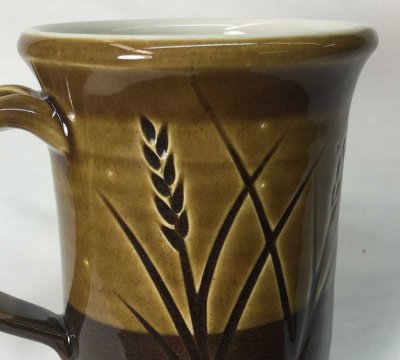 Pinholing at a cone 6 stoneware mug. Why?
It was put into the kiln before it was dry (from glazing). The kiln was fired fairly fast (without using a drop-and-hold firing schedule). These glazes have significant boron, they melt early and seal the surface. But water vapor can remain until surprisingly high temperatures. And it needs to get ... more
Context: Pinholing, Firing Schedule, Glaze Blisters
Monday 30th July 2018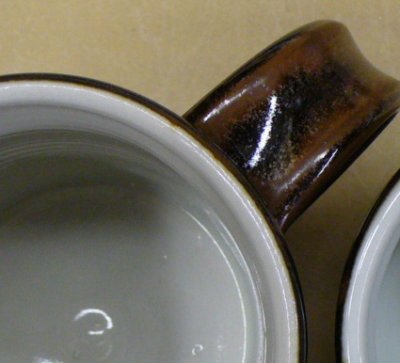 Outside tenmoku glaze meets inside transparent in a straight line at the rim
An example of how a liner glaze can meet another at the rim of a piece. This it quite simple to do. The technique is especially practical where mug walls are thin and cannot absorb enough water to dry the glaze after immerse-dipping. It is essential where the outer glaze is potentially leachable, or ... more
Context: How to Liner-Glaze a Mug, Liner Glaze
Monday 23rd July 2018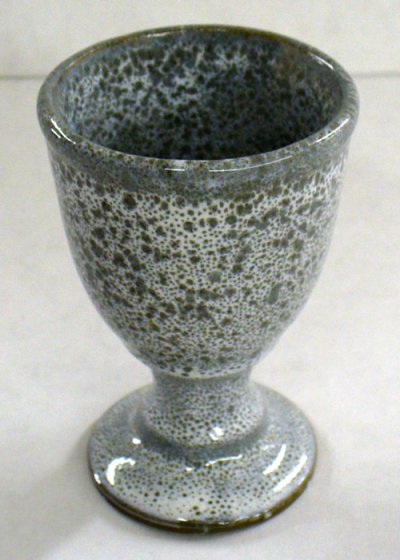 Layering glazes to get variegation
Example of the variegation produced by layering a white glaze of stiffer melt (a matte) over a darker glaze of more fluid melt (a glossy). This was fired at cone 6. The body is a stoneware and the glazes employ calcium carbonate to encourage bubbling during melting, each bubble reveals the color and ... more
Context: Reactive Glazes, Glaze Layering
Monday 23rd July 2018
Contact Us:
Use the contact pages within or outside your account at Insight-Live.com
---
Login to your online account
Chemistry plus physics. The on-line successor to desktop Insight. Get an account for as little as $15. It does so much more.
Still available for Mac, PC, Linux
Interactive glaze chemistry calculations (legacy, no longer supported)
---
What people have said about digitalfire
• Thank you so much. This is what a good business looks like; great product, immediate response from the owner no less, and over the top service.
• Great site btw. Besides getting married its the next best thing I did.
• I love your website so much! I am a potter just starting to delve into the world of glazes, and I cannot tell you how incredibly useful this website is. I have already spent hours reading about chemicals. Thank you so much for this amazing resource!
• This site is very informative. If the average layperson were to read this site, they would be blown away, and in my case, inspired to learn more. I like to give credit where credit is due, and this site rocks.
• I use Digitalfire almost every day for reference to questions about materials. And as a relative newby to the industry and coming from an art background, my technical knowledge is limited to my own experiences, what I can find online and what is available in books and literature. I just wanted to thank you for all the work you have done for the ceramics community. Your insights and technical knowledge have become indispensable to many in the ceramics community, including me.
• Your web is great!
• Thanks for the wonderful service.
Click here
to see all 191
What people have said about Insight-Live
• Hey Tony, thanks so much for developing such a useful software. I have come to digital fire for countless questions I have had with clay and glazes.
• I am a long time admirer of your ceramics data base and teach at ... University.
• WOW, WOW, WHAT GREAT INFO! thankyou! I am going to pass your site on to someone i know who is more keen on the science of glazes, than the potting, unlike me... she will love your test works and pics Wow! Thanks again.
• This is really cool. Thanks for sending this to my email.
• Thanks Tony. You are offering a very valuable service to the potters.
• I have used the digital fire database for years and am beyond grateful for your work.
• I am a big fan of your work. I want to thank you for being there when I have needed and hopefully I will be able to carry on without much input from you. I will be renewing my subsrciption soon and I extol the virtues of the program (and now the Cloud version) to everyone that will listen.
Click here
to see all 102