I am the creator of Digitalfire Insight, the Digitalfire Reference Database and Insight-live.com. ... moreMy posts are like no others, they help you understand your glazes and clay bodies, take control. A master timeline can be seen at Digitalfire.com or visit and like my pages to get a notification each time I post.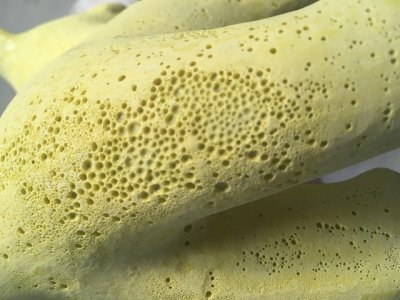 High LOI materials can turn your glaze into Aero chocolate!
The smooth surface of this blistering glaze has been ground off to reveal how serious the bubble problem really is. If the body or glaze itself is generating gases of decomposition at the wrong time, and the glaze has too little melt fluidity to pass the bubbles, this can happen. Opacifiers ... more
Context: LOI, Glaze Bubbles
Thursday 8th August 2019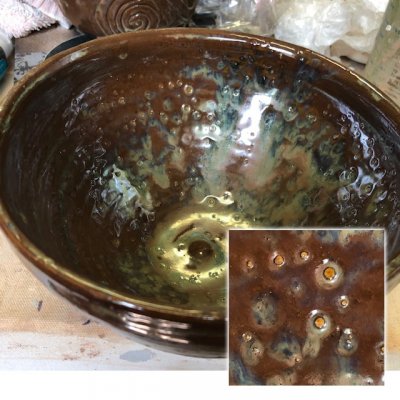 A runny glaze is blistering on the inside of a large bowl
The glaze is running down on the inside, so it has a high melt fluidity. "High melt fluidity" is another way of saying that it is being over fired to get the visual effect. It is percolating at top temperature (during the temperature-hold period), forming bubbles. There is enough surface tension to ... more
Context: Melt Fluidity, Fluid Melt Glazes, Blisters, Glaze Blisters
Thursday 8th August 2019
Two batches of EPK tested quite differently in 2018
The kaolin has been mixed 70:30 with nepheline syenite to create a body that matures below cone 6. This enables comparing the degree to which the two kaolins influence vitrification. The darker one is more plastic, has higher drying shrinkage more soluble salts. These dry test bars were fired at ... more
Context: EP Kaolin
Sunday 4th August 2019
White majolica bases have very, very low melt fluidity
This is Linda Arbuckle's base recipe (66% frit 3124, 23% feldspar, 13 kaolin/bentonite, 9 zircon, 4 tin oxide mixed to 1.62 specific gravity). It is fired at cone 05 creating a super gloss. This is applied very, very thickly (double the thickness of what a stoneware glaze would be). Yet notice how ... more
Context: For even coverage white majolica glazes must be applied by dipping, Melt Fluidity, Majolica
Wednesday 31st July 2019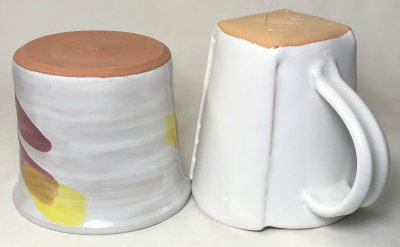 For even coverage white majolica glazes must be applied by dipping
The mug on the left has three coats of Spectrum majolica base, painted on by brush from a pint jar. Drying was required after doing the inside coats, so the total glazing time was several hours. The glaze layer is way too thin and it is not even at all! The one on the right was dipped in a 5 gallon ... more
Context: White majolica bases have very, very low melt fluidity, Majolica, Brushing Glazes, Base-Coat Dipping Glazes
Wednesday 31st July 2019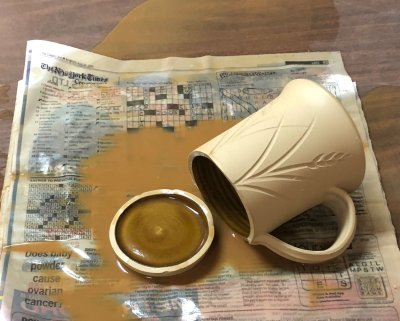 BEWARE of leaving outsides of functional ware unglazed
This mug is made from the strongest porcelain I have, it is so vitreous that the bare fired surface does not even coffee-stain. So I glazed it only on the inside. That created a time-bomb waiting for hot coffee! Three others did exactly the same. Four other mugs glazed on the outside were fine. Why? ... more
Context: Glaze Compression
Wednesday 24th July 2019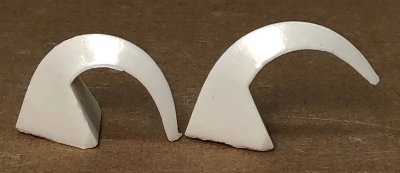 What is the temperature difference between these two cones?
Four degrees F. I was consistently getting the cone on the left using a custom programmed firing schedule to 2204F. However Orton recommends that the tip of the self supporting cone should be even with the top of the base, not the bottom. So I changed the temperature to 2200F and got the cone on the right.
Context: Interpreting Orton Cones, Cones
Wednesday 24th July 2019
Cone 6 Fluid-Melt Transparent Glaze - Jackpot!
In 2015 we did a project comparing common cone 6 fluid-melt base glazes, picked a favourite (Panama Blue) and fixed it's slurry issues and crazing. Fluid-melts almost run off ware when applied thick, but they host stains & opacifiers to produce super-gloss, super-brights. That recipe, G3806C, has ... more
Context: 2019 Development of G3806 melt-fluid low-expansion clear base glaze
Monday 22nd July 2019
Sourcing Li2O from spodumene instead of lithium carbonate
Lithium carbonate is now incredibly expensive. The glaze on the left employs it. But I was able to source the Li2O from spodumene instead. Spodumene has a complex chemistry, but the oxides that it contains (other than Li2O) are those common to glazes anyway. Using my account at insight-live.com, I ... more
Context: Spodumene, Lithium Carbonate
Monday 22nd July 2019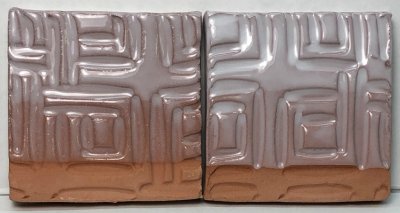 Tin Oxide is expensive, do not waste it by not mixing well
This is a cone 04 glaze on a terra cotta body. Two 300-gram test batches were made. Both have 5% tin oxide added. The one on the left was high-speed propeller-mixed for 10 seconds on a closed container. That was not enough, small agglomerates appear as white specks floating in the glass. The one on ... more
Context: Tin Oxide, Propeller Mixer, Opacifier, Opacification
Saturday 20th July 2019
Contact Us:
Use the contact pages within or outside your account at Insight-Live.com
---
Login to your online account
Chemistry plus physics. The on-line successor to desktop Insight. Get an account for as little as $15. It does so much more.
Still available for Mac, PC, Linux
Interactive glaze chemistry calculations (legacy, no longer supported)
---
What people have said about digitalfire
• I have been thinking to thank you for the great help your interest in ceramics continues to inspire in my studio.
• Your resources are truly amazing and as an ex electronic engineer (now a potter), I really am impressed with your analytical approaches. Your site is almost a complete college level course on pottery (less the throwing & handbuilding). Thank you for your wonderful contributions.
• I have been a teacher of ceramics for twenty years and have always been annoyed with what you call traveling glazes. Tom's Blue, Randy's Red, etc. have been taken from who knows where, are out of context and without history or understanding as you point out.
• Thank you for continuing to provide this exceptional service. Just yesterday, a comment was made about one of the glazes: I have never used a glaze as smooth as this before. I wish to thank you for all of the information you keep available for us.
• It would be indeed an honour for me if my contribution in any form can be of any use.
• First I want to thank you for creating and maintaining your web site. I started as a potter and moved into ceramic engineering over the course of my career and your web site has helped me all the way. Currently I am working on digital ceramic ink jet printing.
• I am so glad I found your site, I have been looking for a site with this type of good information.
Click here
to see all 191
What people have said about Insight-Live
• I am a ceramic manufacturing manager, and before this position, I had no training on ceramics. I was taught our recipes, but none of it was explained. The dragon ran amok. After reading through your articles and descriptions, I feel I have learned so much about my own products, and I have a foundation for changing, improving, and troubleshooting my materials issues that I wouldn't have had otherwise. They taught us in engineering school that we all stand on the shoulders of giants, because we all get to use knowledge and tools at a moment's notice that took others years to develop. Thank you for sharing all that you have, so the rest of us can stand on your shoulders to do our work that much better.
• I am a long time fan. I bought your downloadable book long ago and still refer to it frequently. Has bunches of my notes in it too. It expanded my college training with glaze chem. Appreciate you.
• Your site is amazing and your videos too. Such an inspiration.
• Your site is a fantastic resource, I recommend it to everyone.
• Thank you for your incredible library of information. I have a background in QA (Six Sigma) and Biology so I genuinely appreciate the information you've made easily accessible.
• I am a production potter and I have been using your website for information, and I have made many improvements from articles posted on this site.
• THIS IS FRIGGIN' AMAZING! YAY! NOW I NEED GLAZE MATERIALS! WOOT! I'm blown away by your site. I'm totally going to geek out on this I can tell. Item #1 on my agenda is to stop being at everyone else's mercy for glazes.
Click here
to see all 118