Zircopax
Zirconium Silicate
| | | |
| --- | --- | --- |
| Oxide | Analysis | Formula |
| SiO2 | 32.79% | 1.00 |
| ZrO2 | 67.21% | 1.00 |

Enter the formula and formula weight directly into the Insight MDT dialog (since it records materials as formulas).
Enter the analysis into an Insight recipe and enter the LOI using Override Calculated LOI (in the Calc menu). It will calculate the formula.
| | |
| --- | --- |
| MLPT - Melting Point (MP) | 2550C |
Zircopax is a brand name version of zirconium silicate or zircon (see Zircon for more information). Zirconium prices are have increased rapidly in recent years, reflecting the world supply situation.

It is often used for semi-opaqueness (finer materials like Superpax provide more opacity). In North America, the most popular zirconium opacifiers fall under the brand names of Zircopax, Superpax and Excelopax. These vary according to particle size, the finer the size the greater the scattering of light (and thus the better the opacification). In addition, the finer sized materials contain a little extra silica for maximum whiteness.

Of course, the amount of zircopax in a glaze determines the opacity. Small amounts (1-3%) may give no noticeable difference but are sometimes employed to improve glaze hardness. Since zircopax is refractory, the more that is added the more the degree of glaze melting is going to be affected. Up to 15% or more might be needed to fully opacify a glaze. If higher amounts are needed the glaze formulation may need to be adjusted to reduce the amount of SiO2 or increase flux (to melt the glaze better).

Zircopax affects glaze melt viscosity, surface smoothness, thermal expansion and color development and can be implicated in a range of glazes faults associated with these. Please read the page on zircon for more information.

Zircopax can be used to whiten porcelain bodies, especially for casting, but of course, translucency is lost.

Typical Properties:

Formula: ZrSio4 Weight: 183.1
Linear Coefficient of Expansion (25-700C cm/cm/degreeC): 42 x 10 -7
Specific gravity: 4.5

Particle Size: Zircopax Superpax Excelopax
Microns, Ave. 1.3 .74 .55
Bulk density lbs/cu ft 100 75 75
Surface area, m2/g 4.5 9.8 12.8

Mechanisms
Glaze Opacifier - White

Zirconium silicates are used primarily as opacifiers in glazes at all temperatures. Although tin oxide is more effective, zirconium materials are much cheaper and are more stable in reduction and less reactive with some colorants (i.e. chrome). Although zirconium oxide is effective as an opacifier, zirconium silicates disperse better and are cheaper where the glaze can tolerate or be reformulated to tolerate the added silica.

Out Bound Links

(Materials - Alternative) Tin Oxide

- SnO2

Stannic Oxide, Tin(IV) Oxide, Tin Dioxide, SnO2

(Materials - Related) Superpax

- Zirconium silicate

(Materials - Related) Zircopax Plus

- Zirconium Silicate Opacifier

(Materials - Related) Ultrox

- Zirconium Silicate Glaze Opacifier

(Materials - Parent) Zircon

- ZrO2.SiO2

Zirconium Silicate

(URLs) Zirconium at Wikipedia


http://en.wikipedia.org/wiki/Zirconium

(Suppliers - Manufacturer) Johnson Matthey, Colors and Coatings
(Typecodes) 1: OPA - Opacifier
(MDT - Member) North America

The decision about what materials to include in th...

(MDT - Member) Ron Roy

This is the traditional Ron Roy materials file. He...

(MDT - Member) Crystal Glazes

These materials are specially defined for makers o...

(MDT - Member) Australia

We are working on this database and would apprecia...

(MDT - Member) New Zealand

We are working on this database and would apprecia...
In Bound Links

Pictures
An example of G2571A cone 10R matte with 10% added zircopax (right). The zircopax version is very bright white compared to the original.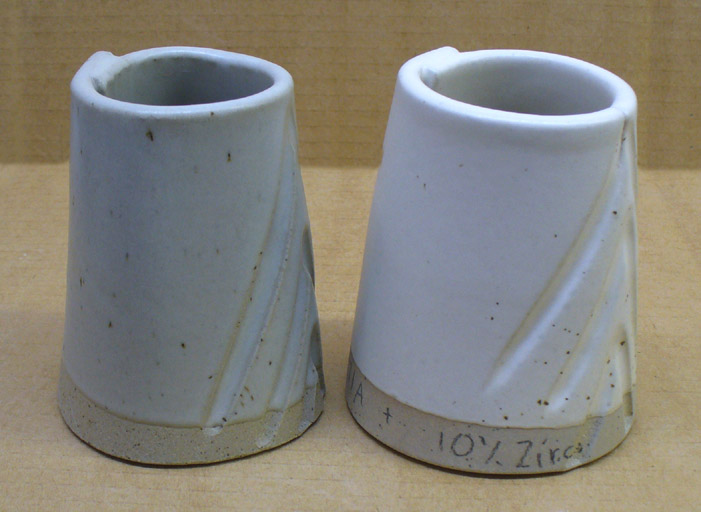 Click for 512% larger

XML for Import into INSIGHT
<?xml version="1.0" encoding="UTF-8"?> <material name="Zircopax" descrip="Zirconium Silicate" searchkey="" loi="0.00" casnumber="366497-20-3"> <oxides> <oxide symbol="SiO2" name="Silicon Dioxide, Silica" status="" percent="32.790" tolerance=""/> <oxide symbol="ZrO2" name="Zirconium Dioxide" status="U" percent="67.210" tolerance=""/> </oxides> </material>

The future of ceramic recipe, material and physical testing record keeping is here. Just pennies a day.

Watch the video or sign-up at
http://insight-live.com
.
Maintain your recipes, materials and test data on-line
Login to a private account or work with others in a group account (e.g. university).
Nothing to install (access it using your web browser). It is always the latest version.
Import existing material, recipe data.
As many side-by-side recipes and/or materials as you want (chemistry is shown for all).
Many ways to search and classify glaze and body recipes.
Glaze and body recipes are robust, with units-of-measure, pictures with individual titles and descriptions, material links.
Add variations to a recipe; each with its own pictures, descriptions and name/code-number extensions.
Recipes can link to materials, typecodes, projects, firing schedules and physical test result data (all managed in their own areas).
Standard reports and mix ticket reports with last-minute-totalling; variations report as if they are a complete recipe.
Video tutorials, help system, contact form on every page, dedicated messaging and support ticket systems.
It is an industrial-strength database system (unlimited capacity, fast, reliable, scalable).
Imports many file formats
Glaze recipe formats supported: HyperGlaze, GlazeGhem, GlazeMaster, Matrix, Insight XML recipes (single and multiple), Insight SQLite DB files.
Assign a batch number to recipe imports (later search by batch).
Assign multiple typecodes to imported glaze and body batches (to classify) (search on these later).
Prepend character sequences to glaze recipe names during import.
Import the pictures and pair them to their corresponding recipe records automatically.
One click to automatically export the database to an SQLite DB database file and download it (for use with desktop Insight or just as a backup).
Export and import individual glaze recipes as text or XML.
Import materials data in various formats or just use the thousands of built-in reference materials.
Perfect for Education
Ceramic study programs can now accumulate material, recipe and testing data year-after-year, students can login and together build a valuable ceramic glaze and body knowledge resource.
Students already have internet connected devices, computers are not even needed in the class.
The Reference Manager gives you quick access to the Digitalfire Ceramic Reference Database.
Learn more
..