Veegum
Glaze Hardener, Binder
Alternate Names: Veegum T, Veegum CER, Veegum Pro, VGT
Veegum, or VeeGum T (or VGT) is not a 'gum', rather it is a refined fine particle mineral called 'smectite' (bentonite and hectorite are members of the smectite group). It is a complex colloidal and extremely plastic magnesium aluminum silicate. It is an off-white insoluble flakey consistency and swells to many times its original volume when added to water. Its aqueous dispersions are thus high viscosity thixotropic gels at low solids; often a lot more water is needed to produced the desired viscosity. Veegum is not subject to attack by microorganisms. Various grades are classified according to viscosity and ratio of aluminum to magnesium content.

Density (Mg/m3): 2.6
Viscosity (after shear mixing, 5% dispersion): 250 cps +/- 25%
Moisture: 8% max

It is important to properly hydrate the powder, mix it in water before adding other ingredients (different grades of Veegum hydrate at different rates). The manufacturer emphasizes not underestimating the time needed, pointing out that in 25C water it could take 120 minutes using a propeller mixer! Using hot water or a higher energy mixer can drastically cut the time needed. If you are unable to mix the Veegum-containing slurry for the necessary time you can simply use more of the material (however keep in mind that this is a very expensive material). It is important to use the same water temperature, mixing time and energy and viscosity each time it is used to get consistent behavior in the slurry or pugged material.

In glazes VGT is used as an in-mix suspending agent and surface hardener. It is also suitable for use as a spray-on surface hardener before decorating (mix it with water and put a light layer on dried ware).

In bodies VGT is employed as a plasticizing agent. For example, in completely nonplastic formulations such as high alumina or zirconia bodies, VGT alone can produce sufficient working plastic. White burning porcelains are non-plastic by nature, but VGT is sufficient amounts (up to 5%) can produce a very plastic and workable material. It is a nonmigrating binder because it is not dissolved in the water. The material is clean and therefore does not affect fired whiteness.

VGT has a high pH of 8.5 and yet acts as a flocculant, contributing to the workability of porcelain. 1.5-2.0% added to a porcelain, that is otherwise a little to short for modeling or throwing, will transform it into a plastic material.

Veegum CER is a mixture of Veegum T and medium viscosity sodium carboxymethylcellulose that gives optimum surface hardening of unfired ceramic glazes for safe handling of the ware. It serves as hardener, suspending agent and viscosity stabilizer in glazes.

Veegum Pro is Veegum treated with amine to improve dispersability. Veegum Pro hydrates readily in hot or cold water to form high viscosity dispersions. Recommended for use where a minimum amount of water is required and/or only slow type mixers are available.

Other grades (like F, HV, K, R, HS) are used in non-ceramic applications (like pharmaceuticals and personal care products).

Since this is a mineral family it is very difficult to supply a chemistry. We recommend using the bentonite chemistry (it is possible in INSIGHT to label a recipe line as Veegum yet specify bentonite as the material database look-up value).
Out Bound Links

In Bound Links

Pictures
The whitest cone 6 body is New-Zealand-kaolin-based (employs VeeGum for plasticity). Left are 3 North American-koalin-based bodies using standard bentonites. To the right a Grolleg-based body at cone 11. All are plastic.

Click for 339% larger

The home-made kiln shelf (left) was fired it at cone 10. It is half the weight (and thickness) of the cordierite (right). It will make a 30% reduction in energy usage! It is made from a body consisting of 96.5% calcined alumina and 3.5% Veegum. It rolled out nice and dried perfectly flat over about three days (the Veegum does not give up its water easily). I cut it 1/4" larger than the other, it has fired to the same size; this body has incredibly low shrinkage.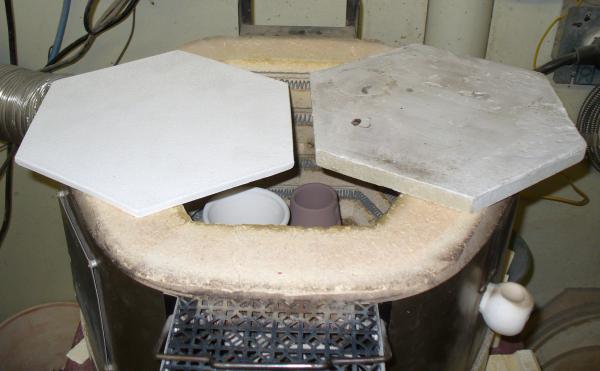 Click for 371% larger

This 10% Veegum porcelain was slurried and then poured on to a plaster bat to dewater. It has taken a couple of days to reach this state, it still has a very high water content and needs another day or two of stiffening. This cracking occurs because much more water is needed to thin a slurry enough to be able to propeller mix it effectively. Typical clays can be dewatered in this manner in a few hours. By the way, this is fantastically plastic to use on the potters wheel, but this percentage of Veegum would not be affordable or practical.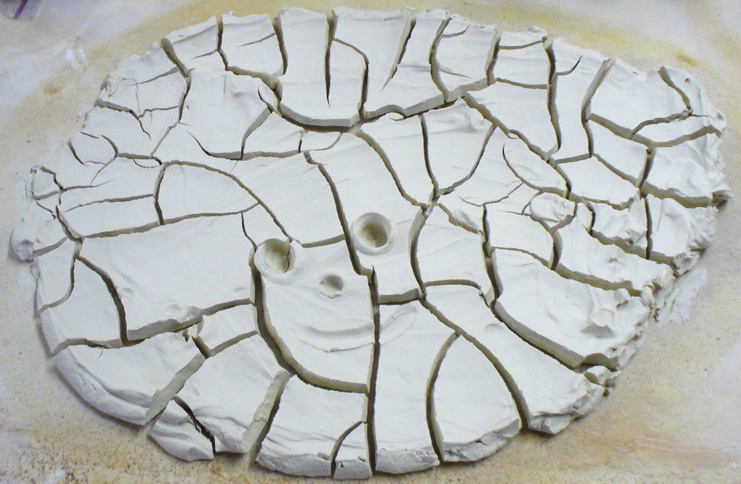 Click for 484% larger

Ridiculously plastic! Wow, just threw this mug from a porcelain having 10% Veegum plasticizer (of course no one could afford that, it is $15 a pound). But anyway, I was testing the extreme. These mugs did not twist during throwing, I could have pulled the wall thinner at the middle and top. The wall thickness at the bottom is 2.3mm (less than 3/32")! This mug is 15cm (6 in) tall. One problem: It takes forever to dry.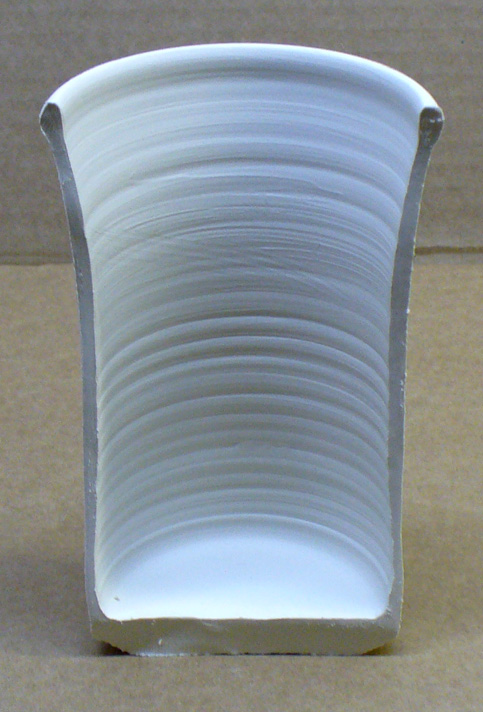 Click for 712% larger

XML for Import into INSIGHT
<?xml version="1.0" encoding="UTF-8"?> <material name="Veegum" descrip="Glaze Hardener, Binder" searchkey="Veegum T, Veegum CER, Veegum Pro, VGT" loi="0.00" casnumber=""> </material>

The future of ceramic recipe, material and physical testing record keeping is here. Just pennies a day.

Watch the video or sign-up at
http://insight-live.com
.
Maintain your recipes, materials and test data on-line
Login to a private account or work with others in a group account (e.g. university).
Nothing to install (access it using your web browser). It is always the latest version.
Import existing material, recipe data.
As many side-by-side recipes and/or materials as you want (chemistry is shown for all).
Many ways to search and classify glaze and body recipes.
Glaze and body recipes are robust, with units-of-measure, pictures with individual titles and descriptions, material links.
Add variations to a recipe; each with its own pictures, descriptions and name/code-number extensions.
Recipes can link to materials, typecodes, projects, firing schedules and physical test result data (all managed in their own areas).
Standard reports and mix ticket reports with last-minute-totalling; variations report as if they are a complete recipe.
Video tutorials, help system, contact form on every page, dedicated messaging and support ticket systems.
It is an industrial-strength database system (unlimited capacity, fast, reliable, scalable).
Imports many file formats
Glaze recipe formats supported: HyperGlaze, GlazeGhem, GlazeMaster, Matrix, Insight XML recipes (single and multiple), Insight SQLite DB files.
Assign a batch number to recipe imports (later search by batch).
Assign multiple typecodes to imported glaze and body batches (to classify) (search on these later).
Prepend character sequences to glaze recipe names during import.
Import the pictures and pair them to their corresponding recipe records automatically.
One click to automatically export the database to an SQLite DB database file and download it (for use with desktop Insight or just as a backup).
Export and import individual glaze recipes as text or XML.
Import materials data in various formats or just use the thousands of built-in reference materials.
Perfect for Education
Ceramic study programs can now accumulate material, recipe and testing data year-after-year, students can login and together build a valuable ceramic glaze and body knowledge resource.
Students already have internet connected devices, computers are not even needed in the class.
The Reference Manager gives you quick access to the Digitalfire Ceramic Reference Database.
Learn more
..