Digitalfire Ceramic Materials Database

Logged in as

Level 2 access

: Logout
---
Oxides | Minerals | Materials | Recipes | Articles | Glossary | Hazards | Library | MDT | Pictures | Properties | Schedules | Temperatures | Tests | Troubles | Typecodes
---

You should always be testing. But it is wasted without an audit trail. Document your lifetime of recipes, firing schedules, test results, pictures and much more in a private account at insight-live.com. It is the future, the next step after desktop Digitalfire Insight.

Watch the video, learn more or sign-up at
http://insight-live.com
.
Gerstley Borate
Plastic Calcium Borate
Alternate Names: Colemanite, Calcium Borate, Borocalcite
Oxide
Analysis
Formula
CaO
19.40%
0.690
MgO
3.50%
0.173
K2O
0.40%
0.008
Na2O
4.00%
0.129
P2O5
0.10%
0.001
TiO2
0.10%
0.002
Al2O3
1.00%
0.020
B2O3
26.80%
0.768
SiO2
14.80%
0.491
Fe2O3
0.40%
0.005
LOI
29.50
Oxide Weight
140.60
Formula Weight
199.43

Enter the formula and formula weight directly into the Insight MDT dialog (since it records materials as formulas).
Enter the analysis into an Insight recipe and enter the LOI using Override Calculated LOI (in the Calc menu). It will calculate the formula.
A natural source of boron that was mined in southern California for many years. No common natural material comes anywhere close to melting like Gerstley Borate (GB), it is completely fluid, ultraclear and glossy at cone 06 (Ulexite melts better but it is not commonly in use in ceramics). It has thus been a staple among potters for many years. 50% can be found in many cone 06-02 glazes, up to 30% in cone 6 glazes. Gerstley Borate is also plastic and suspends and hardens glazes, so it is common to find GB based recipes having no clay content. Since GB based glazes melt well and are so easy to make, most people have overlooked issues surrounding its use. Glazes with high GB content that host potentially toxic metallic colorants or other materials are often assumed to be non-leachable because they melt well (where as, in fact, they may have an unbalanced chemistry). High GB glazes often have alot of micro-bubbles in the fired glass and micro-dimples on the fired glaze surface (most visible in transparents). Slurries also tend to flocculate and gel causing problems with glaze application, drying and adhesion. Because this material melts so well, potters who use it have been willing to endure alot of these issues. One common low to middle fire transparent, for example, has 50% GB and adds 30% kaolin to that, producing a slurry the dries even more slowly, gels quite badly and shrinks considerably as it dries.

The mine was closed in 2000 and remaining stocks were to be depleted in 2-3 years. There was alarm across the ceramic community in North America about the demise of Gerstley Borate because it formed the basis of so many glazes. However now (June 2011), the supplier, Lagunaclay.com, says there is a large supply available. For the best information on substitutes visit gerstleyborate.com. There is a page on the site dedicated to understanding what Gerstley Borate was chemically, physically and mineralogically. There are a number of materials that have been developed as substitutes over the years, these are outlined at the website also.

However the best approach is to finding an alternative is the use of ceramic chemistry on a glaze-by-glaze basis (to substitute other materials). In many cases, it is better to use frits to supply the CaO and B2O3, they are more consistent and reliable and do not flocculate or gel the glaze as Gerstley Borate does. In cases where frits cannot deliver the needed chemistry, Ulexite can be employed.

Prior to, and during the decade of uncertainty about the future of this material, the supplier did not provide updated chemistry information. It was during this time that many companies promoted substitutes. We rationalized it (as explained at http://gerstleyborate.com) as 24% CaO, 4% MgO, 0.5% K2O, 4% Na2O, 2% Al2O3, 25% B2O3, 14% SiO2, 0.5% Fe2O3 and 14% 26% LOI. In June 2011 we changed the chemistry provided here to the one provided by Laguna on their website (rounded to 1 decimal). This new chemistry has more B2O3 and less CaO (other oxide amounts are fairly similar).
Out Bound Links

In Bound Links

Pictures
Both of these glazes were made as 1000 gram batches and then mixed with the necessary amount of water to produce a slurry of the correct consistency. The one on the left is a fritted glaze with 20% kaolin, the one on the right is a Gerstley Borate based raw glaze (30% GB + feldspar, silica, ball clay). The GB glaze required much more water and gelled shortly after (it also tends to crack during drying). The fritted glaze has very good slurry and application properties.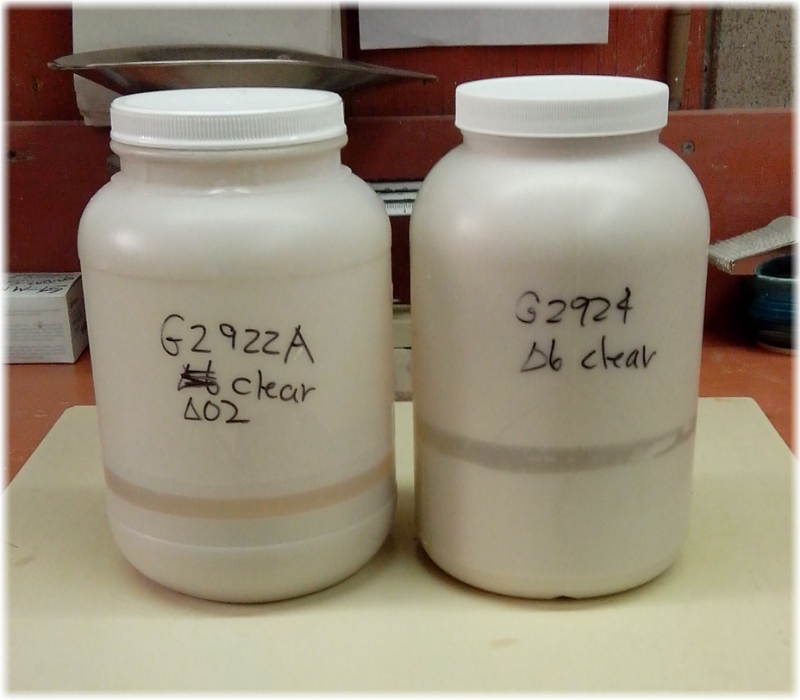 Click for 700% larger

Here is Cone 6 Perkins Studio Clear and an adjustment open side-by-side in my account at insight-live. The one on the right (G2926A) substitutes Frit 3134 for Gerstley Borate (I did all the juggling of its recipe to match the chemistry of original right within Insight-live). A melt flow of the two is identical (bottom left) except that the GB version has an amber coloration from its iron (the 3134 version actually flows a tiny bit less, the other has already dripped off). Anyway, the flow test on the upper left shows G2926A flowing beside the PGF1 transparent (a tableware glaze used in industry). This extra flow indicates that this glaze is too fluid. That means it can accept some silica (the more silica any glaze can accept the harder, more stable and lower expansion it will be).
Click for 871% larger

An example of how calcium carbonate can cause blistering as it decomposes during firing. This is a cone 6 Frit 3249 based transparent (G2867) with 15% CaO added (there is no blistering without the CaO).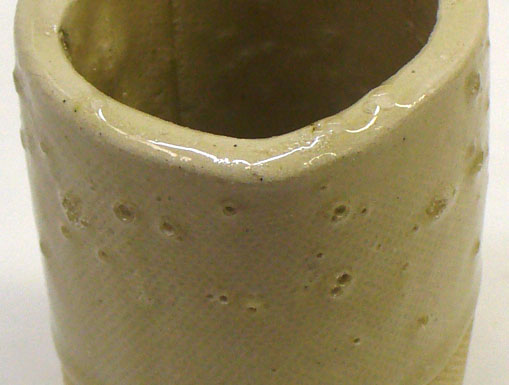 Click for 385% larger

2,5,10,15% calcium carbonate added to Ravenscrag Slip on a buff stoneware fired at cone 10R. It gets progressively glossier toward 15%, crazing starts at cone 10%. By Kat Valenzuela.

Click for 383% larger

The difference between dolomite and calcium carbonate in glazes: These glaze cones are fired at cone 6 and have the same recipe: 20 Frit 3134, 21 EP Kaolin, 27 Calcium Carbonate, 32 silica. The difference: The one on the left uses dolomite. Notice how the MgO from the dolomite completely mattes the surface whereas the CaO from the calcium carbonate produces a brilliant gloss.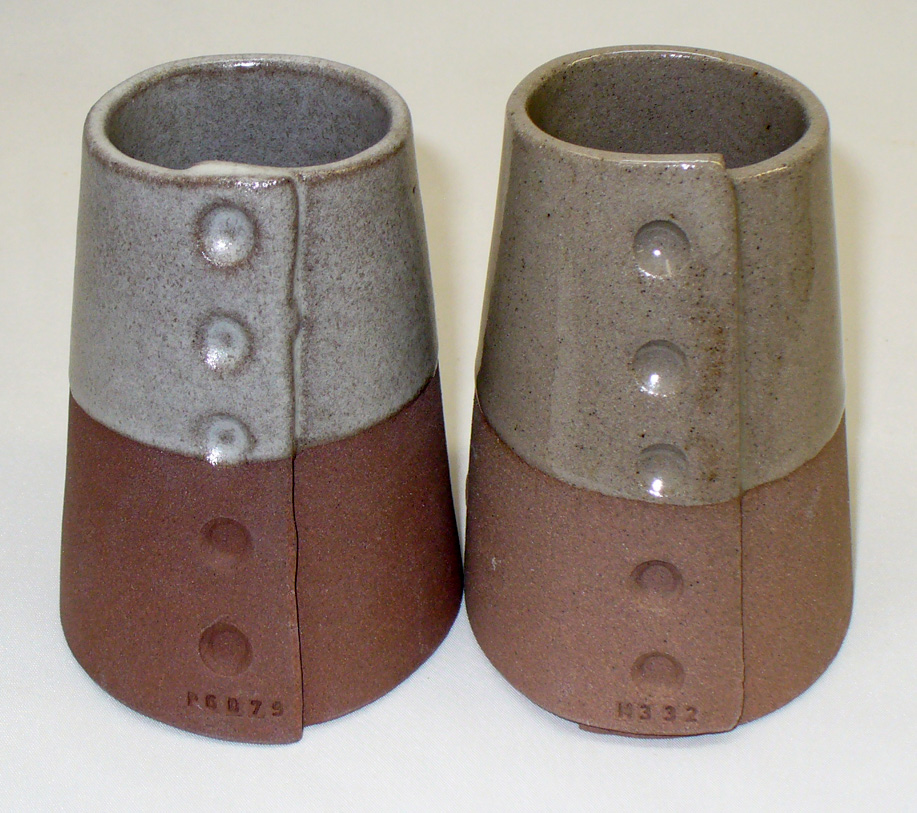 Click for 813% larger

Worthington Clear cone 04 glaze left (uses Gerstley Borate to supply the B2O3 and CaO) and a substitute using Ulexite and 12% calcium carbonate) right. This melt flow test demonstrates that the degree of melting is the same but the gassing of the calcium carbonate has disrupted the flow (of the one on the right). However, as a glaze, the 2931A does not gel and produces a clearer glass. A further adjustment to source CaO from non-gassing wollastonite is needed.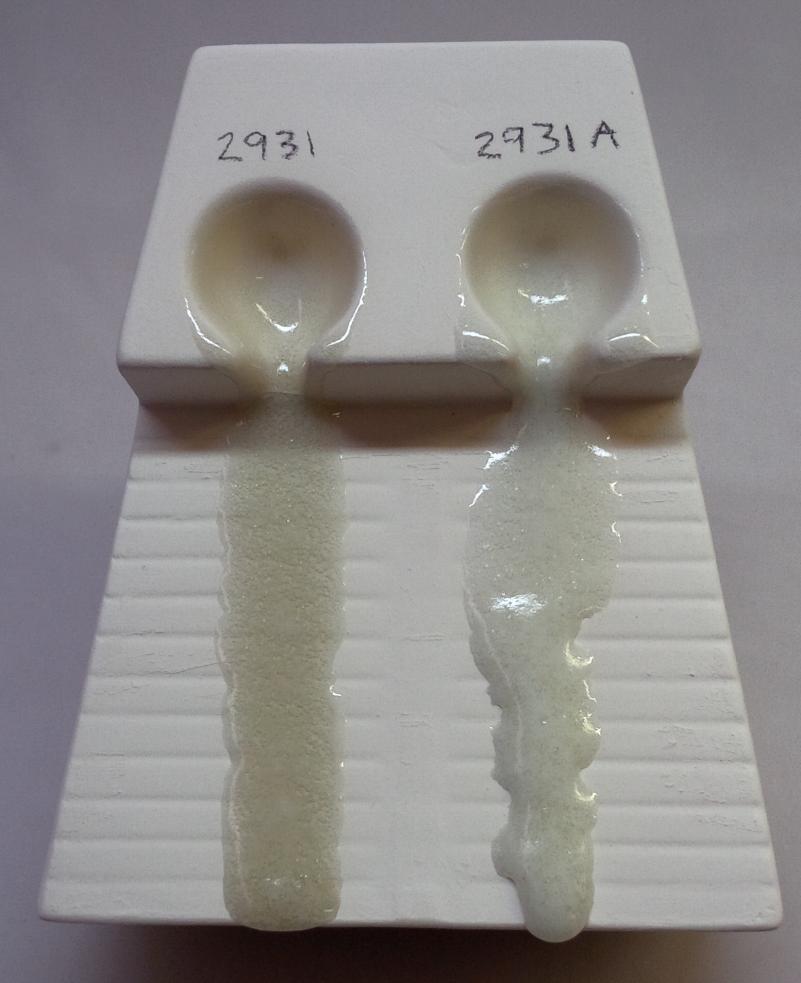 Click for 983% larger

Worthington transparent glaze recipe has 55% Gerstley Borate and 30% kaolin. It gels almost immediately on mixing and dewaters extremely slowly and shrinks and cracks during drying on the ware; yet countless potters struggle with this recipe! GB is very plastic, so this actually makes a better throwing body than a glaze!
Click for 656% larger

These cone 04 glazes both have 50% Gerstley Borate. The other 50% in the one on the left is PV Clay, a very low melting plastic feldspar. On the right, the other 50% is silica and kaolin, both very refractory materials. Yet the glaze on the right is melting far better. How is that possible? Likely because the silica and kaolin are supplying Al2O3 and SiO2, exactly the oxides that Gerstley Borate needs to form a good glass.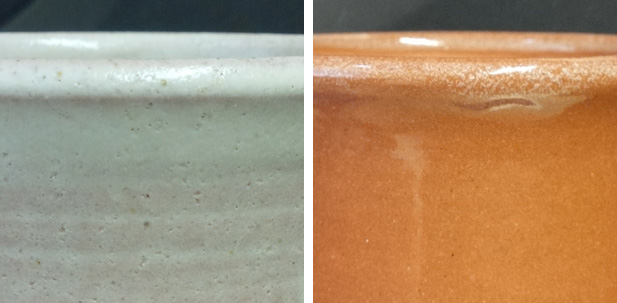 Click for 303% larger

XML for Import into INSIGHT
<?xml version="1.0" encoding="UTF-8"?> <material name="Gerstley Borate" descrip="Plastic Calcium Borate" searchkey="Colemanite, Calcium Borate, Borocalcite" loi="0.00" casnumber="71377-02-1"> <oxides> <oxide symbol="CaO" name="Calcium Oxide, Calcia" status="U" percent="19.400" tolerance=""/> <oxide symbol="MgO" name="Magnesium Oxide, Magnesia" status="U" percent="3.500" tolerance=""/> <oxide symbol="K2O" name="Potassium Oxide" status="U" percent="0.400" tolerance=""/> <oxide symbol="Na2O" name="Sodium Oxide, Soda" status="U" percent="4.000" tolerance=""/> <oxide symbol="P2O5" name="Phosphorus Pentoxide" status="" percent="0.100" tolerance=""/> <oxide symbol="TiO2" name="Titanium Dioxide, Titania" status="" percent="0.100" tolerance=""/> <oxide symbol="Al2O3" name="Aluminum Oxide, Alumina" status="" percent="1.000" tolerance=""/> <oxide symbol="B2O3" name="Boric Oxide" status="" percent="26.800" tolerance=""/> <oxide symbol="SiO2" name="Silicon Dioxide, Silica" status="" percent="14.800" tolerance=""/> <oxide symbol="Fe2O3" name="Iron Oxide, Ferric Oxide" status="" percent="0.400" tolerance=""/> </oxides> <volatiles> <volatile symbol="LOI" name="Loss on Ignition" percent="29.500" tolerance=""/> </volatiles> </material>


---
---
Copyright 2003, 2008 http://digitalfire.com, All Rights Reserved


INSIGHT is ceramic chemistry
calculation software that runs on
Windows, Mac and Linux and talks
to this web site. ()
0