Ferro Frit 3134
Leadless and zero alumina high calcia borosilicate frit
Alternate Names: F3134
| | | |
| --- | --- | --- |
| Oxide | Analysis | Formula |
| CaO | 20.10% | 0.68 |
| Na2O | 10.30% | 0.32 |
| B2O3 | 23.10% | 0.63 |
| SiO2 | 46.50% | 1.48 |

Enter the formula and formula weight directly into the Insight MDT dialog (since it records materials as formulas).
Enter the analysis into an Insight recipe and enter the LOI using Override Calculated LOI (in the Calc menu). It will calculate the formula.
| | |
| --- | --- |
| COLE - Co-efficient of Linear Expansion | 9.60 |
| MLRG - Melting Range (C) | 1450F |
This is a popular frit and has been used for many years as a general purpose melter across all tempreatures. Equivalents are made by many frit companies. The manufacturer says that it is "intended for use as a lime and borate source in partially fritted glazes, lead bisilicate glazes and low cost hobby glazes cone 06-10".

The reason this is billed as useful in partially fritted glazes is because of how dissimilar its chemistry is to a typical low fire glaze and the fact that it has a very high thermal expansion (the expansion is because of its lack of alumina coupled with high sodium content, even higher than a feldspar). Interestingly, if alumina is added the thermal expansion drops drastically because there is so much boron to counteract the sodium (this is what Frit 3124 is).

The very high CaO content makes this and similar frits very useful for developing chrome-tin pinks and maroons. CaO sourcing raw materials do not normally melt at low temperatures but a frit of this chemistry (high soda and boron) does.

Unlike raw material sources of the other oxides, this frit has no alumina. Because all glazes (except crystalline) require alumina, this frit must be mixed with a material that sources high alumina. Feldspars are not a normal option because they would supply even more high expansion soda and potash. The only logical answer is clay (normally kaolin). Since crystalline glazes require almost no alumina, this frit is an ideal material on which to build them.

Not many frits have higher boron than this one, so this is considered an excellent source where boron is required but a minimum amount of frit is needed. Since this frit has no alumina adding it to a recipe does not require reduction of clay content to reduce alumina. These reasons are likely why it is billed as useful from 06-10 (although boron is uncommon in high fire glazes).

The high expansion of this frit is quite useful since it can be used in a frit blend to create low-temperature glazes with adjustable thermal expansion. The high boron means it can tolerate a very high alumina content from other materials, especially clay. For example this glaze: 40 Frit 3124, 40 Frit 3134 and 20 Kaolin is expansion adjustable since the Frit 3134 can be increased at the expense of 3124 if the glaze is shivering and vice versa if it is crazing.

This frit is often used as part of the strategy to substitute for Gerstley Borate in glazes. It is valuable because it contains lots of sodium and calcium while at the same time sourcing the B2O3 without alumina. This often enables reducing the feldspar content in the glaze(in addition to eliminating the GB), and then replenishing the oxides contributed by both with this frit. Since this frit contains not alumina, it is possible to add kaolin to supply it, it acts to suspend the glaze in the absence of the Gerstley Borate.

Since this frit contains no Al2O3, it is not a completely stable glass, it can leach in glaze slurries over time and precipitate. It is often possible to reduce the amount of this frit in favor of the more balanced Frit 3124 where the glaze has plenty of feldspar. However, if you drive the clay content too low to accomodate the Al2O3-containing Frit 3124 (using ceramic chemistry), you may find the extra hassle of poorer application properties and powdering worth enduring some precipitation issues.

Sub: See also: TAM C-14, General 367-A, 4508
Out Bound Links

(Articles)

This is a frit based boron base glaze that is easily adjustable in thermal expansion, a good base fo...

(Materials - Substitute) Fusion Frit F-12

- Artware Flux Calcium Frit

F12 Fusion,Frit F12

(Materials - Substitute) Hommel Frit 14

- Leadless calcium leadless zero alumina borosilicate

(Materials - Substitute) Pemco Frit P-54

- Sodium-calcium-borosilicate low melting flux

Frit 54, Frit P54, Pemco 54

(Materials - Parent) Frit

- Frit master

Ceramic Frits

(Tests - Unspecified) DENS - Density (Specific Gravity)
(Suppliers - Manufacturer) Ferro Corporation
(Typecodes - Type) 1: FRT - Frit
(Library - Unspecified) How Insight handles LOI in materials - INSIGHT Video Tutorials 1C, 4

Tutorial video 1C at digitalfire.com, Comparing Ca...

(Library - Unspecified) Subsituting Gerstley Borate in Floating Blue - INSIGHT Video Tutorial 6

Details how to substitute Gerstley Borate for anot...

(MDT) Crystal Glazes

These materials are specially defined for makers o...

(MDT) Ron Roy

This is the traditional Ron Roy materials file. He...

(MDT) North America

The decision about what materials to include in th...

(MDT) New Zealand

We are working on this database and would apprecia...

(MDT) Latin and South America

Latin America and South America. We are working on...

(MDT) Europe

Countries of Eastern Europe and former Soviet Unio...

(MDT) Australia

We are working on this database and would apprecia...

(MDT) Asia

All of Asia including Turkey, Russia, Indosnesia, ...

(MDT) Africa

All of continental Africa. We are working on this ...
In Bound Links

Pictures
Metallic oxides with 50% Ferro frit 3134 in crucibles at cone 6ox. Chrome and rutile have not melted, copper and cobalt are extremely active melters. Cobalt and copper have crystallized during cooling, manganese has formed an iridescent glass.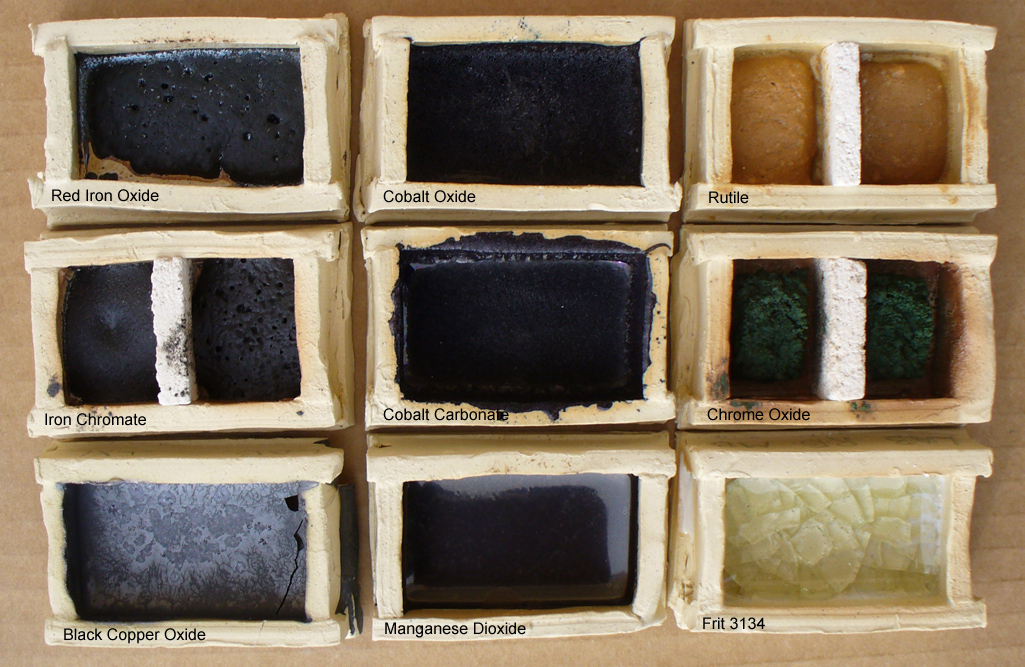 Click for 667% larger

XML for Import into INSIGHT
<?xml version="1.0" encoding="UTF-8"?> <material name="Ferro Frit 3134" descrip="Leadless and zero alumina high calcia borosilicate frit" searchkey="F3134" loi="0.00" casnumber="65997-18-4"> <oxides> <oxide symbol="CaO" name="Calcium Oxide, Calcia" status="U" percent="20.100" tolerance=""/> <oxide symbol="Na2O" name="Sodium Oxide, Soda" status="U" percent="10.300" tolerance=""/> <oxide symbol="B2O3" name="Boric Oxide" status="" percent="23.100" tolerance=""/> <oxide symbol="SiO2" name="Silicon Dioxide, Silica" status="" percent="46.500" tolerance=""/> </oxides> </material>

The future of ceramic recipe, material and physical testing record keeping is here. Just pennies a day.

Watch the video or sign-up at
http://insight-live.com
.
Maintain your recipes, materials and test data on-line
Login to a private account or work with others in a group account (e.g. university).
Nothing to install (access it using your web browser). It is always the latest version.
Import existing material, recipe data.
As many side-by-side recipes and/or materials as you want (chemistry is shown for all).
Many ways to search and classify glaze and body recipes.
Glaze and body recipes are robust, with units-of-measure, pictures with individual titles and descriptions, material links.
Add variations to a recipe; each with its own pictures, descriptions and name/code-number extensions.
Recipes can link to materials, typecodes, projects, firing schedules and physical test result data (all managed in their own areas).
Standard reports and mix ticket reports with last-minute-totalling; variations report as if they are a complete recipe.
Video tutorials, help system, contact form on every page, dedicated messaging and support ticket systems.
It is an industrial-strength database system (unlimited capacity, fast, reliable, scalable).
Imports many file formats
Glaze recipe formats supported: HyperGlaze, GlazeGhem, GlazeMaster, Matrix, Insight XML recipes (single and multiple), Insight SQLite DB files.
Assign a batch number to recipe imports (later search by batch).
Assign multiple typecodes to imported glaze and body batches (to classify) (search on these later).
Prepend character sequences to glaze recipe names during import.
Import the pictures and pair them to their corresponding recipe records automatically.
One click to automatically export the database to an SQLite DB database file and download it (for use with desktop Insight or just as a backup).
Export and import individual glaze recipes as text or XML.
Import materials data in various formats or just use the thousands of built-in reference materials.
Perfect for Education
Ceramic study programs can now accumulate material, recipe and testing data year-after-year, students can login and together build a valuable ceramic glaze and body knowledge resource.
Students already have internet connected devices, computers are not even needed in the class.
The Reference Manager gives you quick access to the Digitalfire Ceramic Reference Database.
Learn more
..