Digitalfire Ceramic Materials Database

Logged in as

Level 2 access

: Logout
---
Oxides | Minerals | Materials | Recipes | Articles | Glossary | Hazards | Library | MDT | Pictures | Properties | Schedules | Temperatures | Tests | Troubles | Typecodes
---

You should always be testing. But it is wasted without an audit trail. Document your lifetime of recipes, firing schedules, test results, pictures and much more in a private account at insight-live.com. It is the future, the next step after desktop Digitalfire Insight.

Watch the video, learn more or sign-up at
http://insight-live.com
.
Ferro Frit 3124
Leadless high calcium borosilicate frit
Alternate Names: F3124
Oxide
Analysis
Formula
CaO
14.20%
0.714
K2O
0.70%
0.021
Na2O
6.30%
0.286
Al2O3
9.90%
0.274
B2O3
13.80%
0.559
SiO2
55.20%
2.589
Oxide Weight
282.18
Formula Weight
282.18

Enter the formula and formula weight directly into the Insight MDT dialog (since it records materials as formulas).
Enter the analysis into an Insight recipe and enter the LOI using Override Calculated LOI (in the Calc menu). It will calculate the formula.
| | |
| --- | --- |
| COLE - Co-efficient of Linear Expansion | 7.90 |
| MLRG - Melting Range (C) | 1000-1020C |
This borosilicate frit is high in calcium which means it will affect browns and iron oxide colors. This frit has a chemistry similar to an alumina addition to Frit 3134.

It is intended for use in partially fritted glazes for wall tile and pottery, in lead bisilicate dinnerware glazes in the cone 3-5 range.
Out Bound Links

(Materials - Substitute) Hommel Frit 90

- Leadless Frit

(Materials - Related) Ferro Frit 3134

- Leadless and zero alumina high calcia borosilicate frit

F3134

(Materials - Substitute) Pemco Frit P-311

- Calcium borosilicate frit for partially fritted dinnerware glazes

Frit 311, Frit P311

(Materials - Substitute) Hommel Frit 378A

Frit 378-A

(Materials - Substitute) Frit RCG 2430

F RCG 2430, RCG2430, RCG-2430

(Suppliers - Manufacturer) Ferro Corporation
(Typecodes - Type) 1: FRT - Frit
(MDT) Crystal Glazes

These materials are specially defined for makers o...

(MDT) Ron Roy

This is the traditional Ron Roy materials file. He...

(MDT) North America

The decision about what materials to include in th...

(MDT) New Zealand

We are working on this database and would apprecia...

(MDT) Latin and South America

Latin America and South America. We are working on...

(MDT) Europe

Countries of Eastern Europe and former Soviet Unio...

(MDT) Australia

We are working on this database and would apprecia...

(MDT) Asia

All of Asia including Turkey, Russia, Indosnesia, ...

(MDT) Africa

All of continental Africa. We are working on this ...
In Bound Links

Pictures
Frit balls fired at 1700F. Frit 3124 and 3195 are base glazes, Frit 3110 and 3249 modify expansion and 3134 is similar to 3124 but without any Al2O3. Gerstley Borate is a raw source of boron, it has a very high LOI.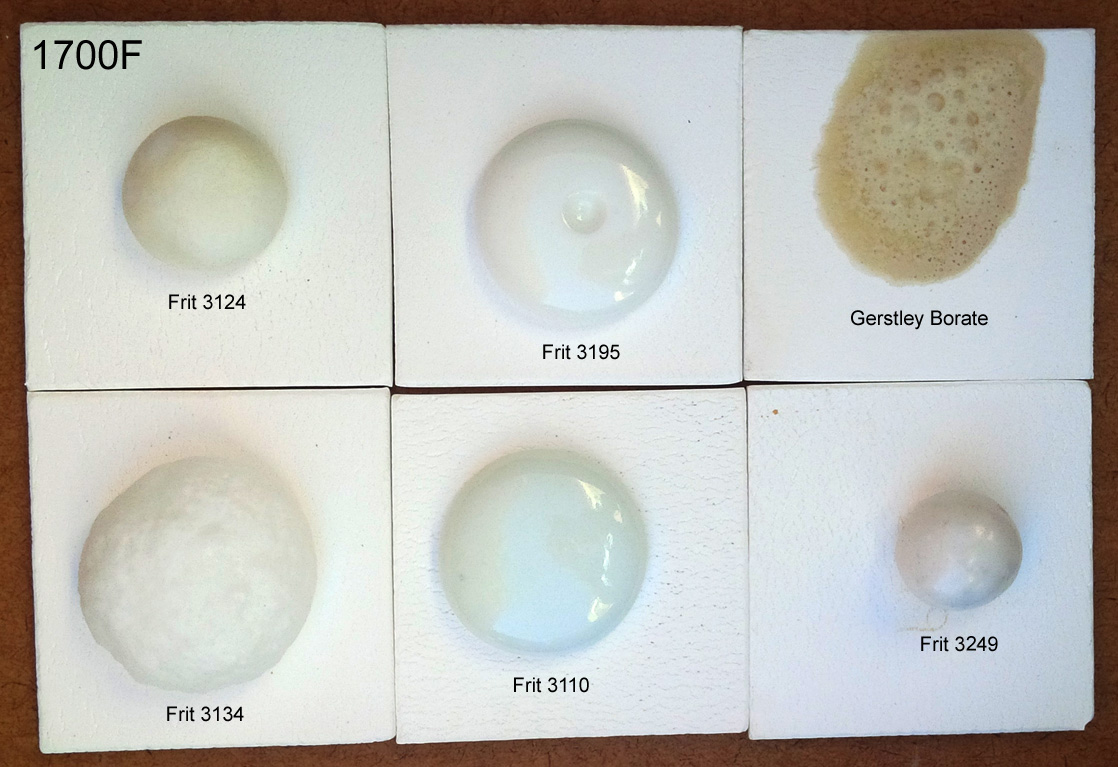 Click for 767% larger

This chart compares the gassing behavior of 6 materials (5 of which are very common in ceramic glazes) as they are fired from 500-1700F. It is a reminder that some late gassers overlap early melters.
Click for 691% larger

XML for Import into INSIGHT
<?xml version="1.0" encoding="UTF-8"?> <material name="Ferro Frit 3124" descrip="Leadless high calcium borosilicate frit" searchkey="F3124" loi="0.00" casnumber="65997-18-4"> <oxides> <oxide symbol="CaO" name="Calcium Oxide, Calcia" status="U" percent="14.200" tolerance=""/> <oxide symbol="K2O" name="Potassium Oxide" status="" percent="0.700" tolerance=""/> <oxide symbol="Na2O" name="Sodium Oxide, Soda" status="U" percent="6.300" tolerance=""/> <oxide symbol="Al2O3" name="Aluminum Oxide, Alumina" status="" percent="9.900" tolerance=""/> <oxide symbol="B2O3" name="Boric Oxide" status="" percent="13.800" tolerance=""/> <oxide symbol="SiO2" name="Silicon Dioxide, Silica" status="" percent="55.200" tolerance=""/> </oxides> </material>


---
---
Copyright 2003, 2008 http://digitalfire.com, All Rights Reserved


INSIGHT is ceramic chemistry
calculation software that runs on
Windows, Mac and Linux and talks
to this web site. ()