Custer Feldspar
Potash Feldspar
Alternate Names: Custer Spar
Oxide
Analysis
Formula
CaO
0.30%
0.033
K2O
10.00%
0.66
Na2O
3.00%
0.30
Al2O3
17.00%
1.04
SiO2
69.00%
7.18
Fe2O3
0.15%
0.006
LOI
0.30
Oxide Weight
621.98
Formula Weight
623.85

Enter the formula and formula weight directly into the Insight MDT dialog (since it records materials as formulas).
Enter the analysis into an Insight recipe and enter the LOI using Override Calculated LOI (in the Calc menu). It will calculate the formula.
This is one of the main feldspars used in the ceramic industry in North America, especially in the west. It is used in industries such as abrasives, sanitary ware, floor and wall tile, dinnerware, pottery, and electrical porcelain throughout the United States, Mexico and Canada. This ceramic grade high potash feldspar is available in crude, 200, 325 mesh and chip form.

Jan 2012: We were getting reports of a reduction in the potash content. Traditionally it has been reported as around 10% (as is shown in the chemistry given here, it is from their online data sheet dated 3/23/2005). However, analyses of many specimens over the past ten years (as provided to us by Ron Roy) suggests that around the year 2000 the K2O content dropped to about 7.5 (with no accompanying change in the Na2O). However, a melt flow test from Plainsman Clays using 2012 material demonstrates that melting is the same over the past year, it does not detect this possibly longer term trend. The chemical analysis of a load received in Nov 2013 reports 10.1 K2O, 3.1 Na2O and 0.1 Fe2O3 (which very closely matches their reported numbers).

Users should be vigilant to do sieve analysis testing to spot any iron bearing particles in the plus 100 mesh range.

Out Bound Links

(URLs) MSDS


http://www.pacerminerals.com/msds1.html

(URLs) Custer Data Sheet


http://www.pacerminerals.com/custer.html

(URLs) Product Reference Guide


http://www.pacerminerals.com/prodcomp.html

(Materials - Parent) Feldspar
(Materials - Parent) Potash Feldspar

- K2O.Al2O3.6SiO2

K-Feldspar, Orthoclase, K Feldspar, Potassium Feldspar

(Suppliers - Manufacturer) Pacer
(Typecodes - Type) 1: FEL - Feldspar
(MDT) Crystal Glazes

These materials are specially defined for makers o...

(MDT) Ron Roy

This is the traditional Ron Roy materials file. He...

(MDT) North America

The decision about what materials to include in th...

(MDT) Latin and South America

Latin America and South America. We are working on...

(MDT) Europe

Countries of Eastern Europe and former Soviet Unio...

(MDT) Asia

All of Asia including Turkey, Russia, Indosnesia, ...

(MDT) Africa

All of continental Africa. We are working on this ...
In Bound Links

Pictures
A comparative flow test of Custer, G-200, high soda and high potassium feldspars.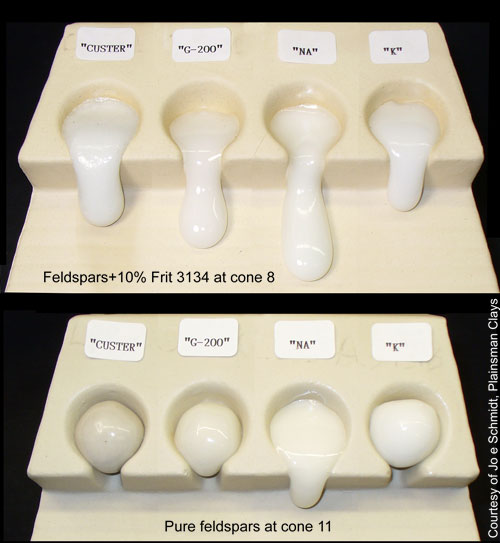 Click for 543% larger

Melt flow test comparing Custer Feldspar from Feb/2012 (right) with Mar/2011 (80:20 mix of feldspar:Ferro frit 3134 has been used for a good flow at cone 10).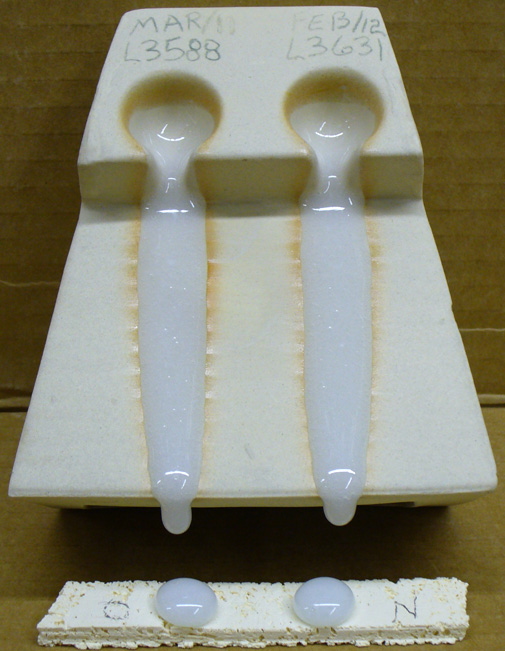 Click for 651% larger

XML for Import into INSIGHT
<?xml version="1.0" encoding="UTF-8"?> <material name="Custer Feldspar" descrip="Potash Feldspar" searchkey="Custer Spar" loi="0.00" casnumber="12168-80-8"> <oxides> <oxide symbol="CaO" name="Calcium Oxide, Calcia" status="U" percent="0.300" tolerance=""/> <oxide symbol="K2O" name="Potassium Oxide" status="U" percent="10.000" tolerance=""/> <oxide symbol="Na2O" name="Sodium Oxide, Soda" status="U" percent="3.000" tolerance=""/> <oxide symbol="Al2O3" name="Aluminum Oxide, Alumina" status="" percent="17.000" tolerance=""/> <oxide symbol="SiO2" name="Silicon Dioxide, Silica" status="" percent="69.000" tolerance=""/> <oxide symbol="Fe2O3" name="Iron Oxide, Ferric Oxide" status="" percent="0.150" tolerance=""/> </oxides> <volatiles> <volatile symbol="LOI" name="Loss on Ignition" percent="0.300" tolerance=""/> </volatiles> </material>

The future of ceramic recipe, material and physical testing record keeping is here. Just pennies a day.

Watch the video or sign-up at
http://insight-live.com
.
Maintain your recipes, materials and test data on-line
Login to a private account or work with others in a group account (e.g. university).
Nothing to install (access it using your web browser). It is always the latest version.
Import existing material, recipe data.
As many side-by-side recipes and/or materials as you want (chemistry is shown for all).
Many ways to search and classify glaze and body recipes.
Glaze and body recipes are robust, with units-of-measure, pictures with individual titles and descriptions, material links.
Add variations to a recipe; each with its own pictures, descriptions and name/code-number extensions.
Recipes can link to materials, typecodes, projects, firing schedules and physical test result data (all managed in their own areas).
Standard reports and mix ticket reports with last-minute-totalling; variations report as if they are a complete recipe.
Video tutorials, help system, contact form on every page, dedicated messaging and support ticket systems.
It is an industrial-strength database system (unlimited capacity, fast, reliable, scalable).
Imports many file formats
Glaze recipe formats supported: HyperGlaze, GlazeGhem, GlazeMaster, Matrix, Insight XML recipes (single and multiple), Insight SQLite DB files.
Assign a batch number to recipe imports (later search by batch).
Assign multiple typecodes to imported glaze and body batches (to classify) (search on these later).
Prepend character sequences to glaze recipe names during import.
Import the pictures and pair them to their corresponding recipe records automatically.
One click to automatically export the database to an SQLite DB database file and download it (for use with desktop Insight or just as a backup).
Export and import individual glaze recipes as text or XML.
Import materials data in various formats or just use the thousands of built-in reference materials.
Perfect for Education
Ceramic study programs can now accumulate material, recipe and testing data year-after-year, students can login and together build a valuable ceramic glaze and body knowledge resource.
Students already have internet connected devices, computers are not even needed in the class.
The Reference Manager gives you quick access to the Digitalfire Ceramic Reference Database.
Learn more
..