Calcium Carbonate
Formula: CaCO3
Alternate Names: Carbonate of Lime, Whiting, Aragonite, Calcite, CaCO3
Oxide
Analysis
Formula
CaO
56.10%
1.00
CO2
43.90
Oxide Weight
56.10
Formula Weight
100.00

Enter the formula and formula weight directly into the Insight MDT dialog (since it records materials as formulas).
Enter the analysis into an Insight recipe and enter the LOI using Override Calculated LOI (in the Calc menu). It will calculate the formula.
| | |
| --- | --- |
| DENS - Density (Specific Gravity) | 2.80 |
| HMOH - Hardness (Moh) | 3.01 |
| MLPT - Melting Point (MP) | 825C D |
Whiting has traditionally been a source of CaO in raw glazes and glass (however whitings also typically contain some dolomite as a contaminant). Whiting is generally inexpensive and there is a large calcium carbonate industry worldwide for non-ceramic uses of this mineral. Well known deposits are the chalk cliffs of England, France and Belgium. Marble and calcite ores are abundant in many places.

Inexpensive non ceramic grades of whiting tend to lack the quality and consistency needed for use in glazes (especially for industrial use). Also whiting produces a very large volume of gases while decomposing, it loses more than 40% by weight. While these gases should be gone well before 1100C (and therefore should not disturb the glaze melt), in low or fast fire they can contribute to imperfections and faults in the glaze surface. With the advent of faster firing schedules in recent years whiting has been replaced by wollastonite and frits as a source of CaO in many applications (CaO oxide is advantageous in fast fire because it does not lower the melting point as much as the alkalies). Since LOI is a good indicator of variation in chemistry it may be practical to do an LOI test on shipments by firing a specimen of powder in a thin bisqued bowl to confirm the consistency of shipments.

There are many alternate no-LOI sources of CaO (e.g. wollastonite, frits) and incorporating one of them to source the CaO instead is a classic application of ceramic chemistry calculations (it is dealt with in the lessons section of the INSIGHT software manual).

In low-fire bodies, calcium carbonate is sometimes added in small amounts as a filler to reduce fired shrinkage and act as a whitener. It is also common to see 5% whiting included in porous earthenware body recipes to prevent moisture expansion (which causes glazes to craze).
Mechanisms
Out Bound Links

In Bound Links

Pictures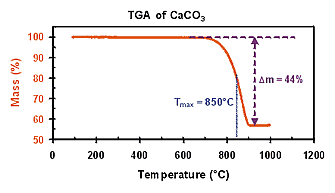 Click for 193% larger

The top bar is a mix of calcium carbonate and clay fired to cone 6. The bottom is a couple of minutes after water was poured onto it.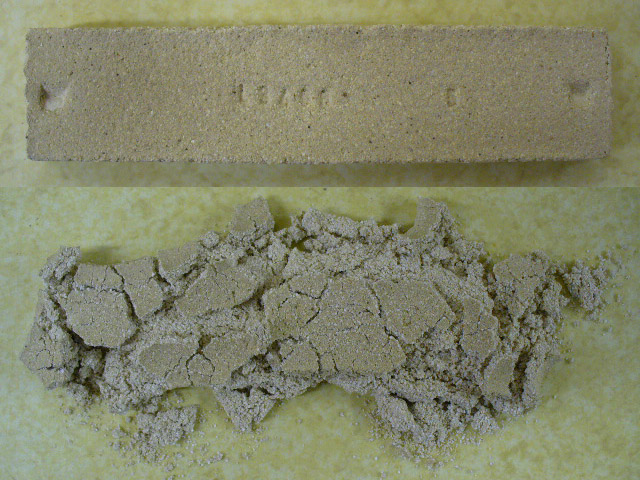 Click for 480% larger

Example of calcium carbonate (top) and dolomite (both mixed with 25% bentonite). They are fired to cone 9. Both bars are porous and refractory, even powdery.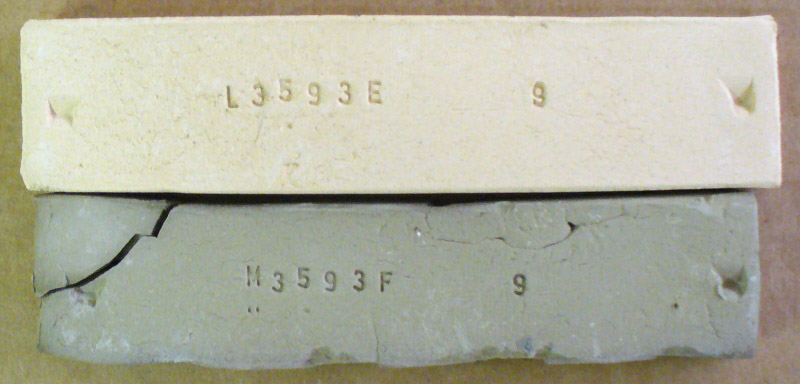 Click for 384% larger

2,5,10,15% calcium carbonate added to Ravenscrag Slip on a buff stoneware fired at cone 10R. It gets progressively glossier toward 15%, crazing starts at cone 10%. By Kat Valenzuela.

Click for 383% larger

XML for Import into INSIGHT
<?xml version="1.0" encoding="UTF-8"?> <material name="Calcium Carbonate" descrip="" searchkey="Carbonate of Lime, Whiting, Aragonite, Calcite, CaCO3" loi="0.00" casnumber="471-34-1"> <oxides> <oxide symbol="CaO" name="Calcium Oxide, Calcia" status="U" percent="56.100" tolerance=""/> </oxides> <volatiles> <volatile symbol="CO2" name="Carbon Dioxide" percent="43.900" tolerance=""/> </volatiles> </material>

The future of ceramic recipe, material and physical testing record keeping is here. Just pennies a day.

Watch the video or sign-up at
http://insight-live.com
.
Maintain your recipes, materials and test data on-line
Login to a private account or work with others in a group account (e.g. university).
Nothing to install (access it using your web browser). It is always the latest version.
Import existing material, recipe data.
As many side-by-side recipes and/or materials as you want (chemistry is shown for all).
Many ways to search and classify glaze and body recipes.
Glaze and body recipes are robust, with units-of-measure, pictures with individual titles and descriptions, material links.
Add variations to a recipe; each with its own pictures, descriptions and name/code-number extensions.
Recipes can link to materials, typecodes, projects, firing schedules and physical test result data (all managed in their own areas).
Standard reports and mix ticket reports with last-minute-totalling; variations report as if they are a complete recipe.
Video tutorials, help system, contact form on every page, dedicated messaging and support ticket systems.
It is an industrial-strength database system (unlimited capacity, fast, reliable, scalable).
Imports many file formats
Glaze recipe formats supported: HyperGlaze, GlazeGhem, GlazeMaster, Matrix, Insight XML recipes (single and multiple), Insight SQLite DB files.
Assign a batch number to recipe imports (later search by batch).
Assign multiple typecodes to imported glaze and body batches (to classify) (search on these later).
Prepend character sequences to glaze recipe names during import.
Import the pictures and pair them to their corresponding recipe records automatically.
One click to automatically export the database to an SQLite DB database file and download it (for use with desktop Insight or just as a backup).
Export and import individual glaze recipes as text or XML.
Import materials data in various formats or just use the thousands of built-in reference materials.
Perfect for Education
Ceramic study programs can now accumulate material, recipe and testing data year-after-year, students can login and together build a valuable ceramic glaze and body knowledge resource.
Students already have internet connected devices, computers are not even needed in the class.
The Reference Manager gives you quick access to the Digitalfire Ceramic Reference Database.
Learn more
..