Barnard Slip
High Iron Clay
Alternate Names: Blackbird Slip, Blackbird Clay, Barnard Clay
Oxide
Analysis
Formula
CaO
0.30%
0.06
MgO
0.80%
0.20
K2O
2.00%
0.22
TiO2
0.70%
0.09
Al2O3
10.00%
1.00
SiO2
59.00%
10.01
Fe2O3
15.00%
0.96
MnO
3.50%
0.50
LOI
8.31
Oxide Weight
931.26
Formula Weight
1015.66

Enter the formula and formula weight directly into the Insight MDT dialog (since it records materials as formulas).
Enter the analysis into an Insight recipe and enter the LOI using Override Calculated LOI (in the Calc menu). It will calculate the formula.
Barnard clay has long been used by potters as a source of iron in dark firing glazes. It offers price advantages over using iron oxide and being a clay aids in suspending the materials in the slurry. Barnard has proven valuable for iron slip glazes requiring high clay content. For example, a mixture of 90% Barnard and 20% calcium carbonate will produce a nearly black glaze around cone 9.

Published chemistries appear to be highly variable. We have seen iron amounts as low as 14% and as high as 34% (the other oxides are likewise variable).

Barnard clay is a silty material with very low plasticity; so low that it is difficult to form test specimens from it in the plastic state (yet the drying shrinkage is around 5.5%!). The material is extremely messy to work with and stains containers and everything it touches. There is some variation in the color (and thus of thevfired results of glazes and slips employing it).

Fired bars are very dark brown at cone 04 proceeding to black at cone 4. At cone 6 it is beginning to melt. Cone 06 porosity is around 20% but drops sharply to 13% at cone 04 and then to near zero at cone 4 where maximum vitrification is attained (higher firing begins to expand test bars). It has a porosity of below 1% and almost 13% fired shrinkage at cone 4. At cone 04 the porosity is 13% and fired shrinkage is 7%.

To duplicate this material the base clay needs to have low plasticity and be high in iron and silica and low in alumina and flux. Since iron oxide and silica need to be added flux containing clays could possibly be diluted enough to work. If you would like more information please email us and we can give you trial recipes in return for your reports on their testing.

We used to quote the following analysis, but have changed it as a result of fired tests.

CaO - 0.6
MgO - 0.7
K2O - 1.1
Na2O - 0.6
TiO2 - 0.2
Al2O3 - 7.6
SiO2 - 47
Fe2O3 - 33.9
LOI - 8.3

The nature of the color demonstrates that the material must have a significant amount of MnO (Ron Roy quoted this on Clayart). We will do some testing with varying amounts of iron and manganese to adjust this further if necessary.
Out Bound Links

(Materials - Unspecified) Albany Slip

- High iron silty low melting clay

New York Slip, Albany Clay

(Materials - Unspecified) Ravenscrag Slip

- Silty fusible low iron clay

(Materials - Substitute) SG 758

- Barnard Slip substitute from Laguna Clays

Barnard Clay Sub SG758

(Suppliers - Manufacturer) Hammil & Gillespie
(Typecodes) 1: CLO - Clay Other
(MDT) Ron Roy

This is the traditional Ron Roy materials file. He...

(MDT) North America

The decision about what materials to include in th...
Pictures
Barnard Slip fired over a range from 04 (top) to 6 (bottom).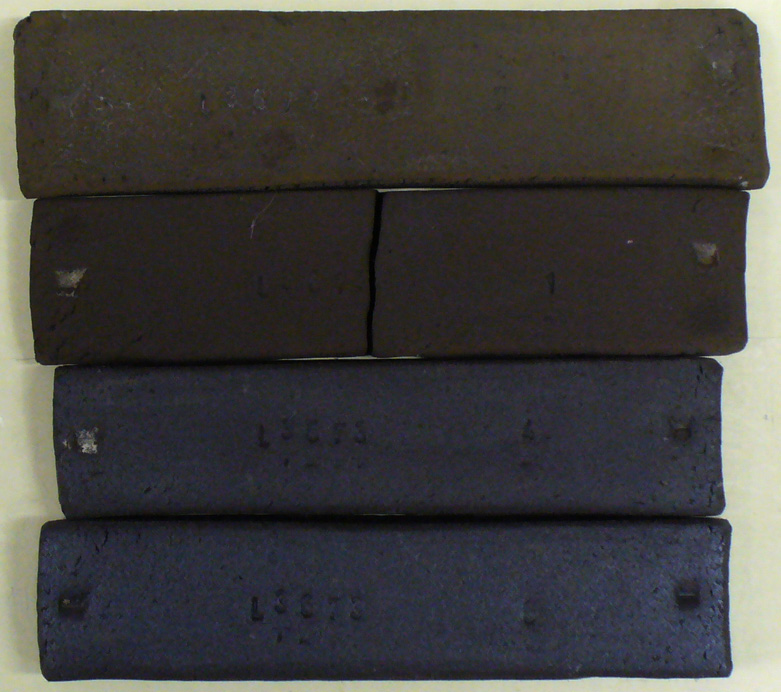 Click for 692% larger

XML for Import into INSIGHT
<?xml version="1.0" encoding="UTF-8"?> <material name="Barnard Slip" descrip="High Iron Clay" searchkey="Blackbird Slip, Blackbird Clay, Barnard Clay" loi="0.00" casnumber="70694-09-6"> <oxides> <oxide symbol="CaO" name="Calcium Oxide, Calcia" status="" percent="0.300" tolerance=""/> <oxide symbol="MgO" name="Magnesium Oxide, Magnesia" status="" percent="0.800" tolerance=""/> <oxide symbol="K2O" name="Potassium Oxide" status="" percent="2.000" tolerance=""/> <oxide symbol="TiO2" name="Titanium Dioxide, Titania" status="" percent="0.700" tolerance=""/> <oxide symbol="Al2O3" name="Aluminum Oxide, Alumina" status="" percent="10.000" tolerance=""/> <oxide symbol="SiO2" name="Silicon Dioxide, Silica" status="" percent="59.000" tolerance=""/> <oxide symbol="Fe2O3" name="Iron Oxide, Ferric Oxide" status="" percent="15.000" tolerance=""/> <oxide symbol="MnO" name="Manganous Oxide" status="" percent="3.500" tolerance=""/> </oxides> <volatiles> <volatile symbol="LOI" name="Loss on Ignition" percent="8.310" tolerance=""/> </volatiles> </material>

The future of ceramic recipe, material and physical testing record keeping is here. Just pennies a day.

Watch the video or sign-up at
http://insight-live.com
.
Maintain your recipes, materials and test data on-line
Login to a private account or work with others in a group account (e.g. university).
Nothing to install (access it using your web browser). It is always the latest version.
Import existing material, recipe data.
As many side-by-side recipes and/or materials as you want (chemistry is shown for all).
Many ways to search and classify glaze and body recipes.
Glaze and body recipes are robust, with units-of-measure, pictures with individual titles and descriptions, material links.
Add variations to a recipe; each with its own pictures, descriptions and name/code-number extensions.
Recipes can link to materials, typecodes, projects, firing schedules and physical test result data (all managed in their own areas).
Standard reports and mix ticket reports with last-minute-totalling; variations report as if they are a complete recipe.
Video tutorials, help system, contact form on every page, dedicated messaging and support ticket systems.
It is an industrial-strength database system (unlimited capacity, fast, reliable, scalable).
Imports many file formats
Glaze recipe formats supported: HyperGlaze, GlazeGhem, GlazeMaster, Matrix, Insight XML recipes (single and multiple), Insight SQLite DB files.
Assign a batch number to recipe imports (later search by batch).
Assign multiple typecodes to imported glaze and body batches (to classify) (search on these later).
Prepend character sequences to glaze recipe names during import.
Import the pictures and pair them to their corresponding recipe records automatically.
One click to automatically export the database to an SQLite DB database file and download it (for use with desktop Insight or just as a backup).
Export and import individual glaze recipes as text or XML.
Import materials data in various formats or just use the thousands of built-in reference materials.
Perfect for Education
Ceramic study programs can now accumulate material, recipe and testing data year-after-year, students can login and together build a valuable ceramic glaze and body knowledge resource.
Students already have internet connected devices, computers are not even needed in the class.
The Reference Manager gives you quick access to the Digitalfire Ceramic Reference Database.
Learn more
..