Barium Carbonate
Formula: BaCO3
Alternate Names: Barium Carb, Witherite
Oxide
Analysis
Formula
BaO
77.66%
1.00
CO2
22.34
Oxide Weight
153.30
Formula Weight
197.40

Enter the formula and formula weight directly into the Insight MDT dialog (since it records materials as formulas).
Enter the analysis into an Insight recipe and enter the LOI using Override Calculated LOI (in the Calc menu). It will calculate the formula.
| | |
| --- | --- |
| DENS - Density (Specific Gravity) | 4.27 |
Barium carbonate powder is dense and white and is manufactured either from the mineral barite (BaSO4) or from barium chloride. Subsequently a precipitation process is used to get the carbonate form. There are several crystalline forms of BaCO3, alpha is the most stable.

Barium carbonate is very stable thermally and does not readily disassociate unless at least some CO is available in the kiln atmosphere (i.e. reduction). BaCO3 is reduced to the unstable BaCO2 in the reaction:

BaCO3 + CO -> BaCO2 + CO2

While BaCO2 has a high melting temperature, it will break down much readily in a glaze melt (liberating the BaO for glass building). It decomposes even more readily during glaze melting in a reduction atmospheres. The dissolution process happen most quickly if BaCO3 is present in small amounts (e.g. 5% or less). Even if present in larger amounts, the glaze matrix can solidify with both types, one participating in the glass microstructure and the other acting as a refractory filler, opacifier and matting agent (especially in low temperature glazes). Effects produced when baria is acting as a filler are sometimes mistaken for those of a true baria crystal matte. Such will likely leach toxic BaO (other oxides will opacify or produce a low fire matte i.e. CaO, MgO, Alumina, Zircon).

Barium carbonate produces gases as it decomposes and these can sometimes cause many pinholes or blisters in glazes. There are many barium frits available and incorporating one of them to source the BaO instead is a classic application of ceramic chemistry calculations. The resultant glaze will be more fusible and will have better clarity and fewer defects.

In art ceramics barium carbonate is popular for the production of classic barium crystal mattes, BaO readily forms crystalline phases during cooling. These are dependent on adequate kiln temperatures, cooling cycle and the chemistry of the host glaze (a slightly reducing atmosphere is also beneficial). Barium can act to initiate crystal development in other chemistries, for example metallic glazes can benefit by the addition of some barium carbonate.

Barium carbonate is commonly added to clay bodies in small amounts (0.2-0.8%) to halt fired surface scumming or efflorescence It is slightly soluble in water and provides Ba++ ions to link with SO4-- ions in the water to form BaSO4 (barium sulfate). This new sulfate molecular form is much less soluble (2-3 mg/L), so it stays internal (rather than migrating to the surface during drying). However companies try minimize the use of barium (or even high clays with high soluble salts) because the barium sulphate generates sulphuric acid during firing and it corrodes kiln refractories. To get the best dissolution it is best to add the barium to the water first and mix as long as possible, then either add the water to the other dry ingredients (for plastic bodies) or add the other ingredients to the water (for slips).

Mechanisms
Glaze Opacifier - White

If available in sufficient amount, barium oxide will promote crystallization of a melt during cooling, thus imparting a measure of opacity.
Out Bound Links

In Bound Links

Pictures
Soluble salts on low fire terra cotta and brown burning bodies. The salt-free specimen has barium carbonate.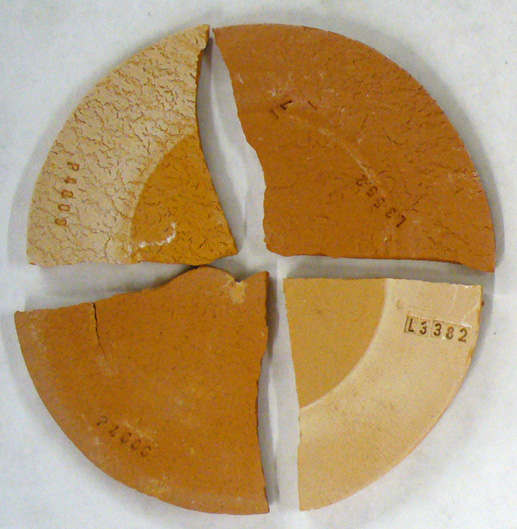 Click for 529% larger

XML for Import into INSIGHT
<?xml version="1.0" encoding="UTF-8"?> <material name="Barium Carbonate" descrip="" searchkey="Barium Carb, Witherite" loi="0.00" casnumber="25070-31-9"> <oxides> <oxide symbol="BaO" name="Barium Oxide, Baria" status="" percent="77.660" tolerance=""/> </oxides> <volatiles> <volatile symbol="CO2" name="Carbon Dioxide" percent="22.340" tolerance=""/> </volatiles> </material>

The future of ceramic recipe, material and physical testing record keeping is here. Just pennies a day.

Watch the video or sign-up at
http://insight-live.com
.
Maintain your recipes, materials and test data on-line
Login to a private account or work with others in a group account (e.g. university).
Nothing to install (access it using your web browser). It is always the latest version.
Import existing material, recipe data.
As many side-by-side recipes and/or materials as you want (chemistry is shown for all).
Many ways to search and classify glaze and body recipes.
Glaze and body recipes are robust, with units-of-measure, pictures with individual titles and descriptions, material links.
Add variations to a recipe; each with its own pictures, descriptions and name/code-number extensions.
Recipes can link to materials, typecodes, projects, firing schedules and physical test result data (all managed in their own areas).
Standard reports and mix ticket reports with last-minute-totalling; variations report as if they are a complete recipe.
Video tutorials, help system, contact form on every page, dedicated messaging and support ticket systems.
It is an industrial-strength database system (unlimited capacity, fast, reliable, scalable).
Imports many file formats
Glaze recipe formats supported: HyperGlaze, GlazeGhem, GlazeMaster, Matrix, Insight XML recipes (single and multiple), Insight SQLite DB files.
Assign a batch number to recipe imports (later search by batch).
Assign multiple typecodes to imported glaze and body batches (to classify) (search on these later).
Prepend character sequences to glaze recipe names during import.
Import the pictures and pair them to their corresponding recipe records automatically.
One click to automatically export the database to an SQLite DB database file and download it (for use with desktop Insight or just as a backup).
Export and import individual glaze recipes as text or XML.
Import materials data in various formats or just use the thousands of built-in reference materials.
Perfect for Education
Ceramic study programs can now accumulate material, recipe and testing data year-after-year, students can login and together build a valuable ceramic glaze and body knowledge resource.
Students already have internet connected devices, computers are not even needed in the class.
The Reference Manager gives you quick access to the Digitalfire Ceramic Reference Database.
Learn more
..