Ball Clay
Highly Plastic Fine Particle Clay
Oxide
Analysis
Formula
CaO
0.30%
0.022
MgO
0.30%
0.030
K2O
0.90%
0.039
Na2O
0.40%
0.026
TiO2
1.00%
0.05
Al2O3
25.00%
1.00
SiO2
59.00%
4.01
Fe2O3
1.00%
0.026
LOI
12.00
Oxide Weight
358.63
Formula Weight
407.54

Enter the formula and formula weight directly into the Insight MDT dialog (since it records materials as formulas).
Enter the analysis into an Insight recipe and enter the LOI using Override Calculated LOI (in the Calc menu). It will calculate the formula.
The term 'ball' traces to historic mining in England where large chunks of the clay were cut from the bank in ball shapes for transport to processing.

There are hundreds of different ball clays available and they vary widely in plasticity, particle size, raw color, and drying properties. A typical ball clay powder is light grey (from lignite) or cream color and fires to a buff or cream white color with some soluble salt deposits on the fired surface. Ball clays are very plastic and much finer grained than kaolins. They are easily slaked in water when dry. Few people fully appreciate how 'sticky' and plastic these materials are until they mix some with water and work with it pure. The fine particle size also makes them impermeable to the passage of water (a small test bar can take a very long time to dry).

They are typically unvitrified at cone 10. There are a wide range of ball clays used in traditional ceramic manufacture in North American and they have surprisingly similar firing characteristics (maturity and color). In one test of 6 different ball typical clays from a range of suppliers (blended with 50% feldspar and fired from cone 6 to 10), all had the same porosity and fired appearance. Drying shrinkage and water of plasticity also was quite similar. Ball clays intended for casting have a lower drying shrinkage but also fire very similar.

Ball clays are used in ceramic bodies (porcelains, stonewares and earthenwares, casting slips, pressing bodies) because of their plastic nature combined with high firing temperature. Ball clays have very high dry shrinkage combined with high green strength and slow drying. Were it not for their iron and coal impurities, ball clays would be ideal ceramic materials. However, in practical terms, they are employed to achieve desired plasticity, but are minimized to reduce the detrimental effect on fired whiteness and drying properties.

A common starting recipe for a high temperature general purpose porcelain (as is used in electrical porcelain or extruded pottery porcelain is 25% each of ball clay, kaolin, feldspar and silica). The ball clay:kaolin mix can be altered to change body plasticity without significantly affecting the maturing temperature.

In North America, most commercial ball clays are mined in the southeastern US. Ball clay deposits are common and were laid by the action of slow moving water with an acidity that tended to flocculate and settle the clay. It is common to find lignite associated with ball clay, and this accounts for the almost black appearance of many varieties (when wet).

Ball clays tend to be quite refractory (PCE 28-34) and some dirtier deposits are sold as fireclays. Ball clay is not a clay mineral in itself, but contains other minerals, primarily kaolinite (but also montmorillonite, halloysite, and illite). Mica and quartz are also normally present in substantial amounts.

Ball clays vary widely in their plasticity, and it is difficult to compare them by quantitative tests because pure samples are difficult to mix and form and crack badly during drying. Thus, it is common to mix ball clay and silica 50:50 and prepare dry shrinkage, dry strength and fired strength bars (from this mix) for comparative testing. Another technique to produce a workable material is to calcine half of a sample to destroy its plasticity, then mix virgin:calcine 50:50. However most technicians find that silica dilution is advantageous for comparing color and solubles contents.

In general it may be said that English ball clays tend to have a higher dry strength (and thus drying shrinkage) than American ones, Kentucky ball clays have the lowest carbonaceous matter, English ones vitrify lower, Tennessee ones fire whitest.

Although some ball clays resist deflocculation because of hostile soluble impurities, most deflocculate very well with sodium silicate and other equivalent dispersants. A wide range of ball clay slurries and slips are used at all temperature ranges in casting processes. One common recipe uses a simple 50:50 ball clay:talc mix. This recipe and close derivatives are used in large quantities in the hobby casting market. The same mix is also dry pressed in the tile industry, and extruded for jiggering and wet processing in artware.

The refractories industry is a large user of ball clay. Common refractory materials lack plasticity and ball clay is used to help in forming and shape retention and to impart dry strength. The abrasives industry likewise uses it to bond aggregates until firing fuses the mass.

Engobes in the tile and brick industries are suspended, hardened, and adjusted to match body shrinkage by the addition of ball clay. Many pottery glazes contain ball clay to help suspend and harden them and control their shrinkage during drying (although some technicians prefer cleaner kaolins for this).

If the iron or lignite content of ball clay is a problem, it is common to employ bentonite to reduce the ball clay requirements (5% bentonite can provide as much improvement in plasticity and dry strength as 25% ball clay). However, care is recommended to make sure a fine grade of bentonite is used to avoid fired specks (bentonite also burns darker).

Unlike a kaolin, it is difficult to establish a generic or theoretical analysis, we have provided one for a typical Kentucky ball clay.

If you use ball clay in your production there is good reason to be doing routine quality control to make sure it is remaining consistent. Ball clays are likely the most variable material you will have to deal with. They can sometimes have particulate impurities (especially lignite) and exhibit differences in soluble salts content, drying shrinkage, drying performance, fired maturity, fired color and behavior in slurries. Consider the SHAB test.
Mechanisms
Body Plasticity - All Bodies

Ball clay is the main plastic material used in clay bodies of all types. It is much more plastic than kaolin but also has much higher dry shrinkage and higher iron content. A typical white high temperature stoneware is often about 25% each of kaolin, ball clay, feldspar and silica.

Glaze Suspender - General

Ball clay is a fine particled clay that is universally used in glazes for suspension. If 15-20% is present no other suspender should be needed.
Out Bound Links

In Bound Links

Pictures
Example of four different north American ball clays fired to cone 10R, cone 11 and cone 10.

Click for 225% larger

OM#4 ball clay test bars fired from cone 4-10 oxidation and cone 10 reduction. The yellow on bar 12 is iron stained soluble salts.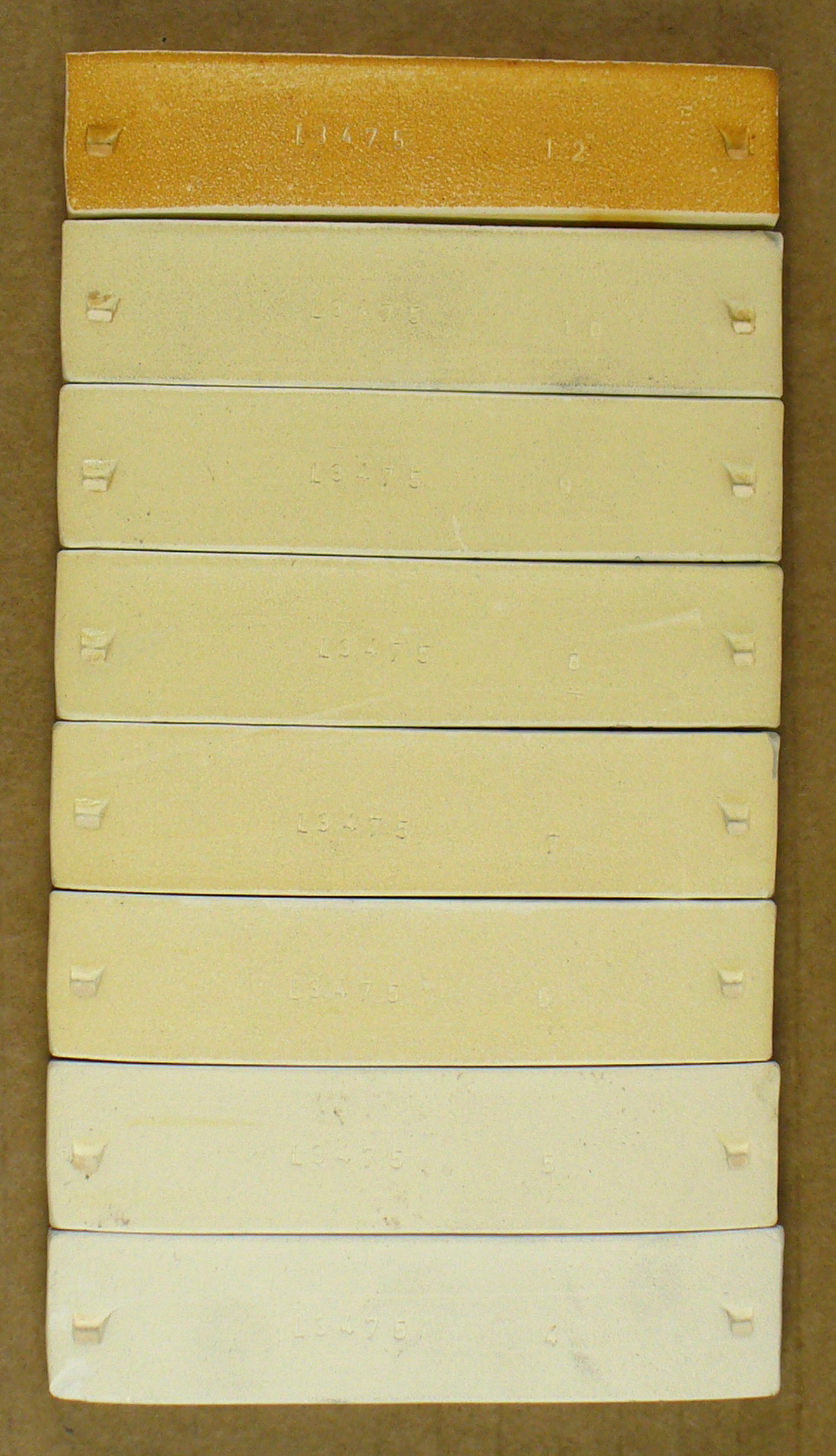 Click for 1678% larger

Ball clay and kaolin test bars side-by-side fired from cone 9-11 oxidation and 10 reduction.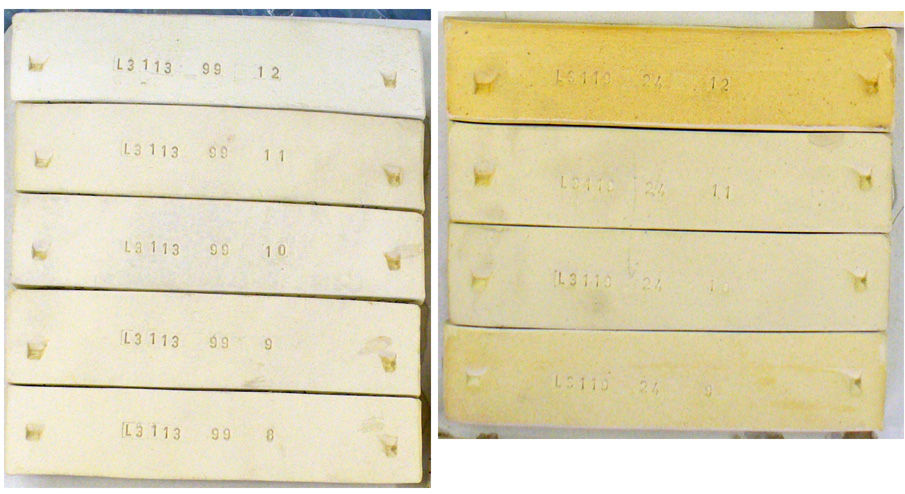 Click for 494% larger

Test used to reveal the effect of soluble salts in a ball clay on the fired body and under the glaze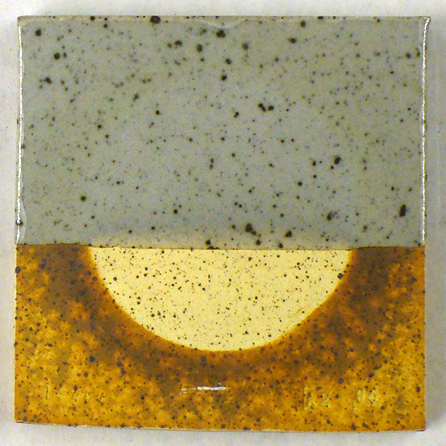 Click for 446% larger

A test bar of ball clay fired to cone 10 reduction. Notice the black carbon core. Ball clays commonly contain carbon.

Click for 292% larger

This 1000 ml 24 hour sedimentation test compares Plainsman A2 ball clay ground to 10 mesh (left) with one that same material ball milled (right). There is no sediment in the milled material.
Click for 687% larger

Plainsman A2 ball clay DFAC drying disk test showing the incredible dry shrinkage of a typical ball clay and the stress it can put the clay under during drying.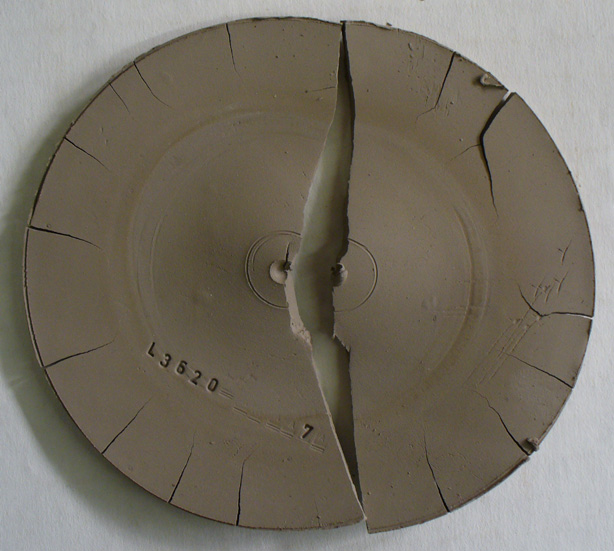 Click for 551% larger

Large particle kaolin (left) and small-particle ball clay (right) DFAC drying disks demonstrate the dramatic difference in drying shrinkage and performance between these two extremes.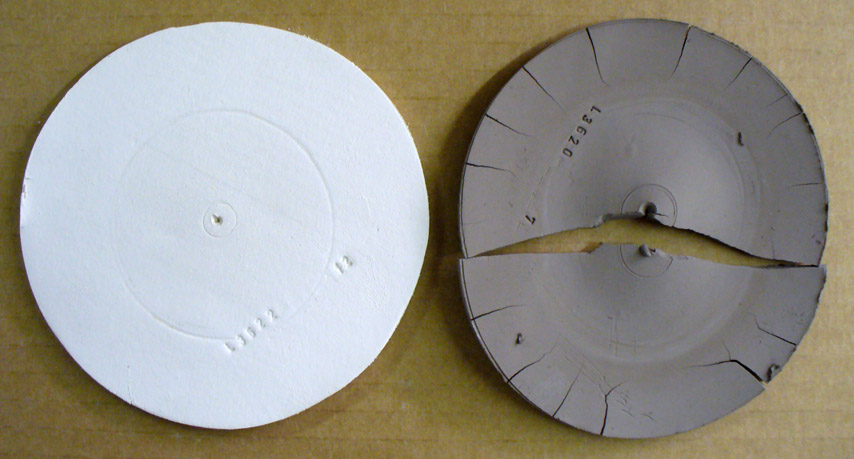 Click for 459% larger

XML for Import into INSIGHT
<?xml version="1.0" encoding="UTF-8"?> <material name="Ball Clay" descrip="Highly Plastic Fine Particle Clay" searchkey="" loi="0.00" casnumber="70694-09-6"> <oxides> <oxide symbol="CaO" name="Calcium Oxide, Calcia" status="" percent="0.300" tolerance=""/> <oxide symbol="MgO" name="Magnesium Oxide, Magnesia" status="" percent="0.300" tolerance=""/> <oxide symbol="K2O" name="Potassium Oxide" status="" percent="0.900" tolerance=""/> <oxide symbol="Na2O" name="Sodium Oxide, Soda" status="" percent="0.400" tolerance=""/> <oxide symbol="TiO2" name="Titanium Dioxide, Titania" status="" percent="1.000" tolerance=""/> <oxide symbol="Al2O3" name="Aluminum Oxide, Alumina" status="" percent="25.000" tolerance=""/> <oxide symbol="SiO2" name="Silicon Dioxide, Silica" status="" percent="59.000" tolerance=""/> <oxide symbol="Fe2O3" name="Iron Oxide, Ferric Oxide" status="" percent="1.000" tolerance=""/> </oxides> <volatiles> <volatile symbol="LOI" name="Loss on Ignition" percent="12.000" tolerance=""/> </volatiles> </material>

The future of ceramic recipe, material and physical testing record keeping is here. Just pennies a day.

Watch the video or sign-up at
http://insight-live.com
.
Maintain your recipes, materials and test data on-line
Login to a private account or work with others in a group account (e.g. university).
Nothing to install (access it using your web browser). It is always the latest version.
Import existing material, recipe data.
As many side-by-side recipes and/or materials as you want (chemistry is shown for all).
Many ways to search and classify glaze and body recipes.
Glaze and body recipes are robust, with units-of-measure, pictures with individual titles and descriptions, material links.
Add variations to a recipe; each with its own pictures, descriptions and name/code-number extensions.
Recipes can link to materials, typecodes, projects, firing schedules and physical test result data (all managed in their own areas).
Standard reports and mix ticket reports with last-minute-totalling; variations report as if they are a complete recipe.
Video tutorials, help system, contact form on every page, dedicated messaging and support ticket systems.
It is an industrial-strength database system (unlimited capacity, fast, reliable, scalable).
Imports many file formats
Glaze recipe formats supported: HyperGlaze, GlazeGhem, GlazeMaster, Matrix, Insight XML recipes (single and multiple), Insight SQLite DB files.
Assign a batch number to recipe imports (later search by batch).
Assign multiple typecodes to imported glaze and body batches (to classify) (search on these later).
Prepend character sequences to glaze recipe names during import.
Import the pictures and pair them to their corresponding recipe records automatically.
One click to automatically export the database to an SQLite DB database file and download it (for use with desktop Insight or just as a backup).
Export and import individual glaze recipes as text or XML.
Import materials data in various formats or just use the thousands of built-in reference materials.
Perfect for Education
Ceramic study programs can now accumulate material, recipe and testing data year-after-year, students can login and together build a valuable ceramic glaze and body knowledge resource.
Students already have internet connected devices, computers are not even needed in the class.
The Reference Manager gives you quick access to the Digitalfire Ceramic Reference Database.
Learn more
..