Software Features
A stable foundation for ceramic laboratory record keeping, always there despite changes in personnel.
Since it runs as a web server it can be configured to be accessible from anywhere.
Easy-to-use web interface. Work station clients can be anything that runs a typical browser.
Built on the most robust open source software platform, does not contain any Microsoft code.
The software platform is built on very few layers, it is simple, it is will be supported by the internet community for many years to come.
Runs on modest PC hardware.
Can be operated wirelessly using Pocket WIFI equipped computers.
Infinitely customizable.
Lab project management and audit trail features.
Product of 25 years of Digitalfire database and ceramic software experience.
Rock-solid SQL database foundation for unlimited storage and high speed operation.
Runs on Linux, OSX or Windows.
Storage of recipe, materials, oxide, property, article, mineral, hazard, test procedure, test result, company, picture data in an inter-related manner that reflects real-world hierarchies.
Starter data from Digitalfire for materials, oxides, hazards, recipes, etc..
Can connect to a another site to generate dynamic content (e.g. data sheets).
Proven test procedures available for many types of lab tests of body and raw material tests.
Flexible report generation that can handle almost any graphical reporting task.
This is the kind of server Amazon or Ebay uses, it can also act as an E-mail gateway; a firewall, gateway and VPN; it can host web sites, acts as an FTP or SSH server.

Materials Area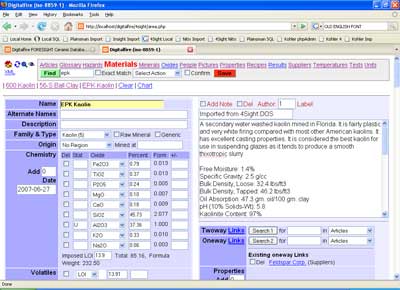 Recipe Area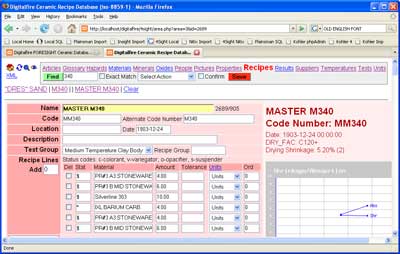 Other areas: Articles, hazards, glossary, minerals, oxides, people, pictures, properties, suppliers, temperatures, tests, units